Canada's main stock index dipped on Wednesday, May 12, triggered by the anticipation around increased interest rates and bond yields in the wake of higher than consensus US inflation numbers.
The US consumer prices surged 0.8 percent in April, highest in nearly 12 years since 2008.
The TSX composite index slipped 0.86% to settle at 19,107.77.
1 Year S&P/TSX Composite Daily Price Chart (as on May 12, 2021). Source: Refinitiv (Thomson Reuters)
The TSX Venture Index was down by 2.10% to 910.92.
Movers and Laggards on TSX Composite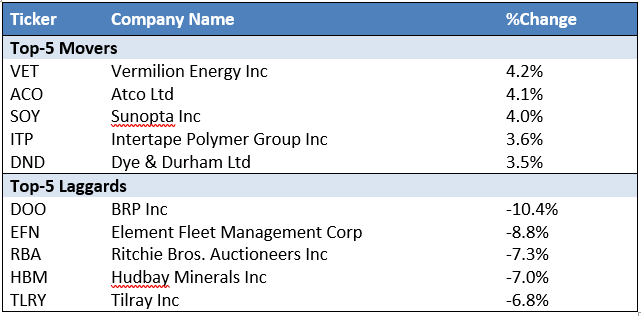 Source: Refinitiv (Thomson Reuters)
Active Volume Leaders
The most heavily traded stocks on the TSX on Wednesday were Enbridge Inc, with 12.80 million, Suncor Energy Inc, with 10.16 million, and Manulife Financial Corporation with 8.99 million.
Wall Street Update
Stocks on Wall Street skidded on inflation fears. The 0.8% surge in the US Consumer price index, which surpassed the 0.2% forecast, dragged the speculative asset classes lower amid expectations of rising real interest rates.
All three benchmark indices of Wall Street settled in red on Wednesday. The Dow Jones Industrial Average traded 681.5 points, or 1.99%, lower at 33,588. Meanwhile, the S&P 500 shed 89.06 points, or 2.14%, at 4,063. The Nasdaq Composite plummeted 357.75 points, or 2.67%, to 13,031.68.
Commodity Update
Gold Contracts for June 2021 skid 1.02% to US$ 1,817.50/oz, led by the spike in US Treasury Yield that will increase the opportunity of US Dollar.
Bullish momentum continued in oil prices, with Brent Oil climbing 1.12% to US$ 69.32/bbl, and WTI Crude Oil rising 1.23% to close higher at US$ 66.08/bbl.
Currency News
The US Greenback rose higher against the Canadian Dollar on Wednesday, led by the jump in treasury yields, with currency pair USD/CAD moving 0.26% higher to 1.2132.
The US Dollar Index surged 0.67% against the basket of majors to 90.686, after four straight days of consolidation.
Money Market
The US 10-Year Treasury Yield jumped 4.42% to 1.693% on Wednesday after data showed that consumer prices rose by the highest level in nearly 12 years in April 2021, igniting bets on earlier interest rate hikes.
Yields on the Canada 10-Year Government Bond Yield also moved up, gaining 4.03% to 1.601%.