Weighed down by industrials, technology and energy stocks, the S&P/TSX Composite Index declined by 43 points or 0.26% to close at 16,230.23 on Wednesday. Academic and educational services, healthcare and basic materials were the top gaining sectors.
At the close, the benchmark index traded above its crucial long-term as well as short-term support levels of 200-day, 50-day and 30-day simple moving averages (SMAs), a positive technical indicator. However, the index traded below its immediate support levels of five-day and 10-day SMAs.
Leading momentum indicator Moving Average Convergence Divergence (MACD) is oscillating above the nine-day SMA signal line, another positive indicator. The difference between 12-day and 26-day exponential moving averages is negative.
At the closing, TSX Composite Index featuring a dividend yield of 3.60% and traded at a Price-to-Earnings (PE) multiple of 17.69x.
5-day Price Chart (as on October 20, 2020, after markets close). Source: Refinitiv (Thomson Reuters)
On Wall Street: The benchmark index of the United States, NYSE, traded 0.39% lower at 13,040.13. The Dow Jones Industrials Average Index lost 97.97 points or 0.35% at 28,210.82, the S&P 500 index dropped 0.22% lower at 3,435.56 and the Nasdaq Composite Index doffed 31.8 points or 0.28% at 11,476.08.
Sector Summary*
Top Gainers: Academic & Educational Services (up 3.16%), Healthcare (up 2.34%) and Basic Materials (up 1.78%)
Top Laggards: Industrials (down 2.19%), Technology (down 1.74%), and Energy (down 1.60%)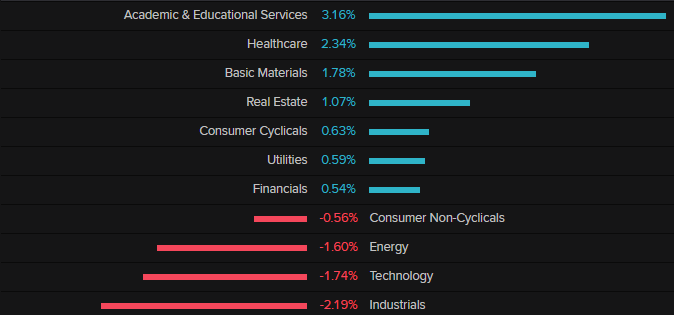 Source: Refinitiv (Thomson Reuters)
Stocks in Play*
Top Performers: Hudbay Minerals Inc (up 6.64%), First Quantum Minerals Ltd (up 6.46%) and Corus Entertainment Inc (up 6.44%).
Bottom Movers: Canadian National Railway Co (down 6.06%), Suncor Energy Inc (down 3.51%) and Cenovus Energy Inc (down 5.105)
Volume Leaders: Nevada Copper Corp, Enbridge In, and Manulife Financial Corporation
Commodity & Forex Market Update*
Gold Futures went up for the third consecutive day and settled 0.74% higher at US$ 1,929.50/oz.
International Oil benchmark Brent Crude Oil Futures slumped by 3.31% against the previous closing at US$ 41.73/bbl, and American Oil benchmark WTI Crude Oil traded 3.45% lower at US$ 40.03/bbl, respectively.
US Dollar index traded 0.49% lower against the basket of major currencies at 92.59.
Canadian dollar lost some ground against the greenback and USD/CAD settled at 1.3145.
*Details after markets close (as on October 21, 2020)