Canada's main equity index climbed 153.29 points or 0.8 per cent to close at 19,241.44 on Wednesday, September 7, after the Bank of Canada (BoC) announced an expected interest rate surge of 75 basis points to 3.25 per cent. This triple-digit gain came despite weakness in the energy sector, which dipped by 3.09 per cent.
The healthcare sector spiked by 3.12 per cent, and the technology sector rose by 2.04 per cent. The industrial and financial sectors jumped by 1.7 per cent and 1.05 per cent, respectively. The telecom, base metals and utility sector closed higher on Wednesday session.
Statistics Canada also revealed that the nation's merchandise exports plummeted by 2.8 per cent, coupled with decreasing imports, which were down by 1.8 per cent, in July relative to June this year.

One-year price chart of TSX Composite Index along with SMA 20-day, SMA 30-day, SMA-50-day (September 7). Analysis by © 2022 Kalkine Media®).
Volume Active
Suncor (TSX: SU) saw about 19.33 million SU shares switching hands, marking the highest trading volume on the Toronto Stock Exchange (TSX) this day. Barrick Gold (TSX: ABX) and Canadian Natural Resources (TSX: CNQ) were the second and the third highly traded stocks on September 7, with 8.41 million ABX shares and 7.2 million CNQ shares switching hands, respectively.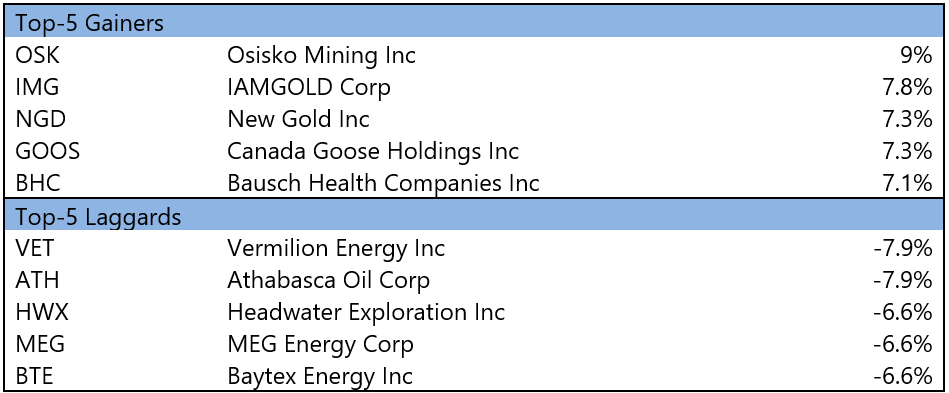 Wall Street update
In the US stock market, the NASDAQ Composite Index surged by 2.13 per cent and the NYSE Composite Index scaled up by 1.45 per cent. The Dow Industrials index saw an increase of 1.4 per cent along with the S&P 500, which also noted a jump of 1.83 per cent.
Commodities
Gold also rebounded slightly to US$ 1,727.8 per troy ounce, representing a jump of 0.87 per cent at the market close. The Crude WTI Futures for October 2022 lost 5.69 per cent, ending the session at US$ 81.94 per barrel. The Brent Oil Futures for November 2022 was US$ 88 per barrel, noting a decrease of 5.2 per cent.
Currency news
The CAD/USD gained 0.25 per cent to reach 0.76 on September 7. However, the CAD/EUR slid by 0.73 per cent to 0.76. The US Dollar Index Futures for September 2022 also closed lower at 109.83, down by 0.34 per cent.
Bond Market
Canada's 10-Year Bond Yield slumped by 1.77 per cent to 3.16. Meanwhile, the United States' 10-Year Bond Yield depreciated by 2.5 per cent to 3.26.