The TSX Composite Index fell again on Wednesday, December 1, with only the trusty financial sector gaining (0.42 per cent). On November 26, the WHO declared the Omicron Covid variant a "variant of concern." Since then, the index has dropped 5.4 per cent to 20,464.60, the lowest it's been since October 12.
On Wednesday, it lost about one per cent or 195.39 points as the WHO said the variant has been detected in 23 countries, a development they called "extremely" serious. The biggest losses were seen by healthcare, sinking 5.3 per cent, while IT and base metals lost 2.7 per cent each. Lithium Americas Corp's stock fell 11.2 per cent.
One-year price chart (December 1). Analysis by Kalkine Group
Volume actives
Suncor Energy Inc saw 25.75 million shares traded, making it the most active stock and it was followed by Manulife Financial Corporation that saw 21.95 million shares switch hands and Cenovus Energy Inc saw 8.06 million shares traded.
Movers and laggards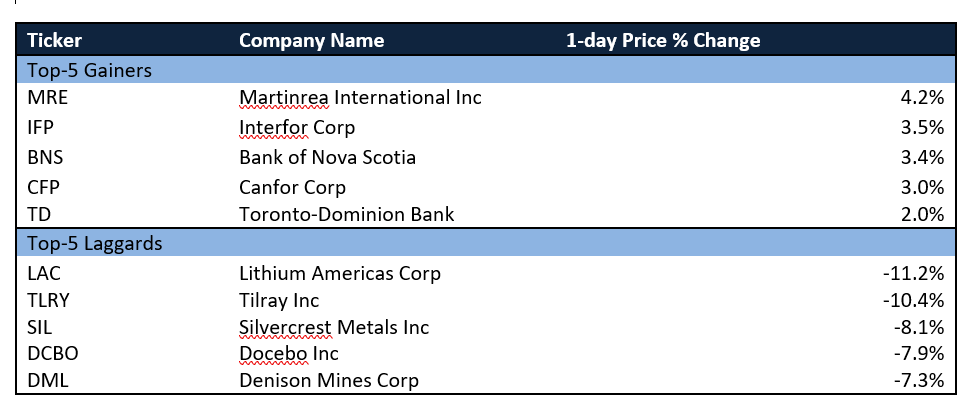 Wall Street in the red
Over on Wall Street, the day started off fairly optimistically before trade began to go south. All three major indices ended up in the red.
The Dow was down 461.68 points, 1.34 per cent, to 34,022.04 points, while the S&P 500 fell 53.96 points, 1.18 per cent, to 4,513.04 points. Nasdaq plummeted 1.83 per cent, 283.64 points, to 15,254.05.
Oil prices sink, gold up
Not everything saw losses as gold gained 0.44 per cent to US$ 1,784.30 amid high inflation. Oil prices have been falling and brent was down again 2.41 per cent to end below the US$ 70-mark at US$ 68.87/bbl. Crude fell 0.92 per cent to US$ 65.57/bbl.
Currency news
The loonie dipped 0.25 per cent Wednesday while USD/CAD ended at 1.2808. The US Dollar Index was up a touch by 0.05 per cent against the basket of major currencies to close at 96.04.
Money market
The US 10-year bond yield was down 3.61 per cent to 1.404 and the Canada 10-year bond yield plunged 4.75 per cent to 1.495.