The TSX Composite Index was down on Friday, September 17, due to falling oil prices resulting in a decline in the energy sector by 1.95%. Additionally, the base metal sector which includes precious metals declined by 2.79% owing to a fall in gold and copper prices.
The hovering uncertainty regarding next week's federal election was also shaping market sentiments. The broader TSX Composite Index lost 111.74 points or was down by 0.54% and settled at 20,490.36
One-year price chart (as on September 17). Analysis by Kalkine Group
Active volume
Bombardier Inc. was the most actively traded stock where 84.54 million exchanged hands, followed by Inter PipeLine ltd. where 32.46 million exchanged hands, and Birchcliff Energy Ltd. with 19.54 million shares exchanging hands.
Movers and laggards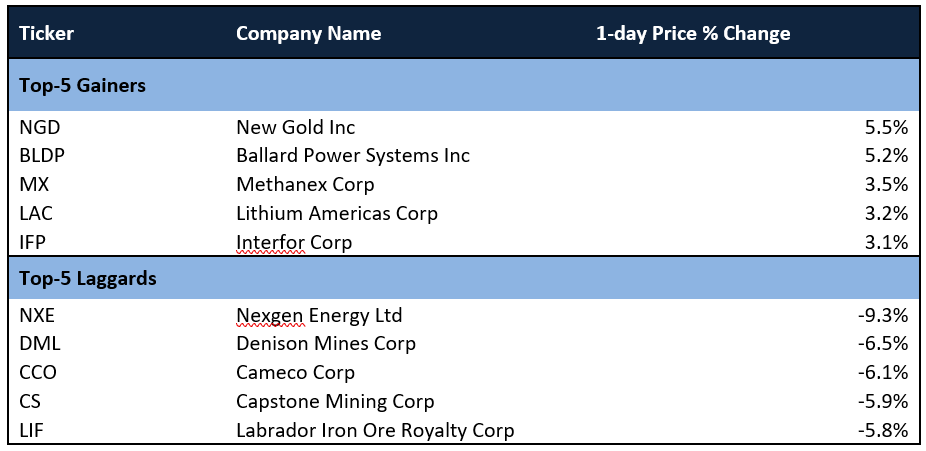 Wall Street update
During Friday's trading, equities took a significant turn to the south, with all the major averages falling into negative territory. Traders were anticipating the Federal Reserve's highly anticipated monetary policy meeting next week, which seemed to have caused losses on Wall Street.
The Dow Jones Industrial Average dropped 166.44 points or 0.5% to 34,584.88, the S&P 500 dropped 40.76 points or 0.9% to 4,432.99, and Nasdaq dropped 137.96 points or 0.9% to 15,043.97.
Commodity update
Gold traded at US$ 1,751.40, down 0.30%. Brent oil stood at US$ 75.34/bbl down 0.44%, while Crude oil also traded lower at US$ 71.97/bbl down by 0.88%.
Currency news
The Canadian Dollar slid against the U.S. Dollar on Friday, while USD/CAD closed at 1.2766, up 0.67%. The U.S. Dollar gained some ground against the basket of major currencies for the second session in a row on September 17, and closed at 93.19, up 0.28%.
Money market:
The U.S. 10-year bond yield traded higher on September 17, and ended in the green at 1.363, up 2.04%. The Canada 10-year bond yield also surged on Friday's trade and closed at 1.282, growing 3.72%.