Canada's main stock market index closed higher on Friday, July 23, after noting small gains in multiple sectors through the trading session, led by industrials and technology.
While the technology sector climbed by 1.53%, the industrial sector was up by 0.90%.
After noting a decline in the previous session, the S&P/TSX Composite Index jumped 81.72 points, or 0.45%, to settle at 20,188.43 on Friday.

1-Year Price Chart. Analysis by Kalkine Group
Gainers and Losers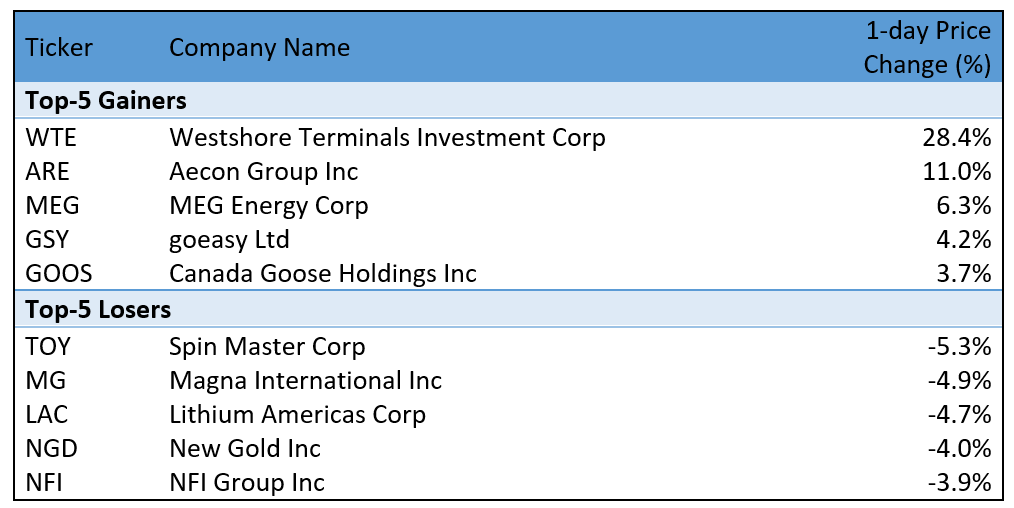 Actively Traded Stocks
The most actively traded stocks on the TSX on Friday were Royal Bank of Canada, with a trading volume of 6.85 million, followed by Enbridge Inc., with that of 5.01 million, and Suncor Energy Inc., with that of 4.68 million.
Wall Street Update
US equities recorded a significant surge during Friday's trade, extending their recovery from Monday's severe plunge. All the main averages achieved fresh record closing highs as the rally continued.
The Dow rose 0.7% to 35,061.55, the S&P 500 gained 1% to 4,411.79, and the Nasdaq added 1% to 14,836.99.
Commodity Update
Gold traded flat on Friday, with slightly negative biasness at US$ 1,801.8, down 0.20%.
Crude maintained its momentum as Brent Oil rose 0.42 % to US$ 74.10/bbl and WTI Crude Oil climbed by 0.22% to US$ 72.07/bbl.
Currency News
The Canadian Dollar climbed up against the US Dollar on Friday, while USD/CAD ended marginally lower at 1.2561, down 0.02%.
The US Dollar index gained for the second-straight session against the basket of major currencies and closed at 92.91, up 0.10%.
Money Market
The US 10-year bond yield gained 0.37% to 1.281 on Friday.
The Canada 10-year bond yield also inched up 0.25% and ended in green at 1.207.