Copyright © 2021 Kalkine Media Pty Ltd.
On Monday, the House of Representatives passed Biden's landmark US$1.9 trillion stimulus package. This drove the Dow Jones to a new record high in the early trading hours. However, surge in the US Bond Yield took out some of gains in the initial hours of trading.
Large swings were witnessed in the US market yesterday, with Dow Jones testing an intraday high of 32,148, an intraday low of 31,803.44. It ultimately settled at 31,802.44, 0.97% above the previous closing price.
However, the S&P 500 and Nasdaq Composite both ended in red. The S&P 500 slipped by 0.54% to 3,821.25 and the Nasdaq Composite plummeted 2.41% to 12,609.16.
The fall in tech stocks was mainly because US 10-Year Bond Yield once again moved above the 1.60% mark and settled 0.23% higher at 1.603%.
Meanwhile, the strengthening US Dollar and the rising treasury yields hurt the US technology stocks.
However, Canadian broader indices managed in settle in green, with the TSX Composite Index trading 0.42% higher at 18,457.78. During the day, the index tested a new record high of 18,595.72. However, surge of US Treasury Yield took out some gains.
The positive close of TSX Composite was mainly because of strength in the higher-weighted financial stocks. The TSX Financial Sector Index traded 1.34% higher on Monday.

5-day TSX Composite Price Chart (as on March 08, 2021). Source: Refinitiv (Thomson Reuters)
Movers & Laggards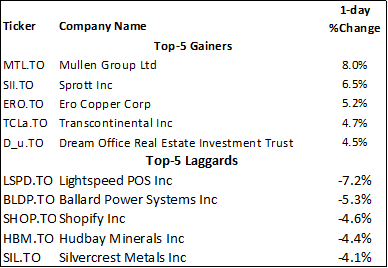 Source: Refinitiv (Thomson Reuters)
Volume Leaders: Suncor Energy Inc. (20.16 million), Tetra Bio-Pharma Inc. (15.5 million), and Manulife Financial Corporation (14.51 million), respectively.
Commodity Update
American Oil benchmark Crude WTI settled 1.57% lower at US$65.05/bbl on Monday, while international benchmark brent oil traded 1.61% lower at US$68.24/bbl.
Gold again moved below US$1,700/oz mark on Monday, and traded 1.21% lower at US$1,678/oz.
Forex Update
Canadian Dollar ended slightly lower on Monday at 0.7898 vs 0.7900 on Friday.
US Dollar Index strengthened for the fourth straight day, traded at 0.37% higher at 92.34 against a basket of majors.