Highlights

The Q4 IPO is back under the spotlight after it filed documents with the authorities.
The Q4 IPO could attract investors as this year has been good for IPOs and people are focusing on companies making their public debuts.
In May 2021, Q4 Inc had first announced its initial public offering plan, but it did not materialize.
Investor relations (IR) software-making company, Q4 Inc. has resumed its plans of going public. On October 7, the Toronto-based company filed a second preliminary base PREP prospectus with regulatory authorities.
In May 2021, the company had first announced its initial public offering plan, but it did not materialize. Q4 is hoping to raise C$ 150 million in gross proceeds and the listing will be subjected to approval from the Toronto Stock Exchange (TSX).
Why Q4's IPO plan did not materialize?
According to the documents filed with the authorities, Q4 claims that the initial public offering plan got delayed as it was dealing with a contract issue.
The IR software-maker had teamed up with Broadridge Investor Communication Solutions to launch a new virtual shareholder meeting (VSM) product and Broadridge raised issues with specific elements of the VSM service level agreement.
The Toronto-based company has a global presence and apart from IR software, the company offers cloud-based capital market solutions that reach across virtual events, corporate access, websites, and customer relationship management (CRM) among others.
Also read: Portillo's IPO: How to buy the iconic restaurant chain's stock?
According to Q4, it serves about 2,400 global customers which includes 50 per cent of S&P 500 firms. In addition, the company has a 93 per cent retention rate and gets around 24 million unique annual website visits.
The top customers of Q4 include Netflix, Shopify, Nike, Western Union, Square and Spotify.
All you need to know about the Q4 Inc IPO
The company wants to list its shares on the Toronto Stock Exchange, and it will likely trade under the stock symbol 'QFOR'. Q4 could use the money from gross proceeds to repay its debts related to credit facilities and expand business operations.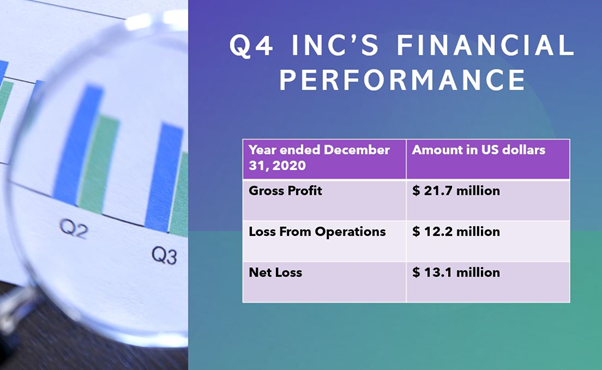 © 2021 Kalkine Media Inc.
As the company has renewed plans for the IPO, there are chances that it would meet the requirements and get listed to offer its common shares to the public. If the retail investors are given a chance to get hold of the pre-IPO shares, interested investors could get an option to get them through stockbrokers or a trading platform of a brokerage company.
Bottom line
For the period ended December 31, 2020, Q4 had cash and cash equivalents worth US$ 4.6 million, down from US$ 5.9 million in the same comparable period of 2019.
Also read: Olaplex IPO: Hair products maker raises stock price range, is it a buy?
Meanwhile, the revenues increased to US$ 40.4 million in 2020, up from US$ 22.4 million in 2019.