Highlights

Metaverse tokens had registered gains at the time of writing, some even rising over 10 per cent
The three tokens mentioned below have at some point traded above US$1, which reflects the volatility in crypto prices
AXS, MANA, and SAND have lost heavily in 2022, which suggests the need of caution
It is not always that events like interest rate hikes by central banks trigger a bearish phase in assets like stocks and cryptocurrencies. Now that the Fed has announced yet-another rate increase, both stocks and cryptos seem to have remained unaffected.
At the time of writing, the cryptoverse manifested a positive mood, with assets like Bitcoin and Ethereum having registered gains. But what seemed to have stolen the limelight was the rise in metaverse tokens including Axie Infinity and ApeCoin. Both AXS and APE are categorized as metaverse tokens by the price-tracking website CoinMarketCap.
Other large-cap metaverse tokens include MANA and SAND. But, APE, AXS, MANA, and SAND are all priced at over US$1 per token. Below are the top three metaverse cryptos by market cap with a per token price under US$1.
1. PlayDapp (PLA)
PlayDapp has a gaming metaverse, with features like non-fungible tokens (NFTs) and the native token PLA. It is said to have a marketplace to trade assets held by users.
On CoinMarketCap, PlayDapp was among the top 200 cryptocurrencies, with BTC stable at its number one position as of writing. PlayDapp crypto's market cap was nearly US$288 million, which is on the lower side compared to tokens like AXS and MANA. Out of the maximum supply of 700 million tokens of PLA crypto, nearly 52 per cent was in circulation.
The price per token of PLA was nearly US$0.8. Notably, it started this year at a price of nearly US$1.5. This reflects the extreme volatility that ails cryptoassets.
Also read: Step App crypto surges 30%: What to expect from FITFI token?
2. CEEK VR (CEEK)
The project claims to be a decentralized finance (DeFi) platform for content creators, especially artists in the music industry. It is said to be using blockchain and virtual reality to bridge the gap between fans and creators.
CEEK VR, with its nearly US$270 million market cap, also ranks among the top 200 cryptos. CEEK crypto's price was nearly US$0.35 at the time of writing. Notably, it breached US$1 in November 2021, but the token could not sustain the momentum. It can have a maximum supply of 1 billion tokens.
Also read: What is Pacman Frog crypto? What are its incubation & NFT services?
3. Ultra (UOS)
Ultra is projecting itself as an ecosystem that can help game developers publish their ventures. It claims to provide higher revenue share to developers, besides giving rewards and bonuses.
UOS crypto had a market cap of over US$221 million at the time of writing, which ranked it as well in the top 200 crypto list. UOS crypto per token price was nearly US$0.78, which was above US$1 nearly two weeks back.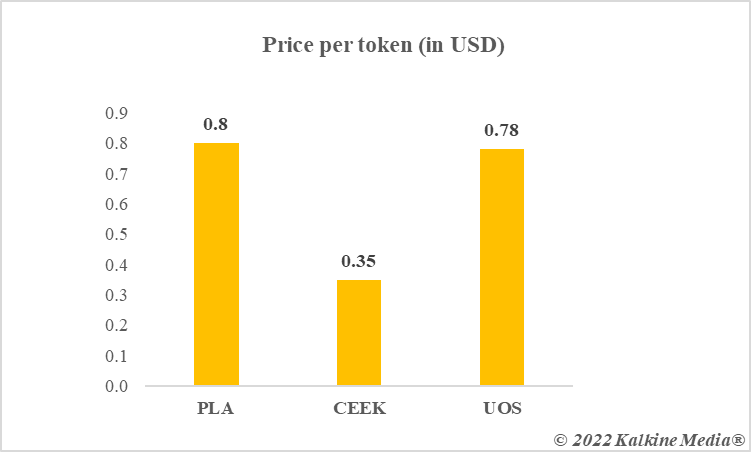 Data provided by CoinMarketCap.com
Bottom line
The above three metaverse tokens were trading under US$1 at the time of writing. All had gained over the last 24 hours, but crypto prices can exhibit wide fluctuations. Besides, PLA, CEEK, and UOS have all at some time traded at over US$1.
Also read: Which are top NFT games' tokens by market cap?
Risk Disclosure: Trading in cryptocurrencies involves high risks including the risk of losing some, or all, of your investment amount, and may not be suitable for all investors. Prices of cryptocurrencies are extremely volatile and may be affected by external factors such as financial, regulatory, or political events. The laws that apply to crypto products (and how a particular crypto product is regulated) may change. Before deciding to trade in financial instrument or cryptocurrencies you should be fully informed of the risks and costs associated with trading in the financial markets, carefully consider your investment objectives, level of experience, and risk appetite, and seek professional advice where needed. Kalkine Media cannot and does not represent or guarantee that any of the information/data available here is accurate, reliable, current, complete or appropriate for your needs. Kalkine Media will not accept liability for any loss or damage as a result of your trading or your reliance on the information shared on this website.