Highlights:

The LOOM crypto price jumped more than 164 per cent on September 12.
The global crypto market cap surged over 1 per cent on Monday.
On Monday morning, LOOM's one-day trading volume rocketed more than 2637 per cent.
The crypto market seems to be gaining attention from investors on September 12, as seen by the surge in its market cap and trading volume. The global crypto market cap increased by 1.2 per cent to US$ 1.07 trillion at 7:53 am ET on Monday, September 12, while its 24-hour volume climbed up 24.03 per cent to US$ 84.91 billion.
Among several cryptos that have contributed to the overall gains, Loom Network (LOOM) crypto also marked a notable jump on Monday. The LOOM token price rose more than 164 per cent at 7:46 am ET, while its volume for the trailing 24 hours skyrocketed more than 2,637 per cent.
What could be the reason behind the recent pump in LOOM's price? Let's explore with Kalkine Media®.
Why is it soaring?
The platform-as-a-service crypto is built on top of Ethereum and focuses on allowing the developers to run large-scale DApps. Its primary aim is to enable app developers to have smart contracts that could access greater computing power whenever needed or maintain the same capacity at lower costs for several uses.
Although there is no apparent announcement or developments by the firm that could have bumped its price, it is anticipated that the Ethereum Merge hype has helped gains in the token.
Ethereum founder Vitalik Buterin, who is also very popular among the crypto market enthusiasts, recently said that Ethereum's shift to a proof-of-stake (PoS) consensus mechanism is "still expected" to take place between September 13 and September 15.
This news might have helped gains in LOOM crypto and other layer-two solutions that would continue to provide their services to the developers.
Additionally, the unique features of the crypto in allowing developers to run their decentralized applications on Ethereum by using its security might have helped in making the price gain.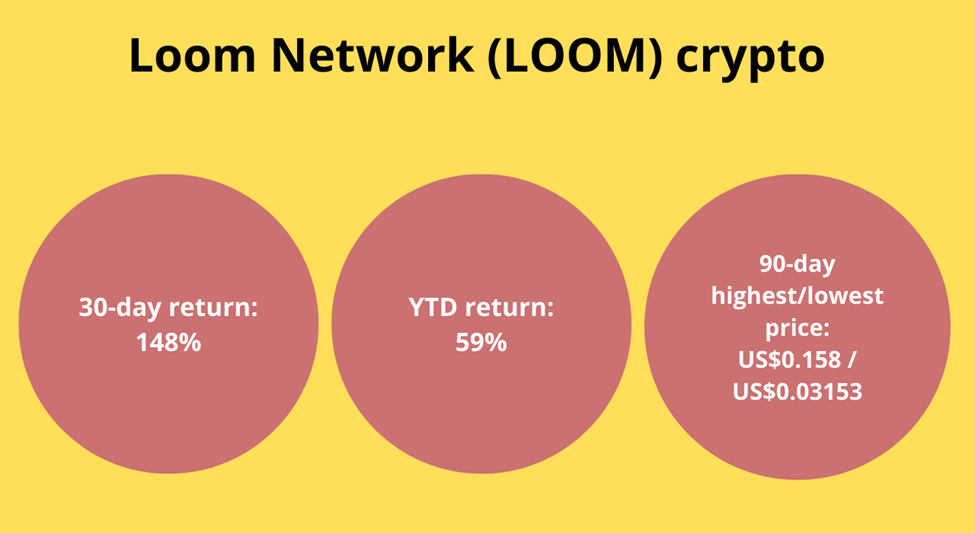 Source: ©Kalkine Media®; © Canva Creative Studio via Canva.com
Data Source: CoinMarketCap.com
Bottom line
The price of the LOOM token was US$ 0.1426 at 7:53 am ET on September 12. At its current trading price, its market cap stood at US$ 185.35 million, and its fully diluted market cap was US$ 177.65 million.
The LOOM crypto gained 200 per cent in the last seven days and increased by over 148 per cent in the previous 30 days. On a year-to-date (YTD) basis, it also showed gains of about 59 per cent through September 12.
Risk Disclosure: Trading in cryptocurrencies involves high risks including the risk of losing some, or all, of your investment amount, and may not be suitable for all investors. Prices of cryptocurrencies are extremely volatile and may be affected by external factors such as financial, regulatory, or political events. The laws that apply to crypto products (and how a particular crypto product is regulated) may change. Before deciding to trade in financial instruments or cryptocurrencies you should be fully informed of the risks and costs associated with trading in the financial markets, carefully consider your investment objectives, level of experience, and risk appetite, and seek professional advice where needed. Kalkine Media cannot and does not represent or guarantee that any of the information/data available here is accurate, reliable, current, complete, or appropriate for your needs. Kalkine Media will not accept liability for any loss or damage as a result of your trading or your reliance on the information shared on this website.