Highlights

The TRREB reported a 41.4 per cent year-over-year (YoY) dip in home sales in June 2022

The MLS® Home Price Index Composite benchmark surged by 17.9 per cent YoY

FSV stock surged by nearly five per cent on July 5
The Canadian housing market seems to be going through quite a bit of a rough patch, giving investors ample reason to worry about real estate stocks. The Toronto Regional Real Estate Board (TRREB) reported on Monday, July 6, that amid increased borrowing costs, there was a 41.4 per cent dip in home sales in June 2022 compared to the robust numbers from last year.
Stocks of FirstService Corporation (TSX: FSV), however, are currently ranked among the top real estate companies and price performers on the Toronto Stock Exchange. The real estate stock rose by nearly five per cent on Tuesday, July 5, and was up by about two per cent at C$ 164.7 at 11 AM EST on Thursday.
The TRREB report added that the MLS® Home Price Index Composite benchmark surged by 17.9 per cent year-over-year (YoY) but witnessed a month-over-month (MoM) decline in June. The board also said that the seasonal nature of the market could also be a reason behind lower transactions in June compared to May.
TRREB President Kevin Crigger said that once home prices stabilize, some buyers can enter the housing market despite higher interest rates.
So, can a TSX real estate stock like FirstService (TSX: FSV) be worth exploring? Let's check it in detail.
FirstService Corporation (TSX: FSV)'s Q1 FY2022 results
FirstService is a mid-cap real estate company that offers property solutions and services in the US and Canada. The C$ 7-billion market cap company reported that its consolidated revenue jumped by 17 per cent YoY to US$ 834.6 million in the first quarter that ended on March 31, 2022. Out of the total revenue surge in Q1 2022, 10 per cent was organic growth.
FirstService reports its operating earnings and earnings per share (EPS) on a GAAP basis. The real estate giant said that GAAP operating earnings reduced from US$ 33.9 million in Q1 2021 to US$ 29 million in the latest quarter. GAAP EPS amounted to US$ 0.32 per share in Q1 2022 compared to US$ 0.50 per share a year ago. FirstService is set to disburse a quarterly dividend of US$ 0.203 on July 7.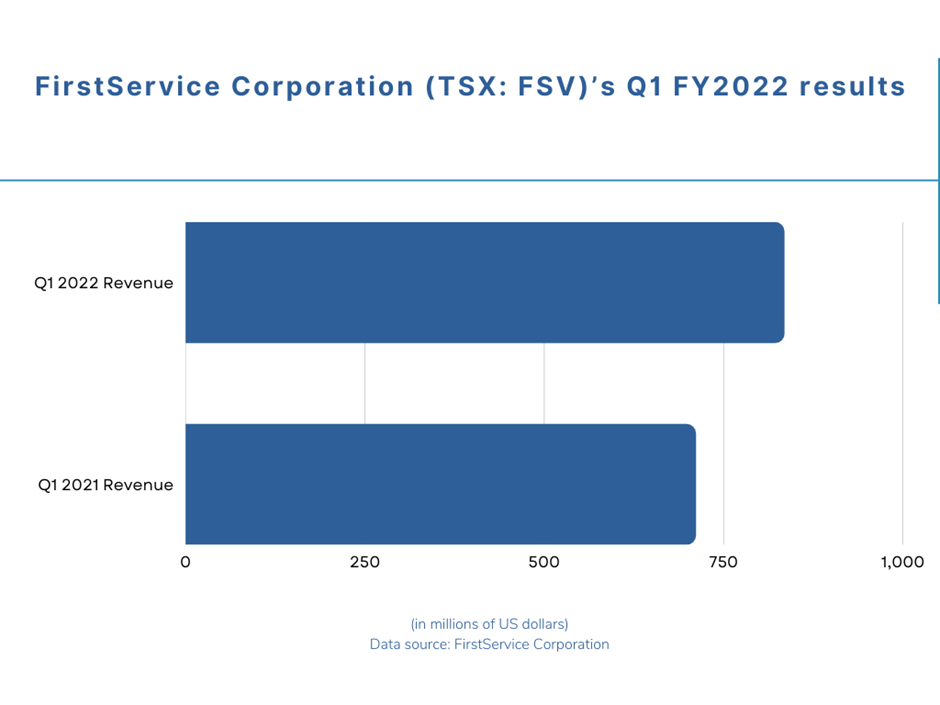 ©Kalkine Media®; ©Garis Studio via Canva.com
FirstService's stock performance
FSV stock was among the top 10 gainers leading the TSX Composite index on Tuesday. However, the real estate stock was down by over 36 per cent from its 52-week high of C$ 256.01 (November 25, 2021).
As per Refinitiv, FirstService held a Relative Strength Index (RSI) value of 59.96 on July 5, with the Moving Average Convergence/ Divergence (MACD) indicator approaching the base line.
Bottomline
Increased borrowing costs can impact housing demand further as homebuyers assess their affordability or wait for home prices to stabilize. However, Canadian investors can explore real estate stocks like FirstService at discounted prices for the long run.
Please note, the above content constitutes a very preliminary observation based on the industry, and is of limited scope without any in-depth fundamental valuation or technical analysis. Any interest in stocks or sectors should be thoroughly evaluated taking into consideration the associated risks.