Summary

Key deposits indicated similarities to mega neighbourhood operations including Cadia and McPhillamy's
Rock chip and soil sampling to extend at Big Hill and Tucklan, IP and Magnetic Inversion modelling soon
Well-funded, strong technical team to lead the way in Lachlan Fold Belt
Sultan Resources Ltd (ASX:SLZ), an established Gold and base metals explorer, recently completed the acquisition of the newest asset to its portfolio, the Colossus Metals & the Macquarie Arc Copper-Gold Project in the Lachlan Fold Belt.
Sultan Completes Acquisition Of 100% Of Lachlan Fold Belt Tenure: Read Here
East Lachlan Fold Belt: The prolific Gold-Copper region in the Tier 1 Jurisdiction
The Macquarie Arc project includes three tenements across a 330 square kilometres stretch, in the prolific world-renowned east Lachlan Fold Belt. The region hosts world class gold and copper operations including, Newcrest Mining (ASX:NCM) Cadia-Ridge Operations, CMOC-Sumitomo's Northparkes and Evolution Mining's (ASX:EVN) Cowal.
Lachlan Fold Belt is a premier Gold-Copper mining region with some of the largest mining operations globally including-
Cadia-Ridgeway operations hold mineral resources containing over 50 million ounces of gold and 8.7 million tonnes of copper
Northparkes hold over 5.2 million ounces of gold and 4.4 million tonnes of copper
Evolution's Cowal operations hold over 11 Million ounces of gold
MchPhillamys holds over 2 million ounces of gold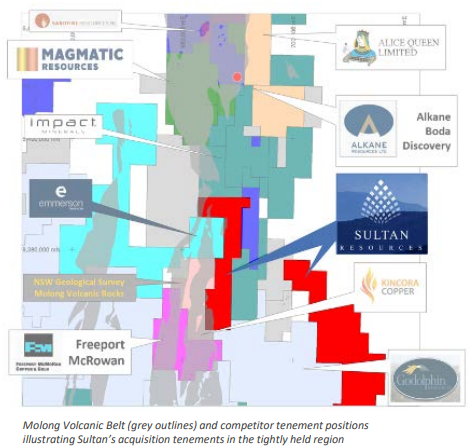 Sultan's Macquarie Arc project in the World-class LFB Source: Sultan
Explorers including Alkane Resources, Magmatic Resources (ASX:MAG), Kincora Copper and Impact Minerals (ASX:IPT) have reported strong gold-copper results in the neighbourhood of the Sultan's project.
Securing an exploration ground in the neighborhood of recent discoveries such as Alkane's Boda prospect and established operations including Cadia, is a milestone as mining players have been competing to secure exploration grounds in the LFB.
The Macquarie Arc project includes three key high priority deposits including Big Hill, Ringaroo and Tucklan deposits. During 2020, Colossus metals initiated a rock chip and sampling program at the Big Hill and Ringaroo prospects, which are located along the strike from Cadia Au-Cu operations and Alkane Resources' (ASX:ALK) Boda discovery.
Early Geochemical and Geophysical Surveys Indicate Substantial Gold Mineralisation
The rock chip sampling program at Big Hill & Ringaroo indicated the presence of a bulk Cu-Au soil anomaly similar to Cadia and Northparkes operations confirming high-grade mineralisation.
Big Hill target included a 5km x 2.5km magnetic anomaly coincided with large Gold-Copper soil anomaly, high grade workings and resulted in exceptionally high-grade assay results of 24.6 g/t Au, 26.1% Cu and 2.69g/t Au, 7.55% Cu.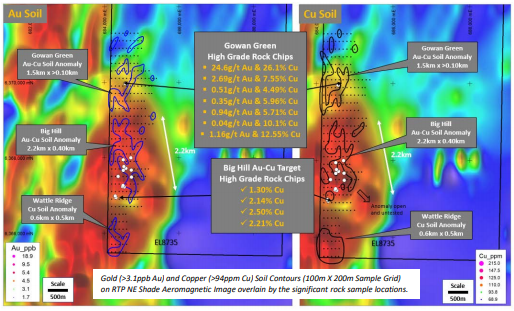 Big Hill Assay Results Source: Sultan Resources
The high-grade Copper-Gold rock samples substantiated the presence of a large (>1.5x >0.10 km) Copper-Gold system hosting multiple anomalies.
The Big Hill deposit results fall in line with the upper portions of the alkalic Cu-Au porphyry mineralisation system.
Assay results indicated geochemical similarities with Cadia and Northparkes mineralisation signatures.
Ringaroo Target hosts magnetic anomalies within historical mining centres. The deposit is immediately south of the Impact Resources' Apsley deposit which recently reported a grade of 8.1% copper in the same magnetic anomaly.
Tucklan deposit uncovered a large (3.5 x 2.5km) magnetic anomaly overlapping with large potassium and soil anomalies and gold workings within the quartz veins & pyritic breccias.
Further, a large scale (>1.5 x ~0.30km) striking along NW-SE resulted in gold grades of 7.2 ppb gold including a high-grade core with sample grades up to 0.61 grams a tonne of gold.
Sultan's 1.5 Km Undrilled Gold Anomaly at Tucklan Reports High Grade Assay Results: Must Read
The epithermal gold target characterised metal zonation and hosts multiple targets to be explored in future. The rock chip sampling program includes gold grades varying from 0.14 to 1.11 grams per tonne gold.
The Tucklan deposit holds possible epithermal gold mineralisation outcropping to the surface with gold in soil anomaly coincident with the magnetic and radiometric anomalies. The project holds strong prospectivity for potential large-scale Copper-Gold porphyry mineralisation.
Substantial Exploration Activities Planned for 2020
Source: (Company's Report)
Sultan anticipates accelerated exploration activities including an Induced Polarisation survey, larger and more extensive rock chip and soil sampling program and a 3D magnetic inversion modelling to further identify drilling targets by the end of Q3. The maiden drilling program is proposed in Q4 of 2020.
All pieces falling in place for Sultan's LFB venture: Sound Tech Capabilities & Well-funded
Sultan holds a technical team with more than 60 years of experience in exploration and development across the Lachlan Fold Belt of NSW. Their extensive experience varies across exploration, permitting, development and operations of massive projects including McPhillamy's (>2Moz Au) and Tomingley Gold Deposits (>1Moz Au).
Sultan is well funded with substantial local contacts and network is advancing on low cost geochemical and geophysical programs to progress to drilling stages later this year.
Sultan closed at a price of $0.205 on 6 July 2020, registering an increase of ~25% against the previous close, with a market capitalisation of $9.67 million.
All financial information pertains to Australian currency unless stated otherwise.