The Japanese Patent Office has accepted Anagrelide cancer patent application, and the patent would now proceed to grant, notified SUDA Pharmaceuticals Ltd (ASX:SUD) in its latest update. The patent "Use of Anagrelide for Treating Cancer" carries Application No. 2017-534600 and holds an expiry date of Dec 2035.
Post the update, SUD stock soared by ~10 per cent, closing the trading session at $0.043 on 20 May 2020.
Pleased over the grant of Anagrelide cancer patent, SUDA's CEO Dr Michael Baker commented:
Australia-based oro-mucosal drug delivery firm, SUDA is engaged in developing low-risk oral sprays utilising its exclusive OroMist® technology to reformulate existing drugs and medications. SUDA is the only firm across the globe possessing patents encompassing the use of Anagrelide for preventing or treating metastatic disease in the lung or bone.
Must Read! SUDA Pharmaceuticals Discovering Use of Anagrelide as Adjuvant Therapy in Treating Cancer
Reformulating Anagrelide for Cancer Treatment
SUDA is developing an oral spray formulation of generic drug Anagrelide to target the huge cancer market for solid tumours like mesothelioma, cervical, melanoma, vulvar, endometrial, renal cell, glioblastoma, ovarian, lung, pancreatic and colorectal cancer, where increased platelet levels have been reported to occur in a considerable proportion of the patient population.
The FDA and EMA approved drug Anagrelide can be used to treat a rare blood disorder where the platelet count of a patient is very high.
Recent research has shown the platelets play a proactive role in facilitating the spread and growth of cancer besides suppressing immune responses to cancer. Moreover, research also suggests the potential of cancer cells to trigger a negative feedback loop, sending out chemicals as an indication to the body to create more platelets.
SUDA's researchers are examining the role of platelets in cancer and the possible use of Anagrelide drug as a therapy to target platelets. The Company is developing an oral spray formulation of Anagrelide, which they expect is likely to diminish the risk of cardiac side effects, that is higher with tablet forms of the drug.
Dr Richard Franklin Facilitating Development of Anagrelide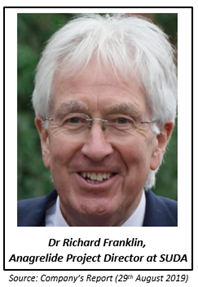 In association with its Project Director for the Anagrelide program, Dr Richard Franklin, SUDA is continuing with the formulation of a pharma-grade oral spray for Anagrelide. Dr Franklin has been previously involved in the initial development and registration of Anagrelide drug in Europe.
He holds over 40 years of experience in pharmaceutical R&D and has worked with numerous drug companies in the past, including Sterling Winthrop, Glaxo, AstraZeneca and Wyeth. He has also served as the head of New Product Innovation (small molecules) at US-based Shire Pharmaceuticals, where he is credited with filing more than 40 patents on potential novel drug products.
Additionally, he has published more than 60 scientific papers during his career and served as Xenobiotica's associate editor for around 10 years. On top of that, he is a past secretary and chairman of the European Drug Metabolism Discussion Group.
Dr Franklin's wealth of experience strengthens SUDA's ability to potentially develop the platelet-lowering drug Anagrelide as an oro-mucosal spray formulation. The Japanese Patent Office's decision to grant Anagrelide cancer patent is a great leap forward towards the same.