Summary

COVID-19 has brought a drastic change in the lifestyle and the way of working for people worldwide.
Lockdowns and physical distancing measures compelled corporates to get their employees to work from home, and it has now become the 'new normal'.
The technology sector has been the backbone of economies during this period, offering services such as high-end network infrastructure, enhanced security, and e-transaction services to aid buying, among others.
In the June 2020 quarter, Splitit noted a massive growth of 260% in Merchant Sales Volume.
ALU reported revenue growth of 10% in FY2020 with a cash balance of over US$90 million.
The present COVID-19 crisis has completely changed the way people carry out their day to day activities. Corporates are increasingly moving to virtual platforms to ensure business continuity amid the current challenges. The coronavirus pandemic has been a black swan event, and we are still not sure how long the virus is going to affect the world.
Even with restrictions relaxed or completely removed in several geographies, people continue to work from the remote locations as the threat of the pandemic persists. Looking at the current scenario, it would not be wrong to say that remote working, and thus a distributed workforce, has become a new normal.
In the future, we may see an increase in the number of digital platforms or channels as more and more people are adopting remote working. Also, the companies are finding the present working style more convenient and are not thinking twice before asking their employees to operate from home.
In the pre-COVID-19 period, remote working was common only in the technology sector. However, in the present times, most of the businesses and industries are flexible, allowing their people to work remotely.
GOOD READ: How is Remote Working Impacting Human Psychology Amidst Social Isolation?
A report published by PWC highlights that the success of modern businesses in the present time would depend on connectivity, how easily one can access information, the pace of response, a network of collaboration plus the ability to make decisions in real-time. To be competitive in the corporate world, companies must transform the work experience for its employees by fostering innovation, efficiency, and removing communication barriers.
In this backdrop, let us look at two tech companies which witnessed growth during this period. We would cover the recent update and see how their stocks have performed.
Splitit Limited (ASX:SPT)
Splitit Limited is the only BNPL player that allows shoppers to use their existing credit card to pay in small monthly instalment. The Company also enables merchants to provide interest-free monthly instalment payments to their customers at the point of sale.
Merchant Sales Volume growth of 260% in Q2 FY2020:
Splitit, in its recent media release, reported strong growth in its Merchant Sales Volume by 260% to US$65.4 million during the second quarter of FY2020 (period ended 30 June 2020). The primary source of funds was through Merchant Fee, which the Company also pointed in its IPO prospectus.
Gross Revenue for the period was US$2.4 million, up 460% on pcp, and up 246% on Q1 FY2020. The total merchants grew 104% to more than 1k and total unique shoppers by 85% to 309K.
The average order value surged 44% compared to pcp, to reach US$893 million.
Big new merchants associated with the Company presently include Purple, Daily Sale, Quiet Kat, Dreamcloud, Bedmart, Scorptec, Tatami Fightwear, Sofa Club, and Alpina Watches. The Company also partnered with Mastercard, Finance for Group, and Blue Snap.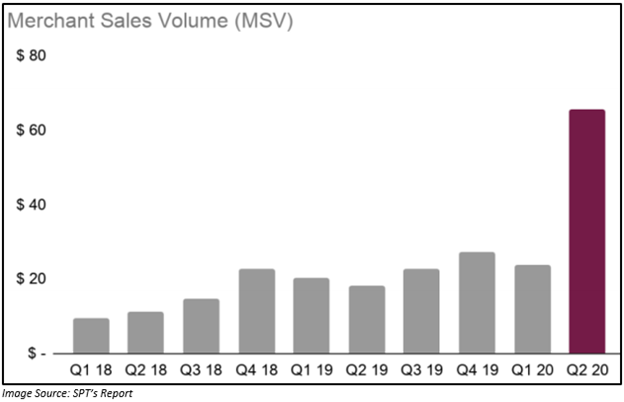 Completion of Placement:
During the second quarter of FY2020, Splitit also completed A$16 million placement to strengthen its balance sheet and support the Company in its growth strategy. The placement received strong demand from the top institutional and sophisticated investors. Each share under the placement was issued at A$0.41.
Stock Performance:
SPT's stock performance was quite impressive in the last six months, with a return of ~138%. A further boost in the share price was seen in the previous three months, where the stocks delivered a return of ~232%.
On 22 July 2020, SPT shares last traded at A$1.480, down 4.207% from the previous close. SPT has a market cap of A$549.51 million and ~355.67 million outstanding shares.
Altium Limited (ASX:ALU)
Headquartered in San Diego, California, Altium Limited is a multinational software corporation that is engaged in PCB design system for 3D PCB design and embedded system development. The products offered by the Company can be seen from the world's top electronic design teams to the mass electronic design community.
Growth in Revenue and Achieved 50,000 Subscriber Target:
On 14 July 2020, the Company released its unaudited sales and revenue for FY2020 (period ended 30 June 2020). During the period, the Company achieved revenue growth of 10% to reach US$189 million with solid performances in core business units & key regions during the challenging COVID-19 ecosystem.
Altium witnessed strong growth in the new Altium Designer seats. The subscription was about to surpass its 50,000-subscriber target. The Company reported strong growth in the sale of new Altium Designer seats by 14% and 17% increase in the subscription base. The cash balance by the end of the year stood at more than US$90 million.
The world revenue grew by 10% to US$189 million, and world sales were also up by 10% to US$194 million.
Stock Performance:
ALU shares could not do well in the last six months. However, it delivered a decent return of ~14% in the previous three months.
On 22 July 2020, ALU shares last traded at A$33.940, down 2.834% from the last close. ALU has a market cap of A$4.57 billion with 130.97 million outstanding shares and a PE ratio of 60.71x.