Summary

SenSen Networks Limited (ASX:SNS) has completed the acquisition of Snap Network Surveillance Pty Ltd.
SenSen plans to combine the Snap technology with its exclusive SenDISA platform to provide novel, innovative solutions and products to overseas markets.
The acquisition has fostered SenSen's ambition to expand aggressively in the US market.
Australian AI solutions provider SenSen Networks Limited (ASX:SNS, OTCQB:SNNSF) has reached a significant milestone with the acquisition of the business & business assets of Adelaide-based Snap Network Surveillance Pty Ltd. The acquisition was completed on 1 December 2020.
Snap is an international leader in the realm of AI-powered multi-camera tracking software. This software allows the surveillance camera operators to effectively track persons of interest over extensive video surveillance environments.
With this acquisition, SenSen intends to incorporate the Snap technology into its exclusive SenDISA platform to offer new innovative solutions and products to international markets.
To read about SenSen's September quarter results, Click Here!
Details of Acquisition Transaction
The acquisition was accomplished after the finalisation of legal and technical due diligence and the implementation of the Business Purchase Agreement with Snap.
SenSen has acquired all intellectual property comprising trademarks, patents, and know-how for A$1,000,000 through the issue of fully paid ordinary shares in SenSen. The consideration for the deal is SNS equity priced at the last 7 business days VWAP of A$0.1012 per share, for a total of 9,881,423 shares. SenSen's share capital dilution pre-issue is approximately 2.2 per cent.
As a part of the acquisition, SenSen's world-leading technical team will be joined by Snap's highly skilled AI software engineers, including Dr. Henry Detmold, who is a recognised leader in large scale network video surveillance solutions.
Significance of Acquisition
SenSen plans to roll out a ground-breaking novel product - "SenTRACK"- by integrating Snap's AI-powered multi-camera networked tracking technology into its automated multi-object tracking technology in individual camera views. SenTRACK is expected to have the innovative new capability to automatically track and detect people across an extensive video surveillance network.
SenTRACK is anticipated to deliver substantial new business insights to SenSen's existing and potential customers. Potential applications of Snap and SenSen's integrated technology comprise:
Path-to-purchase of clients within retail stores
Anti-money laundering applications within Casinos
COVID-19-related tag and trace applications within facilities
Besides, the integrated technology is expected to deliver high precision people occupancy metrics within buildings simply by tapping into the present CCTV networks. This appears to be a key work-place health/safety requirement for all companies in the post-coronavirus world.
It is worth noting that SenSen has been independently offering solutions to similar market segments as Snap for the last many years. The Company believes that upselling the supplementary SNAP functionality will be welcomed by its existing customer base and will create additional revenue streams for it.
The Company has already found new global customers looking for the integrated SenSen/Snap solution. SenSen anticipates that the combined offering will enable it to become a market leader in the massive video surveillance industry.
Substantial Market Opportunity
SenSen informed that Snap has primarily focused on making inroads into the US market over the last few years. Snap has acquired several universities and high-security prisons as its clients, including a new US-based customer in Utah state in November 2020.
Snap has also made crucial inroads into the Casino market with numerous POCs (Proof of Concept) queued up in the US, where tracking individuals across massive surveillance camera networks is of paramount importance.
The acquisition of Snap has added fuel to SenSen's ambition of expanding aggressively in the US. SenSen is already buoyed up on the back of City of Las Vegas contract win in 2020 and additional US customers engaged in POCs. Besides, the acquisition favours SenSen's desire of being admitted to the US-headquartered OTCQB market.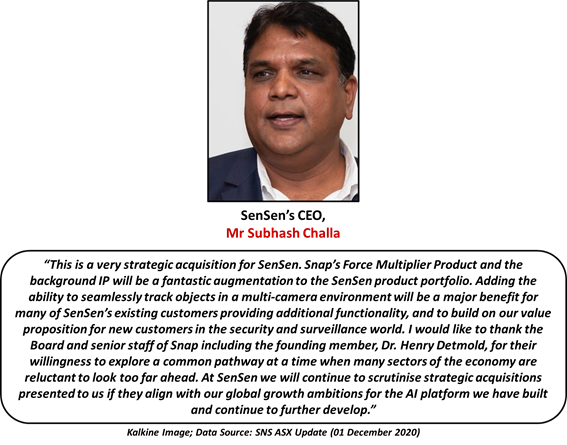 SNS is trading at A$0.12 per share at 12:06 PM AEDT on 3 December 2020.
Interesting Read: SenSen Networks (ASX:SNS) spreads wings with global partnerships and increased customers