Summary

SenSen Networks (ASX:SNS) has recently released its AGM presentation 2020.
SenSen observed strong growth throughout 2020 despite COVID-19, with significant cost controls leading to a robust response to virus impact.
The Company's contracted total revenue has increased to ~A$6 million for FY2021, as of November 2020.
SenSen Networks Limited (ASX:SNS, OTCQB:SNNSF), has recently released its Annual General Meeting (AGM) presentation 2020 on the ASX. The presentation highlights that SenSen has continued to clock significant growth despite COVID-19 pandemic, with FY 2021 likely to be a record year for its key financial metrics.
SenSen is a leading AI solutions provider based in Australia, which is bringing together leading-edge AI technologies into a single reconfigurable platform – SenDISA. It is a multi-camera, multi-sensor data fusion software platform, which can be reconfigured on demand to fulfil several customer use case requirements.
SenSen is tapping potential opportunities emerging in the AI domain in the IoT market via its AI -powered productivity & safety solutions. As per the Company, the global AI in the IoT market is expected to reach USD 16.2 billion in 2024 from USD 5.1 billion in 2019, growing at a CAGR of 26% during the forecast period.
Competitive Edge
SenSen is primarily focused on two key markets comprising Roads and Parking, and Buildings and Spaces. Existing solutions in these markets are predominantly manual, costly, inefficient, and time-consuming. However, these challenges are effectively tackled with SenSen solutions.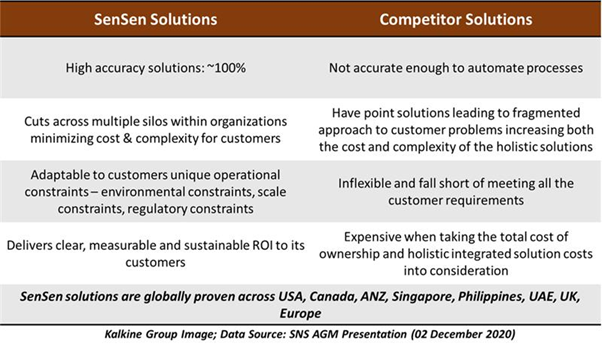 Experienced Growth Despite COVID-19
SenSen experienced considerable growth throughout 2020 despite coronavirus pandemic, with significant cost controls leading to a strong response to virus impact. The growth was primarily driven by new ground-breaking innovations to offer disruptive price-based SaaS solutions, comprising:
Gemineye smartphone-based smart city monitoring solutions
Distributed computing-based casino table game monitoring solution
Besides, the Company noted growth in the international workforce, expanding to over 100 software engineers, technologists, and project managers. Importantly, growth foundations were also established in the US market, with SenSen winning high reference customers like the City of Las Vegas, achieving OTCQB listing and continuing progress with the City of Chicago.
Furthermore, SenSen concluded the commercialisation of smartphone-based analytics product line and several variants of the Gemineye product to meet different market requirements in a complete SaaS model. The Company informed that solar-powered, Handheld, Curbside version and Vehicle Mountable Light-bar versions were introduced to expand. Significantly, all variants are now commercially deployed, stimulating significant growth.
Strong Financial Footing
Interestingly, SenSen's financial performance has so far remained strong in FY 2021, with the Company observing solid growth in ARR (Annual Recurring Revenue) and total Revenue. As of November 2020, the Company's contracted total revenue has increased to ~A$6 million for FY2021 (more than the previous guidance of ~A$5.6 million), of which A$3.3 million is ARR.
The ARR is approximately 55% of the Company's total revenue and has grown steadily in YoY terms starting from ~12% in FY 2017, as demonstrated in the below chart: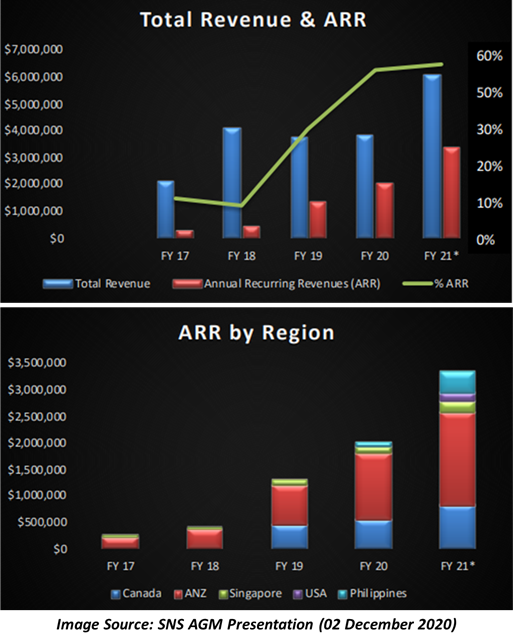 As of November 2020, the Company had 21 customers generating ARR, higher than 16 in FY 2020, and 8 in FY 2019. Besides, the average ARR per client is ~A$160K per customer. SenSen highlighted that almost all its existing customers purchased additional services, increasing its ARR per client over FY 2021.
It is worth noting that SenSen's strong distribution network is driving the Company's growth through major international partnerships: over 6 partnerships each in Singapore and ANZ, 2 each in India and North America, and 3 in EMEA.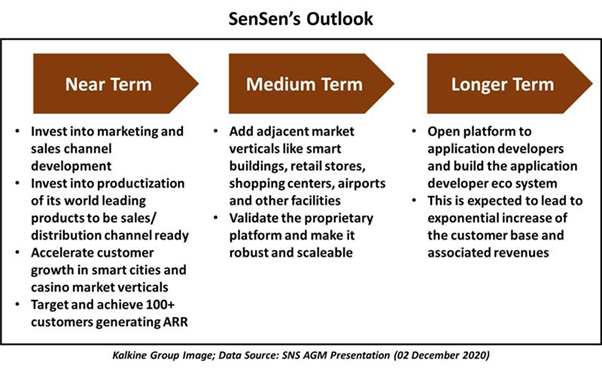 SNS is trading at A$0.12 per share at 12:06 PM AEDT on 3 December 2020.
To read about SenSen's September quarter results, Click Here!