Summary

BNPL share prices had been touching the sky baked by a preference for contactless payments and payment are done in instalments at the time of severe economic crunch and the utmost need of maintaining social distancing.
Major BNPL players had seen triple digit growth in their share prices since March bear market with unicorn company Sezzle trading 1,743% higher from its March low.
Sezzle has recently opened up a A$7.2 million share purchase plan after securing a A$79.1 million capital raise to fuel up growth strategy execution and strengthening its balance sheet.
The continuous up-run in the middle market is threatened by the expiry or reduction in the stimulus packages. To mitigate the fear of loss, investors may choose a stop-loss order strategy to minimise damage.
The share prices of BNPL players had been touching the sky and beyond with fintech darling Afterpay Ltd (ASX:APT) leading the pack. Preference for contactless payments and payment done in instalments has prompted many to choose BNPL players for making merchandise purchase at the time of severe economic crunch and the utmost need of maintaining social distancing.
While the demand for using BNPL players' services is rising, the need for including a BNPL share in the stock portfolio is also gaining prominence. The BNPL firms such as Afterpay Ltd (ASX:APT) or Splitit Payments Ltd (ASX:SPT) or Zip Co Limited (ASX:Z1P) have been hitting the roof with a considerable high in share price since last six months. The share price rise was backed by staggering growth in businesses both nationally and internationally.
Afterpay recently secured a A$1 billion million capital raise and reported 4th quarter ended on 30 June 2020, as the best performing quarter while reaching 9.9 million customers recorded globally. Afterpay closed its session on July 20 at A$69.490, a rise of 681% from the March bear price of A$8.90 on 23 March 2020.
Another BNPL player, Sezzle Inc (ASX:SZL), also recorded stupendous growth in the last few months. Let's have a quick glance on this BNPL Player.
Also Read: BNPL strong run on ASX & changing stance on stimulus: Are stocks done with the run-up?
A look at Sezzle
Founded in 2016, BNPL player Sezzle has a current market capitalization of around A$1.31 billion on 20 July. The unicorn company serves more than 1.48 million Active Consumers through above 16,000 Active Merchants who are using Sezzle services at online stores and select in-store locations.
Capital raise
On 20 July 2020, Sezzle Inc (ASX:SZL) is trading 1,743%% higher at A$8.5 per share from A$0.35 per share recorded on 23 March. On 17th July, the company opened its ~A$7.2 million share purchase plan after securing a A$79.1 million capital raise on 15 July 2020 through a fully underwritten institutional placement. The company intends to use the capital raise proceeds to fuel up growth strategy execution and strengthen its balance sheet.
Q2 Business Update ended on 30 June 2020
The company recently highlighted that it expects its Underlying Merchant Sales (UMS) to hit US$1 billion (A$1.4 billion) by 2020 end. By the 2nd quarter, active consumers increased by more than 243% year-on-year (YoY) and 28% quarter-on-quarter (QoQ) to 1.48 million. Active merchants increased by 27% quarter-on-quarter and 219% year-on-year to reach 16,112.
UMS rose by 58% QoQ and 349% YoY, with an average monthly rate of US$62.7 million from US$39.8 million reported on 1Q20. 2Q20 also demonstrated as the top performance quarter in the Company's history.
The company also claimed to be well-positioned to serve the inflow of North American consumers and retailers who are increasingly showcasing a shift to eCommerce as the COVID-19 impact continues. Almost 100% of transactions are through eCommerce. The company also highlighted that June 2020 demonstrated customer loyalty by repeat usage registered for 18th straight month.
Appointing new Chief Revenue Officer
The Company also appointed Veronica Kat as Chief Revenue Officer. Veronica, who was associated with PayPal since 2011, will help Sezzle in building and expanding enterprise merchant capabilities and add to Company's growth.
Is there an end to the upward run; when to Stop-loss?
Given the staggering growth in the ASX share prices of BNPL, in the last few days, the BNPL sector has actually seen a drop, questioning if BNPL shares will continue the upward momentum or will fall. From the figure below, we can see that key Australian BNPL players have all experienced a double digit fall in their share prices in the last five days except Afterpay, who faced a single digit loss.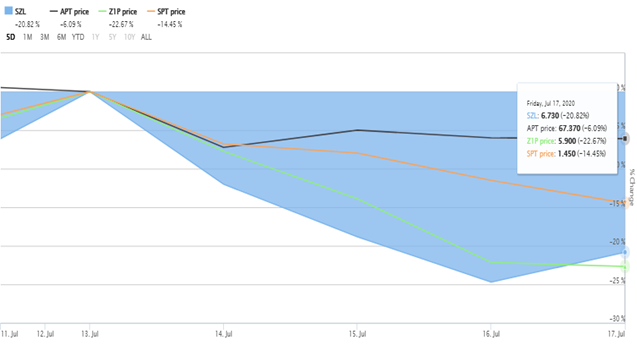 Ideally, whenever the stock market goes up, eventually it falls back. During this run, many investors make super profits, medium profits, and many with losses or a stock ending up in the portfolio as a bad investment.
The current scenario suggests that the BNPL market will hit a slow down once jobkeeper programs and other market stimuli programs by the Australian government will either expire or amount will be reduced in a phased manner from the end of September.
At this juncture, investors who have invested heavily in the BNPL market and are still buying can apply a stop-loss order strategy which may help to mitigate losses or create limited profits, hedging the overall risk.
What is a Stop-loss order?
When an investor places an order placed with a broker to purchase or sell a stock once it hits a specific price is called a stop-loss order. A stop-loss order is meant to minimise loss over a stock. For example, if an investor buys Afterpay shares at A$50.00 and enters a stop-loss order with its broker at a price of A$45, then when the stock will fall below A$45, the shares will then be sold at the prevailing market price.
There is another method of using stop-loss order, known as "trailing stop." In this case, the stop-loss order is established at a defined percentage or amount below or above the current market price, and not at the original price at which investor bought the stock. If a stock goes up, then the investor can obtain an unrealized gain.
By using stop-loss orders even if the BNPL market faces losses in future, an investor can guard himself against the losses.