Summary

Amid the uncertain COVID-19 conditions, several companies are reporting strong performances with a promising outlook.
Eureka Group, a senior community living specialist, registered an increase of 19 per cent in NPAT and announced a final dividend of 0.55 cents per share for FY20.
PointsBet, due to release FY20 report on 31 August, reported robust Q4 performance with a record quarterly net win of AUD 32.4 million for the Australian Trading business.
In the last one-year period, PBH has delivered a return of more than 152 per cent, while EGH stock zoomed up by 43.64 per cent, as on 25 August.
COVID-19 has been the most uncertain time in recent history. Several businesses are still figuring out the ways to adapt to the changed scenario and how to make the most out of the new opportunities. However, there are companies that are functioning uninterruptedly while reporting robust performance.
Eureka Group Holdings Limited (ASX: EGH)
Eureka Group Holdings, a provider of accommodation and services to independent senior residents, recently released its FY20 results for the period ended 30 June 2020. Next trading day to the result announcement, 24 August 2020, the EGH stock recorded a fresh 52-week high of AUD0.405.
Financial highlights for FY20
Net profit after tax of AUD 8.10 million, up by 19 per cent on FY19
Earnings per share of 3.52 cents, up by 19 per cent year-on-year
EBITDA stood at AUD 12.2 million, up by 24 per cent on the same period a year ago
EBITDA from core operations increased by 11 per cent to AUD 8.70 million due to portfolio expansion, improved occupancy and additional service fees.
Net operating cash flow of AUD 7.6 million, up by 60 per cent on FY19
Capital Management
While managing capital, the Group's goal is to support excellent returns to shareholders and benefits for other stakeholders. Net debt increased to AUD 52.0 million, up by AUD 5.8 million due to the acquisition of a new village. Also, debt facility increased to AUD 60 million from Feb 2020. The balance sheet is gearing 36 per cent, in line with the previous year.
Notable balance sheet progress during the financial year:
A reduction in inventory of AUD 4.33 million due to the sale of Terranora units, sale of other non-core assets (AUD 2.07 million), net drawdown of debt (AUD 5.24 million) and an increase in the value of investment properties (AUD 16.04 million) through enhancements, acquisitions, and asset revaluations.
ROU assets (AUD 0.72 million) and lease liabilities (AUD 0.87 million) have been recognised at 30 June 2020 as a result of adopting AASB.
A deferred tax liability was recognised during the year (AUD 0.98 million).
Net tangible assets stood at 35.2 cents per security for the period, up by 6 per cent on FY19. Final dividend of 0.55 cents per share took the total dividend to 1.10 cents per share, up by 10 per cent on FY19.
Portfolio Villages (30 Owned, 8 Managed)
EGH's portfolio of residential village assets performed well with improved revenue, primarily backed by the acquisition of Liberty Villas, a 124-unit rental village in Bundaberg, Queensland. The occupancy grew to 95 per cent, up from 91 per cent in 2019.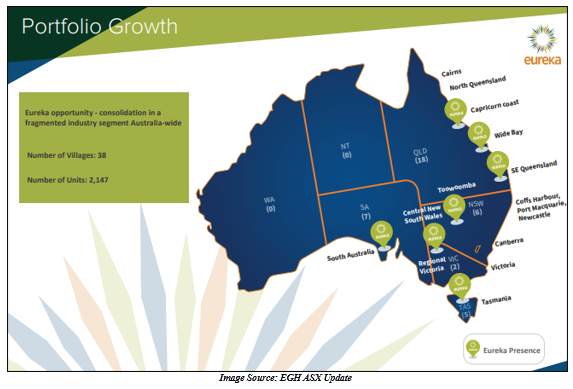 Its results include a gain on the sale of 27 units at Terranora, NSW for a total consideration of AUD 6.39 million, resulting in a profit of AUD 1.03 million. After year-end, the company disposed of 4 units for AUD 1.13 million, with a further 1 exchanged contract for AUD 0.30 million.
Total units increased by 1.3 per cent on the previous year to 2,147 units. The board approved to proceed with Wynnum expansion of 22 units.
EGH reported a capital recycling of AUD 8.46 million of disposals, up from AUD 5.9 million in the previous year.
FY21 Initiatives and Outlook
Eureka plans to focus on creating improved operating cashflow through consistent occupancy and capital recycling. The company intends to employ integrated technology systems across all business units and a cost-effective village refurbishment program.
During the year, the company seeks to deliver earnings accretive acquisition and development opportunities to scale the business and Wynnum village expansion of 22 units in a prime Brisbane metropolitan location.
Stock Performance - On 26 August 2020, EGH closed the day's trade at AUD 0.400, up by 1.266 per cent, with a market cap of AUD 90.86 million. In the last three months, the stock has delivered a return of 27.42 per cent.
PointsBet Holdings Limited (ASX: PBH)
Australia and US-focused corporate bookmaker, PointsBet Holdings is set to report its FY2020 results on 31 August 2020. During July 2020, PBH declared its Q4 FY20 results, highlighting
Robust Q4 performance for the Australian trading business with Q-on-Q Net Win growth of a massive 109 per cent to AUD 32.4 million.
Australian trading business delivered consecutive positive EBITDA quarters - Q3 and Q4 in FY2020.
In the United States, the company achieved a net win of AUD 1.2 million at a net win margin of 2.5 per cent.
PointsBet achieved 8.7 per cent New Jersey handle online market share for the quarter.
PBH secured a temporary operating permit by the Illinois Gaming Board.
Executed an agreement in Australia to become the exclusive wagering partner for Fox Sports AFL during the 2020 AFL season.
Joined hands with BetMakers Technology Group to provide Fixed Odds betting on racing in New Jersey.
PBH was appointed official betting partner of the Detroit Tigers.
Stock Performance - On 26 August 2020, PBH closed the day's trade at AUD 7.680, up by 4.065 per cent. The company has a market capitalisation of AUD 1.13 billion and the stock has delivered a return of more than 42 per cent in the last three months.
Good Read: Three Unique Investment Tips to Build Recession-Proof Portfolio in COVID-19 Crisis