Summary

QEM's Julia Creek testing in extraction efficiency up to 92% on shale ash, Management encouraged by the excellent results
Strong commercial opportunities for vanadium to deliver innovative energy storage solutions and, the established alloy and steel industry
Optimisation studies, beneficiation and roasting assessments to follow
QEM Limited (ASX: QEM), the experienced oil and vanadium player, announced highly successful results from the independent processing test works at the 100% flagship Julia Creek Vanadium and Oil shale project in North Queensland.
The flagship Julia Creek Project extends over 4 exploration tenements spread across an area of 249.6 square kilometres in the presence of excellent existing infrastructure.
The Vanadium project currently hosts a JORC compliant mineral resource volume of 2,760Mt with a grade of 0.30% V2O5 and a 3C Contingent Oil Resource of 783 MMbbls with average oil yield reported to be 53 litres a tonne as informed in October 2019.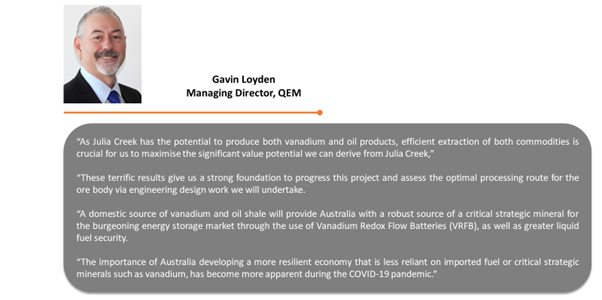 Excellent Vanadium Extraction Results: QEM proceeding on Julia Creek Metallurgical test work
QEM works in close association with HRL Technology Group, a NATA-accredited laboratory in Melbourne, to conduct the test work program. The shale ash was produced at different temperatures from the (oil shale upper) OSU and (oil shale lower) OSL stratigraphic seams and then undertaking vanadium extraction testing using sulphuric acid leaching.
Excellent Vanadium extraction results through test work includes the following major outcomes:
Vanadium extraction efficiencies of up to 92% on the shale ash
Majority of extraction took place between 3 and 6 hrs
Successive optimisation works to be included in the future programs
High Vanadium extraction efficiency: As detailed in the table below, the Company was able to achieve very high extraction efficiencies of around 90% on shale ash samples produced at 900°C for both the OSU and OSL samples:
Vanadium extractions results using Acid Leaching Source: QEM Limited
The extraction efficiencies for the oil shale ash samples at 700°C and 1000°C resulted in much lower extraction yields at around 60% and 70% ranges for the Oil Shale Lower (OSL) and Oil Shale Upper (OSU) respectively. These results suggest that at a production temperature of approximately 900°C, QEM will achieve high vanadium extraction efficiencies.
Optimisation programs to proceed in future: Additional work is now required to determine if the vanadium extractions can be optimised by reducing temperatures or production conditions slightly.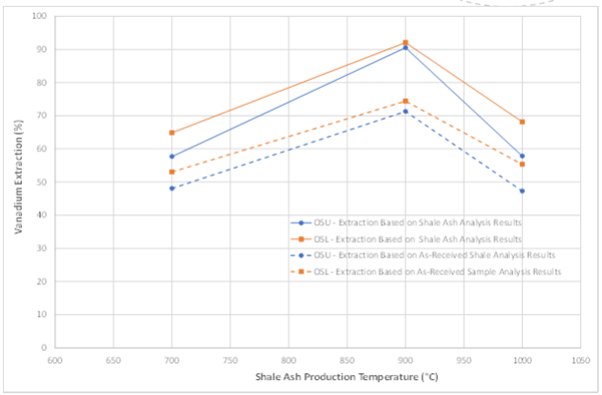 Vanadium Extraction for Acid Leach Tests varying with the Production Temperature Source: QEM
The OSU and OSL samples resulted in extraction efficiencies of 70% and 80% respectively which are still higher in comparison to other production temperatures.
Majority extraction complete after the 3 to 6 hours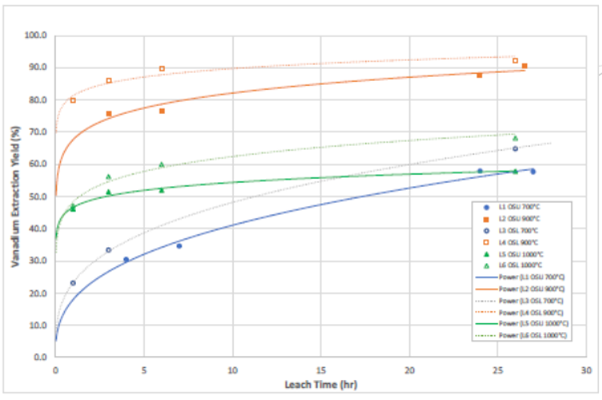 Vanadium Extraction variation with Leach Time Source: QEM Limited
The results of the rate of reaction is highly consistent with the acid consumption results. Majority of the extraction was completed within 3 to 6 hours with the flattening of the curve thereafter.
Way Forward: Future programs to follow Excellent Extraction Tests
Following the excellent test results, QEM plans to conduct the optimisation trials to investigate several parameters extensively including:
Optimisation of acid leach tests for temperature and capacity
Processing of shale ash prior to leaching to improve the acid consumption
Roasting tests using soda ash
Evaluation of alternative salts which may lead to further improvements in yield and efficiency
Vanadium, driver of the burgeoning clean energy and Alloy Industries
Vanadium is a hard, silvery grey speciality metal which is used in the steel industry to be used as alloys and Vanadium redox batteries (VRB).
Steel & Alloy Industry: Even a small amount of vanadium in steel alloys can double its strength while also reducing the weight by up to 30%. Vanadium high-carbon steel alloys contain 0.15% to 0.25% vanadium while high-speed tool steel alloys such as surgical instruments and speciality tools contain vanadium grade in the range of 1% to 5% vanadium.
Vanadium Redox Flow Battery (VRFB):
Invented and developed in Australia at UNSW, VFRB's are among the most efficient battery technologies available today and are most appropriate for utility scale renewable energy storage for both wind and solar energy and for load levelling of existing power systems, reducing the need for expensive "gas peaker plants" and reducing overall power costs. The vanadium redox flow battery offers an advanced energy storage solution, as they are compact, safe, stable and reusable, with a long-life cycle and excellent response time.
Here are a few unique benefits of the Vanadium Redox Flow Battery:
Long life of up to 20 years with a cycle life of up to 20,000 cycles with no capacity loss
Rapid charge and discharge rates
Scalable energy storage option for large megawatt applications suitable for grid scale energy storage
Excellent charge retention over the long term
Safe, stable and non-flammable in comparison to Li-ion batteries
The world's largest battery is under construction in Dalian, China with a capacity of 200MW/800 MWh is a Vanadium Redox Flow Batteries (VRFB).

QEM closed at $0.110 a share on 12 August 2020, up 15.8% on the day with a market capitalisation of $4.15 million. As of 3:30pm.
All financial information pertains to Australian dollar unless stated otherwise.