Summary

QEM's Julia Creek holds resource of 2,760 Mt Vanadium at 0.3% V2O5, among the largest in the world. 3C Resource of 783 million barrels of oil.
Oil extraction result using a solvent double that of Modified Fischer Assay Tests
Vanadium extraction efficiencies up to 92% on shale ash, post oil extraction
Vanadium extraction results reinforce the dual commodity opportunity at the Julia Creek Project following recent oil extraction results which achieved promising oil yields
Queensland based metals and oil shale explorer and developer, QEM Limited (ASX:QEM) is progressing on the world's only Vanadium and Oil shale combination project in North western Queensland.
QEM envisions to cater to the burgeoning energy demand through innovative energy solutions to both the domestic and international markets. QEM plans two major business segments upon development of the Julia Creek project including-
Transport Fuels – To assist with attaining the fuel security in the domestic Australian market
Vanadium Pentoxide – High quality vanadium pentoxide for nascent energy storage sector and the Australian steel industry
The unique product mix would establish QEM in both the existing energy markets and the energy sector of the future. The world's largest battery is under construction in Dalian, China with a capacity of 200MW/800 MWh is a Vanadium Redox Flow Batteries (VRFB). The opportunity to produce both transport fuel and Vanadium is extremely rare and highly prospective.
QEM Managing Director Gavin Loyden said both the vanadium and oil shale tests had produced very positive outcomes.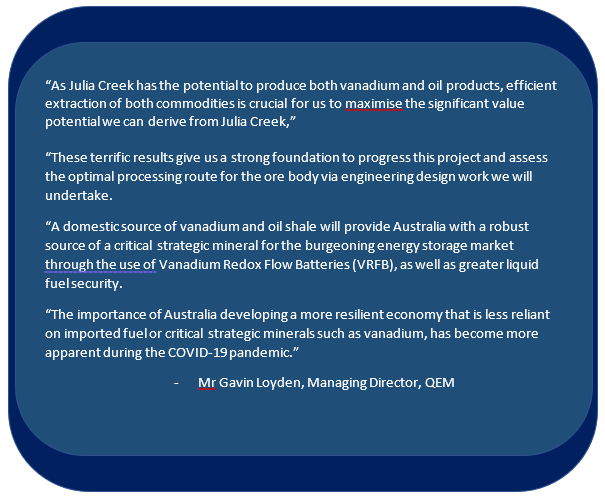 Julia Creek Project – Incumbent Project Delivering Future Products
The Julia Creek project stretches over 249.6 square kilometers area in the Queensland province intersecting a major infrastructure corridor of the Flinders Highway and Great Northern Railway connecting Mount Isa and Townsville. Julia Creek Vanadium and Oil share project is spread across 4 exploration permits namely, EPM25662, EPM25681, EPM26429 and EPM27057.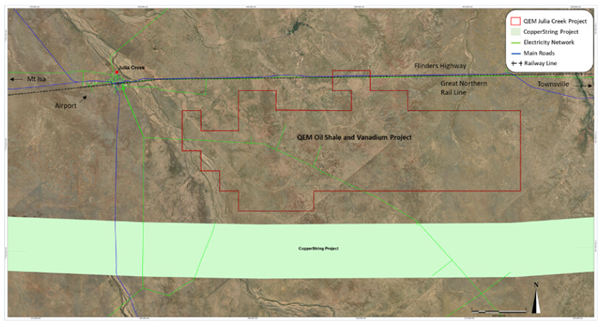 QEM's Julia Creek infrastructure and available services Source: QEM Limited
Access to excellent infrastructure: The Julia Creek project area enjoys access to existing excellent infrastructure and utility services such as water, gas, telecommunication lines and Telstra's fibre optic cable. The CopperString project which runs near QEM's tenements is a 1028-kilometre high-voltage transmission line aimed to support the mining operations and stimulate large-scale renewable energy investment in the North Queensland.
Twin commodity mining opportunity: Vanadium pentoxide(V2O5) at Julia Creek is contained within the oil shales and is ideal to efficiently reap the benefits of both vanadium and oil from the same open cut operation.
Read Here: QEM releases Activity report for June quarter, Excellent progress made on Commercial Extraction Technology
Unique world class Resources: Julia Creek is a unique vanadium oil shale opportunity with the potential to deliver efficient and innovative energy solutions through the production of vanadium pentoxide and liquid transport fuels.
QEM aims to emerge as a leading producer of liquid fuels and high-quality vanadium pentoxide ideal for the burgeoning energy storage and the Australian steel industry.

JORC Mineral Resource Estimate (U) SPE-PRMS Oil Resource (L) Source: QEM Limited
In 2019, the JORC the mineral resources were upgraded by 62% to 2,760 Mt Vanadium with an average grade of 0.3% V2O5. The 3C resources stood at 783 million barrels of oil averaging 53l/t across the resource area, with areas of up to 88l/t. The Vanadium resource is among the largest in the world.
Strong management & Technical Team: QEM is led by experienced management and technical professionals with proven background of developing minerals project globally.
The management team is a strong blend of technical, and operational experience, with strong exposure to corporate negotiations, capital raisings, exploration, development and management of projects across mineral resources and energy space.
Must Read: QEM reports high oil yield during test program, emphasis on a balanced Vanadium-Oil shale recovery
Oil Extraction Testing at the Julia Creek Oil shale & Vanadium Project
QEM Limited recently published oil extraction results demonstrating improvements in the oil extraction upon using a solvent for both OSU and OSL shale types.
The Oil yields were recorded between 16.7% and 18.1% on dry basis for the OSU oil shale and 14.7% for the OSL shale at 450°C under the base case solvent extraction tests.
Oil yields for the solvent extraction test consistently stood at double level against the Modified Fischer Assay Tests for both OSL and OSU shale types.
The Oil yields stabilised at almost 175% of the Modified Fischer Assay oil yield for varying test conditions.
Vanadium Extraction using sulphuric acid leach
Impressive vanadium extraction results achieved through testwork:
Vanadium extraction efficiencies up to 92% on shale ash
Majority of extraction complete after 3 to 6 hrs
Further optimisation is possible and will be the focus of future programs
In addition, the company will immediately conduct optimisation trials to investigate given parameters in more detail including;
Optimisation of acid leach testing, for temperature and capacity
Beneficiation of shale ash prior to leaching to improve acid consumption
Roasting tests using soda ash
Assessment of alternative salts to investigate whether yields can be further improved.
QEM closed at $0.095 a share on 11 August 2020, with a market capitalisation of $4 million
All financial information pertains to Australian dollar unless stated otherwise.