Summary

VRX Silica Limited (ASX:VRX) has secured a spot in the list of Best Undeveloped Projects (BUPs) for 2020.
The Company is witnessing substantial market interest for its products with environmental permitting processes reaching close to completion.
With approvals, offtakes and funding progressing well, the Company anticipates construction for Arrowsmith North and Muchea projects to commence in 2021.
Silica sand explorer VRX Silica Limited (ASX:VRX) has made great strides in its exploration endeavors over the last two years. The Company has been able to bring its Arrowsmith and Muchea projects close to the production phase in a short span of time since the onset of drill programs in March 2019.
Recognising the growth potential of the Company's projects, a leading Australian broker has recently placed VRX Silica on its Best Undeveloped Projects (BUPs) list for 2020. The broker assessed over 450 resources companies and their respective projects in its 2020 review. Notably, only eight projects and their respective owners could make it on to its BUPs list, including VRX Silica.
VRX Silica shares soared over 5 per cent to $0.3 on Monday.
With that said, let us quickly take a deep dive into the state of the Company's projects below:
Bankable Feasibility Studies Completed
VRX Silica has already completed the Bankable Feasibility Studies (BFSs) of its three high-value silica sand projects – Muchea, Arrowsmith North and Arrowsmith Central. Interestingly, the BFSs demonstrated robust project economics and compelling financial metrics for all the three projects.
Key highlights of three BFSs are as follows:
25-year mine life (potential for 100+ years)
Aggregate capital expenditure of $87 million for the three projects - low capex relative to their earnings potential
Initial financing requirement $28.3 million (Arrowsmith North)
annual EBITDA of $140 million
Post-tax Project NPV10 of $728 million led by long-life high-margin, and low-cost operations
Post-tax IRR (Internal Rate of Return) of 83%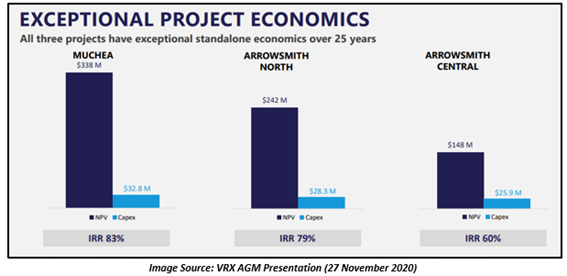 It is worth noting that the Company's projects also support the high-capacity logistics, on the back of:
attractive capex cost of ~$30 million for each of its 2Mtpa project,
convenient access to existing under-utilised rail to port transport infrastructure, and
simple "off the shelf" processing plants.
Mining Leases Granted
Notably, miscellaneous licences and Mining Leases have been granted for each of VRX Silica's advanced projects.
The Mining Lease for the Muchea project - M70/1390 - was granted in October this year. The Mining Lease grant area covers roughly 1,008ha, which is sufficient for at least 25 years of mine life. Besides, the grant area includes the Inferred Mineral Resource and Probable Ore Reserve of 61.4Mt @ 99.6% SiO2 and 14.6Mt @ 99.9% SiO2, respectively.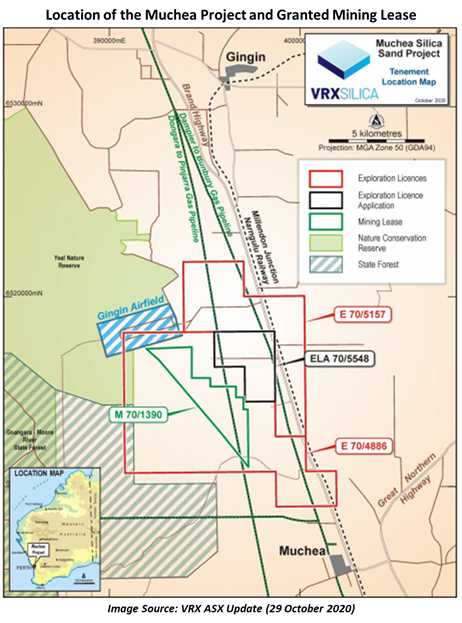 Following the grant of Mining Lease for the Muchea project, the Mining Leases for Arrowsmith North and Central projects - M70/1389 and M70/1392 - were granted in mid-November 2020. The granted Mining Leases envelop an area of over 3,600ha, which is sufficient for 100+ years of production. Moreover, Arrowsmith North and Central Mining Leases contain Probable Ore Reserves of 204Mt @ 99.7% SiO2 and 18.7Mt @ 99.6% SiO2, respectively.
After the grant of Mining leases for Arrowsmith and Muchea projects, the silica sand explorer raised $7 million capital via a placement program. VRX Silica intends to use the raised funds for:
pre-production preparatory task at advanced Arrowsmith North project,
further drilling at Muchea and Boyatup projects, and
meeting general working capital.
Environmental Permitting Nears Completion
The environmental permitting processes for VRX Silica's projects are also well advanced, with the Company anticipating no material issues.
VRX Silica plus its environmental consultants have conducted pre-referral meetings with representatives from the Department of Agriculture, Water and Environment (DAWE) along with the State Environmental Protection Authority (EPA). Importantly, the Company received constructive feedback concerning requirements for formal referrals to the DAWE and EPA to secure environmental approvals.
VRX Silica also intends to advance the approval for its mine plan as well as the issue of a mining permit from the WA Department of Mines, Industry Regulation and Safety.
Next Steps Forward
With environmental permitting on the verge of completion, VRX Silica sees strong interest from its potential customers based in South East Asia, including Taiwan, Japan and South Korea.
The Company now looks forward to finalising sales contracts for its superior silica sand products. The silica sand explorer believes that the offtake agreements act as catalyst to construction, financing & production.
Moreover, VRX Silica anticipates construction for the Arrowsmith North Project to start in early mid 2021 once offtake, permitting and financing are secured. Also, the Company foresees construction for the Muchea Project to begin in mid-late 2021.