Summary

Shree Minerals is expanding portfolio around gold and iron ore projects across Australia
The Lachlan fold belt is widely recognised for hosting premium gold-copper mining operations globally, Shree Minerals holds highly prospective Turondale and the Rock Lodge project
Historical rock chip samples at Rock Lodge recorded grades up to 11.1 g/t at shallow depths
Initial desktop review completed at Turondale, historical mining centres under focus
Diversified metals exploration and development company, Shree Minerals Ltd. (ASX:SHH) holds a strong array of gold and iron ore mineral projects across Australia. The Australian player focuses on creating sustained and substantial shareholder value via successful exploration of the highly prospective mineral tenements and the development of ore bodies into operational mines.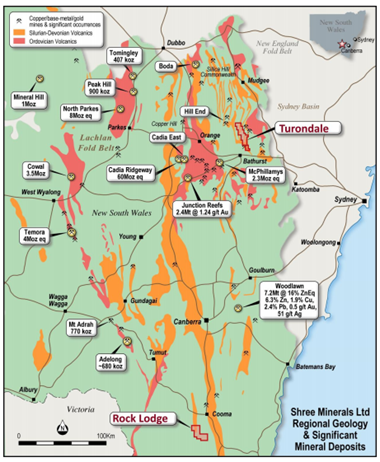 Shree Minerals tenements in the East Lachlan Fold Belt Source: Shree Minerals 3 November 2020
The Lachlan Fold Belt hosts the largest gold-copper mining operations in Australia such as the Newcrest Mining's (ASX:NCM) Cadia Ridgeway and Evolution Mining's (ASX:EVN) Lake Cowal operations. The prolific region gained stardom after the recent discovery by Alkane Resources' (ASX:ALK) Boda prospect (502 metres at the grade of 0.2% Cu and 0.48 g/t gold, 211 metres downhole), escalating the interests in the exploration grounds within the belt.
Read Here: Shree Minerals' (ASX:SHH) Turondale project in Lachlan Fold Belt Under Spotlight
The East Lachlan Fold Belt holds a strong heritage of gold (80 Mozs), copper (13 Mt) and Silver production complemented by prospective exploration grounds with substantial potential for the future.
Rock Lodge – The latest addition to Shree's Expanding portfolio
Most recently in early November, Shree announced the lodging of an exploration licence application (ELA6147) for the Rock Lodge project in the East Lachlan Fold Belt near Cooma in the New South Wales. Shree's recent acquisition expands the ground position for the developer in the Lachlan Fold Belt beyond the highly prospective Turondale project.
Rock lodge project and the regional geology Source: Source: Shree Minerals 3 November 2020
The Rock lodge project is considered highly prospective for gold hosted in orogenic, Intrusion Related Gold Systems (IRGS) and skarns. The rock chip samples of the near surface quartz veins were conducted by Southern Gold NL recording gold grades up to 11.1 g/t. The follow up drilling targeting the historical workings intersected substantial sulphide mineralisation recording gold grades up to 4.28 g/t gold, 35 g/t silver, 0.79% copper and 13.5% zinc.
Suggested Read: Shree Minerals pursuing growth opportunities outlines 12-month objectives
Turondale Prospect – Another ace in the making
During the September quarter, Shree Minerals lodged an application for the exploration tenement (ELA6044) in the East Lachlan Fold Belt of New South Wales. The Turondale project stretches over 129.9 square kilometres and is situated almost 15 km north of Bathurst which witnessed one of the largest gold-rush historically. The tenement is prospective for porphyry, orogenic and skarn related gold mineralisation.
The Turondale project is surrounded by Krakatoa Resources' (ASX:KTA) EL8942 and Alkane Resources Ltd's (ASX:ALK) EL8940 tenements. The EL842 tenement hosts 2 distinct north trending reef systems namely, the Box Ridge and Quartz Ridge over a strike length of 2.4 and 1.6 kms respectively. The reef systems are interpreted to strike southward and extend to the Turondale tenement area.
Historical soil and stream sampling had recorded very anomalous grades up to 2.6 g/t gold, 5,000ppm lead and 3,700ppm copper. Shree has already completed an initial desktop review of historical reports for the Turondale project.
Must Read: ASX listed Shree Minerals (SHH) identifies New geochemical targets at the Bruce Project
The Turondale project area includes 9 gold occurs which are aligned in a north-northeast direction parallel to the regional strike and folding. The historical workings include shafts, near-surface mine workings and alluvial mining centres that have not been subjected to any modern exploration.
Shree Minerals plans to pursue the opportunity at the Turondale and Rock Lodge gold properties and further acquire prospective rounds in the prolific mineral fields as circumstance arise.
Must Read: Shree Minerals Ltd. (ASX:SHH) releases activity report for September quarter, eyes Nelson Bay River resumption
Shree Minerals traded at $0.012 a share on 13 November 2020 with a market capitalisation of $9.71 million.