Summary

Department of Mines has confirmed in writing to Mount Burgess that renewed Prospecting Licence 43/2016 documentation is ready for collection.
PL 43/2016 covers an area of 997 sq km and contains Mount Burgess' progressing Kihabe-Nxuu Zn/Pb/Ag/Ge/V project.
Developments have been fostering well at the Kihabe and Nxuu deposit, with mineralogical and metallurgical test works in pipeline.
The 2020 Annual General Meeting of the shareholders will be held via virtual technology on 30 November 2020.
Mount Burgess Mining NL (ASX:MTB) is an ASX-listed public company incorporated in Australia. It is currently developing the Kihabe and Nxuu Zinc/Lead/Silver/Germanium and Vanadium deposits in Botswana.
The Company announced on 5 November 2020 that it has received a positive update from the Department of Mines, Botswana pertaining to its Second Renewal Application for Prospecting Licence PL 43/2016.
Renewal of Prospecting Licence PL 43/2016
The Department of Mines notified Mount Burgess that the Company can now collect the documentation for the renewed Prospecting Licence 43/2016. In September 2020, Mount Burgess had submitted its Second Renewal Application for PL 43/2016 for a further two years to 31 December 2022.
It should be noted that Under the Mines and Minerals Act of Botswana, Prospecting Licences are issued for an initial three-year period. However, there is a right to apply for two further two-year renewals prior to applying any extensions.
Acquainting with PL 43/2016
PL 43/2016 covers an area of 997 sq km. It comprises Mount Burgess' Kihabe-Nxuu Zn/Pb/Ag/Ge/V project.
In January 2016, Mount Burgess (Botswana) (Proprietary) Ltd, a wholly owned subsidiary of the Mount Burgess, was granted Prospecting Licence PL 43/2016 over the Project, previously held under PL 69/2003.
The Kihabe-Nxuu Project
Mount Burgess has developed a 2004 JORC compliant Indicated and Inferred resource at the polymetallic Kihabe Deposit, amounting to 14.4 million tonnes of Zn/Pb/Ag @ 2.84% Zn equivalent grade.
The polymetallic Nxuu resource, previously estimated under the 2004 JORC Code, is no longer valid with the amount of subsequent drilling conducted. A further 2,600m of HQ diamond core drilling is required to quote an indicated/measured resource that is compliant with the 2012 JORC Code.
The Company plans to focus on the Nxuu Deposit for initial development, which is totally oxidised. The deposit is gently sloping and bowl-shaped, with a maximum depth of 64m. It has been identified potentially as a low risk, low capital project with a relatively quick path to production.
Recent Developments
Mount Burgess has made significant development over both the deposits recently-
Way Forward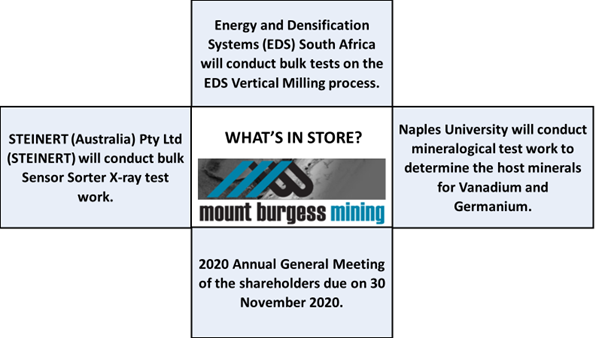 Image: © Kalkine Group 2020, Source: MTB's ASX Updates
Mount Burgess shares traded at $0.007 on 5 November 2020.