Since ages, mining has been a key sector for the economic growth of Australia. The country is in the middle of another commodity boom, supported by both record export volumes of commodities and their surging prices. The present boom in the commodities market is underpinned by high demand for industrial metals in economies like China and India.
Also, gradual production cuts in crude steel being implemented in China have resulted in the country's steelmakers shifting their preference towards iron ore brands. In a nutshell, an increase in steel consumption, as the world recovers from the coronavirus pandemic-induced downturn, is driving iron ore prices to new highs as even the biggest of the miners struggle to keep up with the increasing pace of demand.
Blue chip miners have benefited and leveraged the power of scale. Here is an Australian blue-chip miner, having a market capitalisation of around AU$152 billion cheering investors with its share price rally and industry-beating dividend yield. Let us zero in on the stock in question, that is, BHP Group Limited.
Stock Performance
BHP Group Limited (ASX:BHP) has delivered a massive return of around 29.3% on a year-to-date basis, mirroring the iron ore rally this year. In the month of July, the BHP share price has picked up momentum and is up by over 9%. Considering it is one of the largest companies in Australia, the return is much welcomed by investors.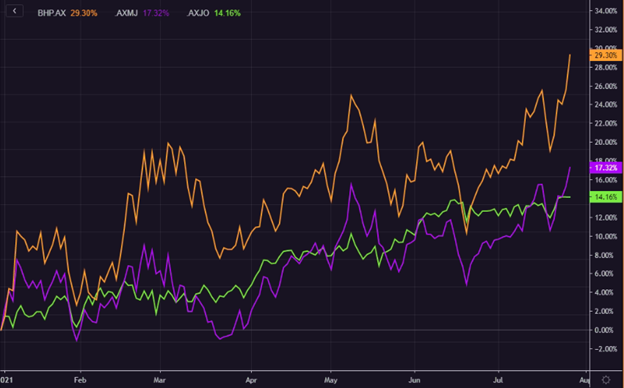 BHP vs Benchmark indices' performance, Image Source: Refinitiv, Thomson Reuters; Analysis: Kalkine Group
BHP Group's annual dividend yield of 3.97% puts it on top of dividend yield charts as far as large caps go.
The BHP share price has also outperformed the broader market index, ASX 200, by a fair margin. On a YTD basis, the ASX 200 has delivered a 14.16% return. Comparing the stock with the Materials index, again there has been an outperformance by BHP, which delivered almost 12% more than the ASX 200 Materials index return of 17.32%.
About the company
Not only in Australia, but BHP Group is also one of the largest mining companies in the world, having an extensive portfolio of mining projects. The company employs a workforce of more than 80K employees to extract and process gas, oil and minerals, primarily in Australia and the US. Its wide range of extensive product portfolio is being sold across the world, with Singapore and the US, leading the marketing and sales. The company is headquartered in Melbourne, Australia.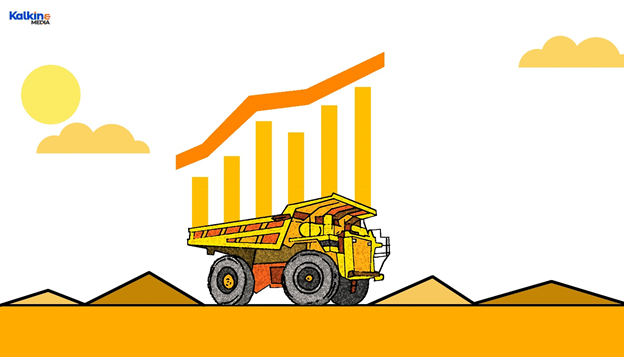 Image Source: Copyright © 2021 Kalkine Media
The company is listed as two separate entities (BHP Group Plc and BHP Group Limited), both of which are parent companies, but they are operated as if it were a single entity.
Financial Snaphot for FY21
BHP has delivered yet another year of above-expectation operational performance and its second consecutive financial year with absolutely no fatality at its operated assets.
Last month, the group said in an official filing that it had entered into a Sale and Purchase Agreement with Glencore, planning to reduce its stake by one-third in Cerrejón, a non-operated energy coal joint venture in Colombia, for US$294 million. The management expects the completion to occur in 2H FY22. For FY21, the company will continue to report operations at Cerrejón, including the impairment charge, in its Income Statement.
Petroleum – During Fy21, the total production of petroleum fell by 6% to 103 MMboe, however, the volumes surpassed the top end of the company's guidance range. The production of crude oil, natural gas and condensate also fell by 6% to 46 MMboe primarily due to a highly active hurricane season in the Gulf of Mexico in 1H FY21.
Copper – The total production of industrial metal, copper decreased by 5% to 1,636 kt. The company expects the production for FY22 is to remain between 1,590 and 1,760 kt. The production of copper at Escondida also fell by 10% to 1,068 kt, impacted by the lower cathode production and lower concentrator feed grade.
Iron Ore – The total production of iron ore for FY21 increased by 2% to 254 Mt. As far as FY22 is concerned, the management expects the production to remain between 249 and 259 Mt, as Western Australia Iron Ore continues (WAIO) would focus on gradual volume growth through by ramping up productivity. Samarco production remained at 1.9 Mt amid the recommencement of the production of iron ore pellet at one concentrator in December 2020.
Shareholding pattern study
As per the latest fillings, The Vanguard Group Inc. holds the maximum number of shares in BHP Group, owning 5.92% of the total outstanding shares, or about 174.27 million shares. The total stake by the Vanguard Group inc. translates to the holding value of approximately AU$5.68 billion.
The second largest shareholder is BlackRock Institutional Trust Company, holding about 3.08% or 90.85 million shares, followed by Vanguard Investment Australia Limited, holding 1.68% or 49.5 million shares. The last investment manager holding above 1% stake is BlackRock Investment Management Australia, having 1.05% or a position worth AU$861 million.
The ongoing commodity super cycle backed by major impetus on infrastructure upgrade in not just in developing economies but also in developed economies is acting as a major driving factor for many commodity players. However, one must be mindful of the price levels at which the underlying commodities are trading in the market. Projecting the price performance based on past movements might not be prudent.