Summary

A binding agreement was executed between Horizon Minerals and Orminex Ltd concerning the former's acquisition of 50% interest in Penny's Find gold project for $1.5 million cash.
The acquisition aligns with Horizon's regional consolidation strategy and objective to build a stand-alone production business at Boorara.
The Company intends to conduct underground mining in H1 2021, given the well-advanced mine development work and statutory approvals in place.
Perth-based gold-focused exploration and development company Horizon Minerals Limited (ASX: HRZ) continues to kick its advancements up a notch in the Kalgoorlie region of Western Australia. In a significant step forward, the Company executed a binding Joint Venture Agreement (JVA) to acquire 50% interest in the Penny's Find gold project for $1.5 million cash from Orminex Ltd (ASX: ONX).
The acquisition aligns well with Horizon's focus to develop a stand-alone gold production business in the Kalgoorlie and Coolgardie region. Progressing well, the Company is pursuing its strategy of further regional consolidation of advanced development assets nears its core gold assets.
ALSO READ: Horizon Minerals (ASX: HRZ) Advancing Well on its Robust Gold Project Portfolio
Commenting on the latest acquisition, Horizon Managing Director Mr Jon Price indicated that considerable work had been completed at the project, facilitating fast-track advancement of the underground deposit. He also expressed that Penny's Find with significant growth potential below the current high-grade resource is expected to provide further high-grade satellite ore at the proposed stand-alone plant at Boora.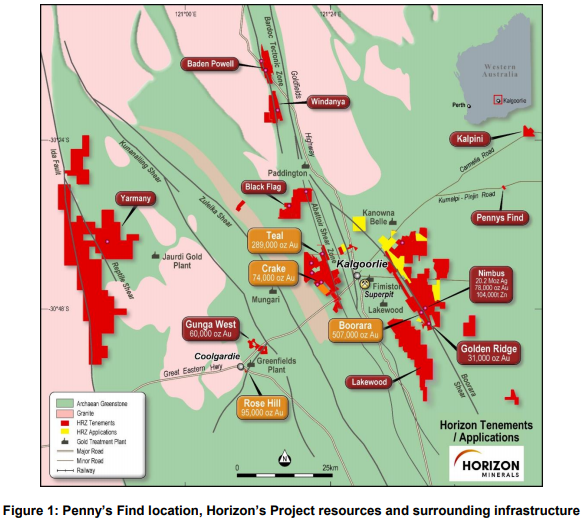 Source: HRZ ASX Update, 30 November 2020
Lens on the Transaction Details
Horizon executed a binding JVA to acquire 50% of the Mining Lease and miscellaneous Licences, with the total cash consideration payable at settlement. Horizon will solely fund the initial $1 million to advance the project. The pre-development advancement includes resource drilling and modelling, updating the mine plan along with any further technical work towards generating Ore Reserves and associated financial analysis.
On completing the contracted toll milling in 2021 and 2022, Horizon has the exclusive right to purchase the remaining 50% stake of the project, with price to be determined at that moment.
Subject to standard conditions precedent, the settlement of the transaction is anticipated in the December Quarter 2020.
ALSO READ: Horizon Minerals' (ASX: HRZ) Solid Project Pipeline makes it Shine during September 2020 Quarter
Penny Project Overview
Penny's Find is located ~50km north-east of Kalgoorlie in the Eastern Goldfields of Western Australia. The project lies in close proximity to its 100% owned Kalpini gold project.
Penny's Find consists of granted mining lease M27/516 and associated miscellaneous and general-purpose leases, covering around 91 hectares. Open-pit mining at the project was completed in 2018, with the treatment of 140,000t grading 4.5g/t Au recovering 18,350 ounces at an overall gold recovery of 92.4%.
The current JORC 2012 Mineral Resource Estimate for the project is 248,000t at 7.04g/t Au for 56,000 ounces.
Source: HRZ ASX Update, 30 November 2020
Significant activities completed by Orminex Limited include underground mine evaluation and design work, and statutory approvals grant for mine development and independent assessment of further drilling. It would improve geological confidence while converting current Inferred resources into the Measured and Indicated Category, so that it can be included in the reserve generation studies.
Development Plan
Following the settlement, the project would be advanced to a development decision in the first quarter next year via agreed work program.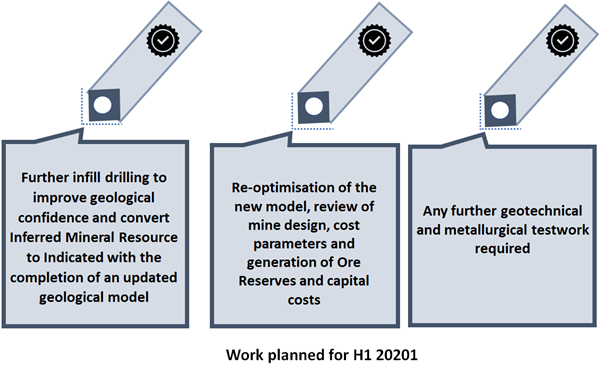 Kalkine Image (Data Source: HRZ ASX Update, 30 November 2020)
The Company intends to utilise the toll milling agreement in place for 2021 and 2022 to produce from the mine initially and generate early cash flow. The Company would also process potential future production at the proposed stand-alone Boorara mill.
ALSO READ: Horizon Minerals (ASX:HRZ) Leveraging off Competitive Advantage, Poised to Become Mid-Tier Gold Developer
The Company plans to kickstart infill diamond drilling in the December 2020 quarter and is expecting an updated resource model in the next quarter. Moreover, as the mine develops, further resource extension drilling is also planned from underground.
HRZ shares closed at $0.098 on 30 November 2020, with a market capitalisation of $59.63 million.
[Note: All currency is in AUD unless stated otherwise]