A Slump in Chinese demand for Iron ore has led to its price falling 13% in a month. Iron ore fines 62% Fe CFR Futures are down about 10% in a month. The renewed new coronavirus-induced restrictions are the main reason for this suppressed demand. The tepid demand led to drop in production, for instance, mining biggies like BHP Group, Rio Tinto and Vale reported lower-than-expected shipments and outputs for the red metal. However, one Australian miner has bucked the trend and this miner's share price gained over 18% in the last five days alone. It is up 172% in the last six months.
Grange Resources Limited (ASX:GRR)
An iron ore explorer and miner group, Grange Resources Limited has a presence in Malaysia and Australia. Grange Resources owns and operates one of Australia's largest integrated iron ore mining and pellet production business in Tasmania. It produces high quality, steel-making raw materials.
Image Source-© 2022 Kalkine Media®
Grange owns and operates the Savage River integrated iron ore mining and pellet production business in Tasmania. At Port Latta, Tasmania, Grange owns a downstream pellet plant and port facility. In addition, Grange has a majority joint venture stake in a major magnetite development project at Southdown, in Western Australia.
Latest updates on Grange's operations
In its operations update for the quarter ended on 31 March 2022, Grange Resources Limited reported a reduced pellet sale and concentrate production compared to the previous quarter. However, the drop was on account of annual scheduled maintenance.
Grange Resources Limited also reported an increase in average received prices compared to the December quarter. While the unit cash operating costs also increased over the quarter, Grange Resources still managed to improve the position of its cash holdings and liquid investments. The miner declared and paid a final dividend of 10 cents per share in the quarter based on the results.
How is GRR share price performing on the ASX?
Grange shares trade on the ASX with a market capitalisation of AU$1.649 billion (as of 18 May 2022). In the past one year alone, GRR shares have gone up by 194%, close to 3x.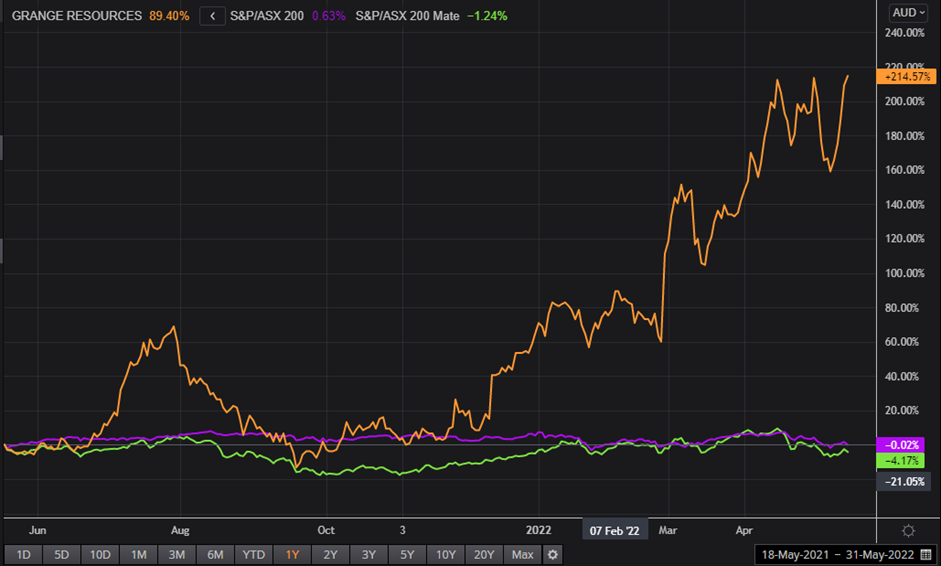 GRR Price chart in comparison to ASX 200 and ASX 200 Materials Index (XMJ), as of 18 May 2022 closing
Image Source- Refinitiv
Compared to the Australian bench market index ASX200 Index (XJO) and the ASX200 Materials sector index (XMJ), GRR has clearly outperformed by a massive margin. Major share price spikes were witnessed in March and April. In March, the company had released an announcement on pre-feasibility studies showing a reduced capital spend at its Southdown Magnetite project. Other was a reserves update related to its Savage River mineral resource and ore reserves.

GRR's share price performance as of 20 May 2022
Image Source-©2022 Kalkine Media®, data source-Refinitiv
Here is a snapshot of GRR's financial position-
Chart depicting GRR key financial data for FY17 to FY21, Data Source- Refinitiv
Image Source: © 2022 Kalkine Media ®
The chart reflects the movement in GRR's Revenue, Operating Income, and profit numbers over the years. We have also shown a yearly trend of few key financial ratios.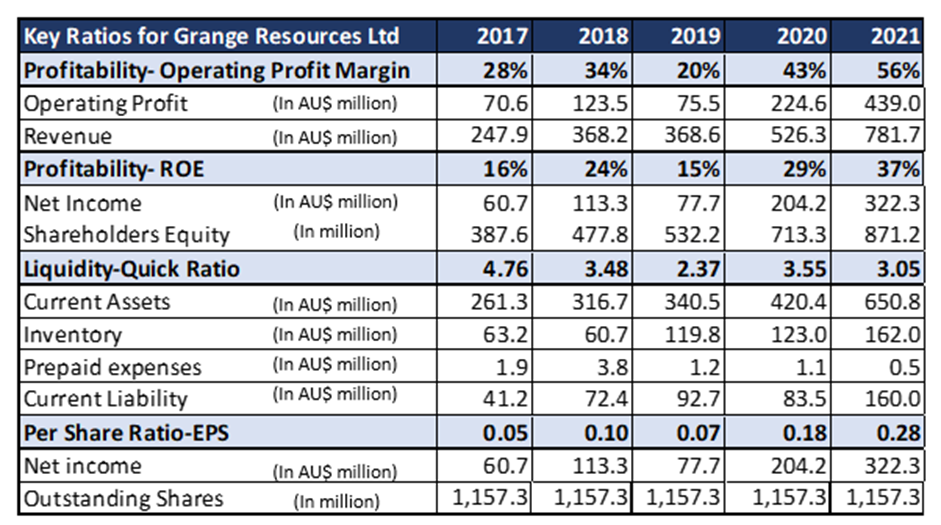 Chart depicting GRR's key ratios for FY17 to FY21, Data Source- Refinitiv
Image Source: © 2022 Kalkine Media ®,
The profitability ratios have shown robust growth in the last five years. The liquidity position of Grange Resources improved over the years, though slightly down in FY21, due to a rise in current liabilities. Also, the earnings per share (EPS) has improved over the last five years to 0.28 per share.
Road ahead for Grange Resources Limited
While the company remains firm on its fundamentals claiming to be an experienced magnetite producer, the risk posed by the reduced Chinese demand cannot be ignored. Since China is the largest consumer of iron ore. The movement in Chinese imports of iron is worth a watch. However, Grange Resources seems positive about its' future, quoting a long-life project close in the Asian market and the premium price it receives for its high-quality iron ore produce.