Summary

ASX is reflecting low investor sentiments as the market again closed in the red zone with a loss of 0.32% intraday on 18 September 2020.
POD stock has remained strong amid such a volatile market situation and has appreciated by 25% in the past 7 trading sessions.
Podium has been committed to pursuing its growth strategy and has reported encouraging results from drilling and exploration activities at its Parks Reef Project.
Further planning and exploration work are underway with significant optimism for broadening the exploration and resource target area for Parks Reef.
Another day of bears taking hold of the stock market (21 September 2020), with benchmark index declining by 0.48% to 5,836.2. However, Podium Minerals Limited (ASX:POD) has outperformed the market handsomely with the shares trading 11.12% higher at $0.080. The past week has been a rollercoaster ride for the market with ASX edging lower.
Related: 2020 Mid-Year Review of Podium Minerals' Journey at Parks Reef
POD's Price Movement Amid Volatile Market Behaving
Although the S&P/ASX200 index rose 0.1 per cent for the week, the majority of indices remained in the red zone on Friday's trade. The rally in tech and materials backed the narrow weekly win for ASX by setting off the major loses in other sectors.
Pleasingly, the POD share price has increased by 25% during the last seven trading days till, 21 September 2020. POD share price has remained strong against market volatility in the week with handsome gains.
Did you read: Podium Minerals' Stance in The PGM Market, Remains Well-Funded to Meet the Objectives
The implications of the nationwide lockdowns on economies, industries, as well as individual companies have started to surface and are shaking investors' confidence.
Several economies across the globe have reported a significant plunge in their Gross Domestic Product due to COVID-19. Moreover, job data from various parts of the country as well as internationally have been dismal.
The resilience of POD's business, it's continued exploration activities to report significant results, and planned activities in due course are helping to defy the uncertainty in the market.
Related: Podium Minerals to hit the ground running at its Parks Reef PGM Project. Announces Capital Raising of $1 Million
Anomalous Platinum, Palladium, Gold and Copper Confirmed
PGM focused exploration and resources development company; Podium Minerals Limited previously announced the completion of rock chip sampling to the west of its extensive Parks Reef PGM Project. This, along with magnetic imagery has indicated a potential for extension of the western flank of Parks Reef for an approximate length of 1.2km.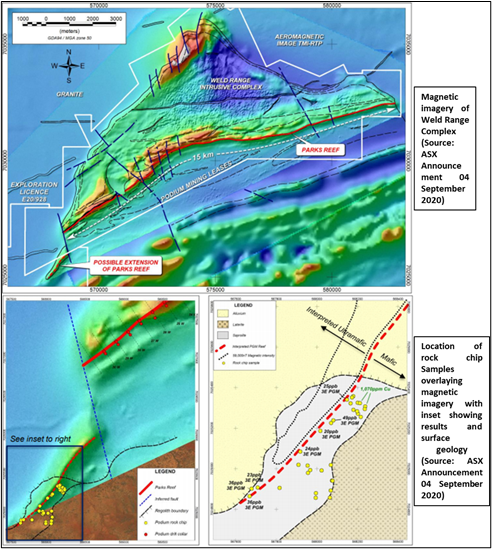 These results hold immense significance for the Company along with the location of highly anomalous copper in line with the noted stratigraphy in the Parks Reef drill results, presenting another upside for POD.
Previous Update: Podium Minerals Confirms Anomalous Platinum, Palladium, Gold and Copper Through Geological Mapping and Rock Chip Sampling
POD has shown sincere commitment towards pursuing its growth strategy through systematic drilling progress at its Parks Reef PGM project to identify an immensely substantial resource base. Moving ahead, POD expects to grow its extent of total resources at the project to a total length of 8.5km through present drilling.
Furthermore, resource modelling with a target to upgrade resource for Parks Reef is scheduled to commence by October 2020.
Interesting Read: Podium Minerals All Set to Advance Growth Strategy at Parks Reef Project, Metallurgical Testwork Programme in Progress
Upcoming Drilling Program and Planning
Presently, POD is engaged in planning for the drilling programmes to be implemented ahead and anticipates, including further exploration of the western extension into this work. POD's interpretation of the magnetic data indicates implementation of angled RC drilling (similar to the methodology used for POD's resource drilling) to test for reef style mineralisation within the prospect.
In a nutshell, these encouraging results take POD in the right direction to increase the scope of exploration potential and resource target area for the Project.
Interesting Read: Podium Minerals Commences Drilling at Parks Reef Project, Well-funded to Pursue Growth Strategy
Stock Information: POD has delivered ~300% returns to its shareholders during the last three months till 18 September 2020.