Summary

Since its establishment in 1951, Saunders' core business focus has been to offer innovative and cost-effective solutions to clients for their individual project specifications.
SND has naturally transitioned to deliver larger and more complex solutions, including engineering procurement, construction, management, terminal expansion, and remediation projects.
Mechanical infrastructure business was reportedly a key driver of Saunders' record orderbook in 1H FY20 and the biggest contributor for preferred status projects.
Driven by commitment to safety, innovation, excellence and growth, Saunders International Limited (ASX:SND) delivers high quality engineered solutions across the complete asset life cycle. A reputable, multi-disciplinary company, Saunders provides solutions to an array of sectors- bulk liquid storage, industrial, energy, defence, resources, and road & rail infrastructure. Its role and 69+ years of experience have been integral to the development of Australian industries.
So much so, Saunders continues to work with original oil majors including Mobil, BP, Viva and Caltex since the 1960s. Clientele has expanded to comprise a diverse combination of industries including mining companies and water utilities.
To know about Saunders' services, PLEASE READ: Comprehensive Services of Multi-Disciplined Engineering and Construction Firm, Saunders International
In this backdrop, let us understand Saunders' stance in the field of mechanical infrastructure:
Mechanical Infrastructure Overview at Saunders
In the business of mechanical infrastructure, Saunders covers projects related to fuel and chemical storage terminals, bridges and marine structures, coal bins, hoppers, and associated steel works, as well as water reservoirs and pumping stations.
One of Saunders' strategic objectives pertaining to mechanical infrastructure is to be the preferred contractor for new terminal expansion projects, as a result of strategic partnering. It should be noted that mechanical infrastructure was a key driver of the Company's record orderbook in 1H FY20. Currently, the orderbook is in excess of $ 107 million.
Moreover, in 1H FY20, mechanical infrastructure was the biggest contributor for preferred status projects, followed by asset services.
As part of strategic objectives, this business further implemented integrated services offering for terminal and refinery maintenance, and delivered additional SMP works across multiple projects.
As priorities of the business, Saunders aims to-
Capitalise on key construction prospects
Secure additional EPC projects with existing clients
Continue growth in the water sector via successful delivery of Sydney Water contract
Mechanical Infrastructure Clientele
Project wins have been a regular phenomenon for Saunders, even amid the ongoing COVID-19 crisis and disruption. Let us cast an eye on few projects pertaining to mechanical infrastructure-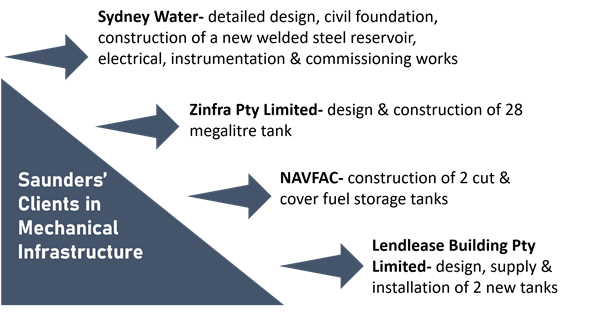 Sydney Water
Value circa $ 15 million
Mobilisation to site likely in H2 FY20, works to continue over FY20 and FY21
For Sydney Water, Saunders' scope of work comprises of detailed design, civil foundation, construction of a new welded steel reservoir (80m diameter x 13m high), electrical & instrumentation along with commissioning works.
Zinfra Pty Limited
Value circa $ 1.4 million
Project revolves around recycled water storage
From Zinfra Pty Limited, the Company was awarded a design and construct contract for a 28 mega litre tank for recycled water storage in Cranbourne West, Victoria. The tank is designed for short-term affordability and long-term expandability.
Saunders notified that the design would enable additional capacity to be added using the Company's level jacking process to add strakes in the future, as the recycled water capacity demand in the area grow.
NAVFAC
Value circa $ 7 million
Mobilisation to site likely to commence in H1 FY21, works to be completed by 2022
Part of the defence section in mechanical infrastructure, the project with the Naval Facilities Engineering Command Pacific (NAVFAC) would see Saunders construct two cut and cover fuel storage tanks.
Lendlease Building Pty Limited
Value circa $ 5.2 million
Mobilisation likely to commence in H2 FY20, works to be completed by H1 FY21
For the project, which also marks the second contract awarded to Saunders by Lend lease, the Company would undertake the design, supply and installation of two new tanks, plus coordination of interfacing trades including fire systems and electrical subcontractors.
Saunders is expecting revenue in the range of $66 - $70 million with EBIT margin of 1.8% - 2.3% for the financial year 2020. A strong orderbook and pipeline of opportunities are expected to aid the Company in registering EBIDA growth into FY21 and beyond.
SND last traded at $ 0.61 on 15 July 2020. The six-month return of the stock was noted at 54.43%.
(Note: All currency in AUD unless specified otherwise)