Summary

Multi-disciplined engineering and construction company, Saunders International caters to leading organisations across Australia and the Pacific Region. It is engaged in providing services including design, fabrication, construction and maintenance.
Since inception in 1951, the Company's core business focus has been to provide clients with solutions that are innovative and cost-effective for their individual project specifications.
Driven by safety, innovation, excellence, and growth- Saunders has been securing significant contracts amid the ongoing market volatility.
After a robust FY20, Saunders has already unveiled seven new contract awards in the September 2020 quarter.
During these unprecedented times and a dismal year for most businesses, it is pleasing to witness a handful companies demonstrate stability and resilience.
Saunders International Limited (ASX:SND) has been an active contributor to the development of Australian industries since decades. The Company's focus on the execution of the Grow Phase fetched record contract awards and increased pipeline through FY20.
Subsequently, Saunders' operational and financial performance have been robust, and the Company seems to be progressing with its growth strategies. So much so, Chief Executive Officer Mark Benson opines that the Company has "established a strong foundation for sustained growth in FY21 and beyond."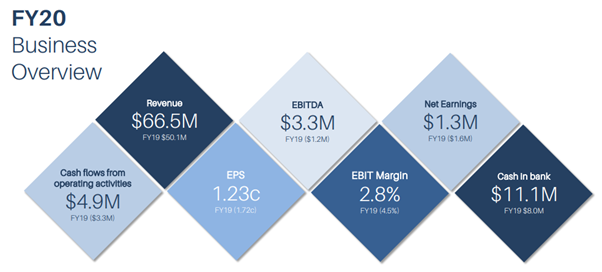 Source: SND's Investor Presentation 2020, August 2020
In this backdrop, let us walk through the significant project wins bagged in the September 2020 quarter (to date)-
Saunders' Latest Project Wins
According to Mr Benson, Saunders' renewed operating model has been depicting stability and resilience. Recent project wins further validate this and demonstrate the strength through diversity within the Company across new clients, new services, and geographies.
Image: © Kalkine Group 2020, Source: SND's ASX Reports
Client 1: CPB Downer JV
SND bagged a new contract for CPB Downer JV as part of the Parramatta Light Rail project. Scope of works comprises of the manufacturing of reinforced concrete components for four bridges and all the retaining walls along the light rail route.
Client 2: Ventia Boral Amey JV
For the Ventia Boral Amey JV, as part of the Steward Maintenance Contract with the RMS, Saunders will construct a 34m modular steel bridge. Scope of works for the Flat Rock Creek project comprises of demolishing the current bridge, piling, manufacturing of precast abutment, roadworks, and installation of the bridge.
Client 3: Cummins South Pacific
For this client, Saunders has bagged the opportunity for mechanical installation services for an 8 MW Waste Coal Mine Gas fired power station located at Mandalong Mine based on the Central Coast, New South Wales.
Client 4: Coogee Chemicals Pty Limited
Scope of works for Saunders for this client in Kwinana, Western Australia, consists of demolition and removal of an existing external floating roof. Besides, the Company will engage in the installation of covered floating roof with aluminium geodesic domes, involving tank modifications.
Client 5: Western Region Water Corporation
In Victoria, Saunders has been awarded with this contract for the full island replacement of the tank floor on a 35ML tank and annular rectification works for the client.
Client 6: Glen Innes Council
The Company will design and construct a 60m long bridge at Wytaliba, New South Wales, as per this contract. Scope of works involves demolition, fabrication of precast planks, abutments and headstocks and construction of the five-span bridge.
Client 7: Laing O'Rourke Australia Contracting Pty Ltd
Saunders will participate in the construction of a critical project for the Australian Defence Force's operations in the Northern Territory under a contract worth ~$ 26 million.
For the circa $470 million LDPRP project, the Company will construct diesel fuel tanks, tank farm pump facility, site-wide infrastructure, piping, and instrumentation for the fuel system. It will install site-wide diesel fuel system and develop, install and test the control system.
In due course, Saunders aims for further growth via an active pipeline of opportunities being pursued in the oil & gas, mining & minerals, infrastructure, water, energy and defence sectors.
Trading on ASX, SND quoted $ 0.575 on 15 October 2020 (AEDT 12:45 PM).
GOOD READ: Saunders' Confident of Earnings Growth & Strong Financial Performance