Summary

Australian medical device industry is well-established with an internationally-renowned capability to modernise and develop world-class medical devices.
PolyNovo witnessed record US sales in June 2020 and product sales in FY20 are projected to reach at least double the figure achieved in FY19.
EMvision Medical Devices announced encouraging preliminary images from its pilot clinical trial; stock has generated returns of more than 100% in the last three months and six months.
Fisher & Paykel's net profit shot up 37% in FY20, driven by enhanced demand for products to treat COVID-19 patient.
Before investing in pharma companies, one should understand the mechanism that generally begins with the discovery of a drug molecule having a potential therapeutic effect. Drug discovery is a complicated and extensive process, and a new drug takes many years to come in the market. At times when there are any pre-clinical or regulatory failures, further studies of the drug could be withdrawn.
For medical devices, things work differently compared to drug molecules. For example, during pre-clinical testing, an enhancement to a current design can be made more rapidly than for drugs, and clinical studies can commence much sooner, cutting down the time and cost to launch a new product in the market. As there is a substantial difference in regulatory and commercial dynamics of drug molecules and medical devices, the latter could bring in a much-needed diversification for specific investors.
Australia has an extensive and prominent track record of health, and medical research excellence and Australian medical technologies are creating a global impact.
ALSO READ: Everything you Need to Know about Investing in Health Stocks
With this backdrop, let us shed some light on three ASX-listed medical device players that have performed well amid COVID-19 challenges. Let us zoom the lens for PNV, EMV and FPH.
PolyNovo Limited (ASX:PNV)
ASX-listed medical device company, PolyNovo Limited manufactures advanced medical devices using Novosorb®, its patented bioabsorbable polymer tech.
Feedback from the FDA Pivotal Protocol
On 10 July 2020, PolyNovo disclosed that it had obtained formal feedback from the FDA on the protocol for its pivotal trial. The authority has requested additional information such as the formalisation of the review points throughout the trial. The clinical team of the Company and BARDA team are working through a response to the US FDA. PolyNovo stated that it might delay the beginning of the trial recruitment.
Sales for FY20 are expected to be at least 100% more than FY19 figures
PolyNovo provided a trading update and stated that the Company witnessed record sales in the US in June quarter, and there has been 67% rise in hospital account in the US from July 2019 to 30 June 2020.
Sales in the United States, Record sale in June: In the US, June 2020 was a new record sales month. From July 2019 to 30 June 2020 there has been nearly 67% rise in hospital account in the country. Amid COVID-19 pandemic, PolyNovo launched new accounts and achieved record sales in the US.
First sale in the UK: The Company is pleased to announce its first sale in the UK. With six operations in Scotland and England and Scotland, PolyNovo expects further new term sales.
BTM application in Europe: There have been several applications of the BTM in the DACH nations in Europe (Austria, Germany, and Switzerland) and sales are increasing accordingly as the Company is gaining traction across the region.
Moreover, PolyNovo reiterated its earlier guidance and stated that product sales for FY20 are expected to at least double of FY19 sales.
PNV disclosed that sales in June quarter were nearly 33% greater than March quarter sales, including a record sale in the US.
Stock Information: On 10 July 2020, PNV stock last quoted at A$2.430, down by 0.41%. The Company has a market cap of ~A$1.61 billion. PNV has generated returns of 11.98% and 20.90% in the last three months and six months, respectively.
EMvision Medical Devices Limited (ASX:EMV)
ASX-listed EMvision Medical Devices Limited is engaged in the development as well as commercialisation of medical imaging technology. The Company develops portable, cost-effective brain scanner using electromagnetic microwave imaging to examine stroke.
Encouraging Preliminary Image from pilot-clinical trial
On 25 June 2020, the Company updated the market with its investor presentation on ASX, highlighting promising preliminary image from its pilot clinical trial.
EMvision disclosed that the Company started a pilot clinical trial including 30 patients at the Princess Alexandra Hospital in Brisbane in late January 2020. The trial is conducted to:
Collect data from patients having a stroke, both haemorrhagic as well as ischaemic.
Compare EMVision scans with ground truth MRI and CT images.
Refine and select optimum imaging algorithms involving fusion combination.
The duration of this pilot clinical trial is six months, and the trial informs commercial product development as well as regulatory strategy and pivotal trial design.
The preliminary results from this trial indicate an initial two datasets of the patients enrolled to date and the final outcomes of the clinical trial, when completed, clinical advisors of the Company will undertake a comprehensive review of the findings.
Moreover, EMvision also highlighted a product development roadmap and mentioned about the product under development for use in ICUs, stroke, and neurology wards.
Product development roadmap of EMvision: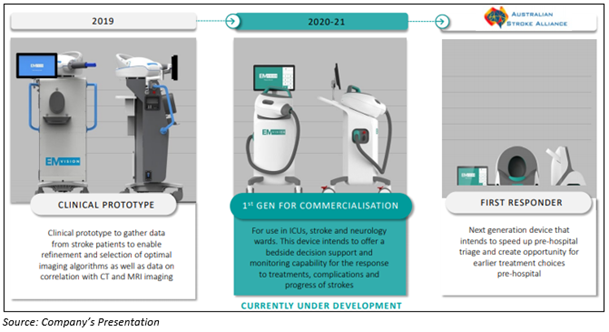 Stock Information: On 10 July 2020, EMV stock last quoted at A$1.670, up by 0.602%. The Company has a market cap of ~A$106.03 million. EMV has generated excellent returns of 138.57% and 135.21% in the last three months and six months, respectively.
Fisher & Paykel Healthcare Corporation Limited (ASX:FPH)
Leading medical device company Fisher & Paykel Healthcare Corporation Limited is engaged in developing and marketing of a broad variety of products and systems. The products offered by FPH are used for treating obstructive sleep apnea (OSA) and for providing acute and respiratory care.
Net profit of FPH rose by 37% in FY20
On 29 June 2020, Fisher & Paykel released its results for the complete year ended 31 March 2020 and highlighted that in FY20, products of FPH catered to almost 16 million patients, which includes many COVID-19 patients.
Highlights from FY20 results:
In FY20, FPH recorded an NPAT of almost NZ$287.3 million climbed by 37% as compared to FY2019.
The operating revenue growth reported to be nearly NZ$1.26 billion up by 18% on pcp and 14% in constant currency.
In OSA masks 4% growth in constant currency revenue.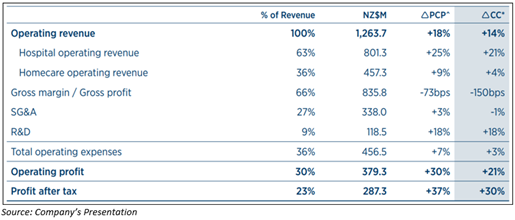 The increase in revenue was driven by increased demand for products to treat COVID-19 patients, growth in the use of nasal high flow therapy of F&P- OptiflowTM, as well as strong hospital hardware sales during the year.
In FY20, revenue from homecare product group was reported to be NZ$457.3 million rose by 9% on the prior corresponding period (pcp).
Hospital Product Group revenue was reported to be ~NZ$801.3 climbed by 25% on pcp.
Outlook 2021
Based the assumptions below the Company expects the operating revenue to be nearly NZ$1.48 billion and Net profit after tax (NPAT) in between NZ$325-NZ$340 million for FY21. The capital expenditure for the fiscal year 2021 is projected to be approximately NZ$160 million.
The guidance assumptions are:
Respiratory hospitalisations peak in the 1Q amid COVID-19 return to normal by starting of the 2H.
OSA diagnosis rates dropped in the 1H and coming back to normal by the second half.
Freight costs remained at elevated levels through the end of 2020.
The exchange rates assumed to be NZD:USD 0.64 and NZD:EUR 0.57.
Stock Information: On 10 July 2020, FPH stock last quoted at A$33.500, up by 1.208%. The Company has a market cap of ~A$19.03 billion. FPH has generated impressive returns of 30.00% and 59.52% in the last three months and six months, respectively.