Summary

Musgrave Minerals' shares closed at $0.605 on 16 September 2020, witnessing a price momentum of more than 7x in the past six months.
The upward trajectory of MGV stock resonates with several noteworthy gold hits at the company's Starlight and White Light discoveries.
The record-high yellow metal prices have further bolstered the growth prospects for the project.
Resource Update at Break of Day is slated for Q4 2020, to include new Starlight and White Light discoveries.
COVID-19 crisis has opened a can of worms for economies, with businesses struggling to sustain their operations. Amidst growing uncertainty, the exploration endeavours of Musgrave Minerals Limited (ASX: MGV) remained as hard as nails.
Musgrave Minerals has exhibited a remarkable uptrend in its share price, catalysed by robust drilling results at its Cue Gold Project, situated in the Murchison Province of Western Australia. MGV shares closed at $0.605 on 16 September 2020, witnessing a price momentum of more than 7x in the past six months.
The upward trajectory of MGV shares on ASX mirrored several noteworthy gold hits at its Starlight and White Light discoveries. The new gold lodes have the potential to substantially widen the mineral resource at Break of Day, which currently hosts at 868kt @ 7.2g/t Au for 199koz Au (Indicated and Inferred).
The record-high yellow metal prices have been adding fuel to the fire, boosting the Company's ongoing gold explorations.
ALSO READ: Musgrave Minerals' High-Grade Gold Resources Lobby A Golden Ticket to Noteworthy Achievements
Robust Drilling Results at Starlight
Musgrave Minerals kickstarted a large RC and diamond drilling program at the high-grade Starlight gold lode. Significantly, Starlight mineralisation has over 115m strike and remains open down dip.
. The near-surface drilling at Starlight has consistently produced stunning results with bonanza gold hits. Furthermore, drilling has also extended Starlight gold mineralisation.
It is worth noting that all intercepts reported in the current drilling program at Starlight are stationed outside the existing Break of Day resource estimate. The new-near surface high-grade Starlight mineralisation is a high margin discovery, that opens search space and creates opportunity to grow resources.
Musgrave has undertaken its current drilling to ~250m, while the diamond drilling has commenced below 250m vertical depth. The infill and extensional drilling were also incorporated in the program.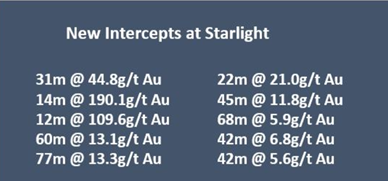 Source: MGV Presentation, 16 Sep 2020
The recent drilling included ~66 RC holes and ~17 diamond holes. Further assays of the current drilling are pending.
Starlight hosts multiple untested targets which are analogues to its setting. Therefore, Musgrave Minerals is also undertaking >10,000m aircore/RC drilling on new targets, with their drill testing already commenced. The results are expected in Q4 2020, according to Musgrave.
The Company also plans to release Break of Day's Resource Update in Q4 2020.
White Light Drilling
The new gold lode named "White Light" has been another excited discovery for the gold explorer, which is parallel to the Starlight lode and approximately 75m to its south. Similar to that of Starlight, drilling intercepts at White Light also lie outside the existing resource of Break of Day.
The high-grade gold discovery, White light is of over 100m strike and open to the southeast and down dip. It demonstrates the potential to make further discoveries.
Cue Project: Exciting Prospects
Musgrave's flagship Cue Gold project enjoys strategic appeal owing to the presence of excellent infrastructure and growing development options. The existing road infrastructure allowing the trucking of high-grade gold, along with the presence of multiple potential processing options, is expected to aid the Company's endeavours towards the standalone operation.
The new high-grade gold discoveries and substantial lucrativeness of the precious metal are further enhancing significant prospects for Musgrave Minerals.