Summary

Matsa Resources Limited received commitments for a $6.6 million placement, ordinary shares to be issued at $0.15 per share.
The Placement was heavily oversubscribed and would pave the way for exploiting critical projects within the Lake Carey Gold project.
Matsa Resources relishes substantial exploration potential bolstered by strategic guidance and robust gold projects.
The funds raised would be used in new underground exploration and development, for new drilling programs, and to discover new target areas to build its gold resources.
Australian explorer and emerging gold producer, Matsa Resources Limited (ASX: MAT) on 3 September 2020 announced the receipt of firm commitments to raise $6.6 million (before costs) under the Placement to institutional and sophisticated investors. Significantly, ordinary shares to be issued at $0.15 per share were heavily oversubscribed, signalling an impressive exploration journey for the Company.
The highly successful capital raise providing liquidity boost would further catalyse the ongoing exploration endeavours of the Company. Notably, Matsa Resources enjoys substantial exploration potential, backed by strategic guidance and robust gold projects, including Lake Carey Gold Project, Red October Gold Mine, Fortitude-Stage2 Gold Mine, Fortitude North and Devon.
The recent capital raise would further fuel the Company's progress, offering significant gold discovery prospects to the Company.
Lens through the Placement Details
The Company will raise $6,611,901 before costs under the placement via the issue of 44,079,341 fully paid ordinary shares at $0.15 per share. The placement issue price represents 6.25% discount on the closing price of $0.16 on 31 August 2020 and 8.2% discount on the Volume Weighted Average PRICE (VWAP) of $0.1634 for the 15 days up to and including 31 August 2020.
The Placement was oversubscribed, receiving bids substantially above $6.6 million and the Company was required to scale back the application. A range of new institutional and sophisticated investors have been allocated placement shares.
Matsa Resources would issue all the shares under the Placement by utilising its existing capacity under ASX Listing Rules 7.1 and 7.1A. Specifically, it will issue 22,387,605 shares under ASX Listing Rule 7.1 while the remaining shares would be issued under ASX Listing Rule 7.1A.
The investors would receive one free unlisted option attached to every share subscribed for with an exercisable at $0.30 each expiring two years after the issue date. The options before being issued would require shareholder approval at the Company's next shareholder meeting to be held on 20 November 2020.
Taylor Collison Limited acted as sole lead managers and bookrunners to the issue. It will be receiving a fee up to 6% of the amount raised along with 2 million options exercisable at $0.25 each and another 2 million options exercisable at $0.35 each, both expiring two years after the date of issue. The issue of options would require shareholder approval.
The placement is expected to close on 20 November 2020.
Plans for Utilisation of Funds
The Company intends to strategically utilise the funds to back its exploration and development plans.
Red October gold mine
Matsa Resources plans on continuing the ongoing drilling programs within the underground mine. If the programs undertaken turns out to be successful, it will lead to ongoing mine development. Furthermore, the success would extend its overall mine life as well as production profile and would build on the current mine plan.
Exploration drilling programs
The Company plans on undertaking exploration work at both Fortitude North and Devon and includes the following:
Further drilling at the Devon gold project intended to delineate new resources.
Increase the gold resource base of the Company as well as exploit several nearby gold occurrences. The Company aims to target those which have the highest expectation for new gold resources discovery and can be brought into production within three years.
Drilling at Fortitude North is garnered towards expanding on the previously successful drilling program. It would test the remaining portion of the 1.5km anomaly, which are not yet tested. Matsa plans to progress Fortitude North towards a JORC resource.
Way Forward for Matsa Resources
Matsa is surrounded by world class gold mines Sunrise Dam, Wallaby, and Granny Smith. 2020 way ahead for Matsa considers long term underground mining at Red October, 100% owned by MAT; Fortitude Stage2 mining foreseeing positive cash flows, getting a boast from current gold prices, in about 22 months; and increase in gold resources by drilling Devon, Fortitude North, and Red October.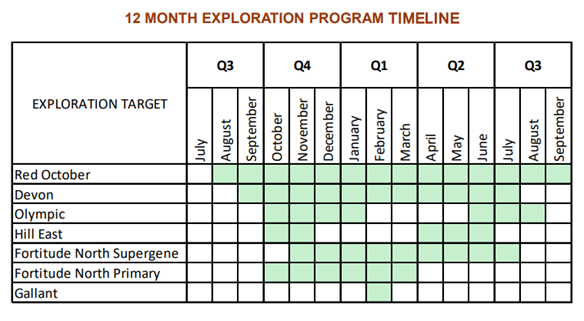 Source: MAT ASX Update, Dated 2 September 2020
MAT ended 7 September 2020 at $0.15 per share.
[Note: All currency is in AUD unless stated otherwise]