Summary

CERVANTES recently announced an independent exploration target tonnage in the range of ~ 170k to 520k and grade range of 2.2 to 4.5g/t. Moreover, first pass ore block modelling, and notional pit design has been completed on verified data.
Recently, estimation of an exploration target was reported via an independent audit of the database, constructed by a previous explorer, updated by Cervantes
It is at an advanced stage of preparing an alluvial mining plan while progressive discussions with a proposed JV partner remain to progress Primrose Gold Project
Emerging gold explorer and aspiring gold miner, Cervantes Corporation Limited (ASX:CVS) holds a strong position in an oft-unnoticed gold field that has been subjected to sporadic, disjointed, interrupted exploration. Interestingly, the Company has recognised prospects in this gold field that were initially overlooked by previous explorers and aims to develop them.
On 16 July 2020, the Company announced that it had defined a gold exploration target at it's Blue Heaven Prospect in the Primrose Gold Project. This was majorly driven by an independent audit of drill hole database constructed by previous explorer, Paynes Find Gold Limited, updated by Cervantes drilling and exploration programs.
Before we dive into audit and validation details of the exploration data, it should be noted that-
Located in Paynes Find Goldfield, WA, Primrose covers in excess of 8km of highly gold mineralised Primrose Shear in Murchison District of the Eastern Goldfields. Owing to over 37 gold mines that operated in this field from 1911 till 1982, ~79,915 ounces of gold was mined (avg grade 28g/t). Currently, Cervantes has control over mining leases, prospecting licences that cover the majority of this historic gold field.
Exploration Target Estimate
The exploration target has a tonnage range of ~ 170k to 520k and grade range of 2.2 to 4.5g/t. Moreover, first pass ore block modelling, and notional pit design has been completed on verified data.
Mr Philip Jones, an independent consultant geologist, estimated this target for Blue Heaven after existing exploration data was audited and validated, which translates into the fact that the estimate was based on ore block modelling of exploration results obtained to date.
However, potential quantity and grade are conceptual in nature owing to insufficient reliable exploration data available to estimate a Mineral Resource and uncertainty if further exploration will result in the estimation of a Mineral Resource.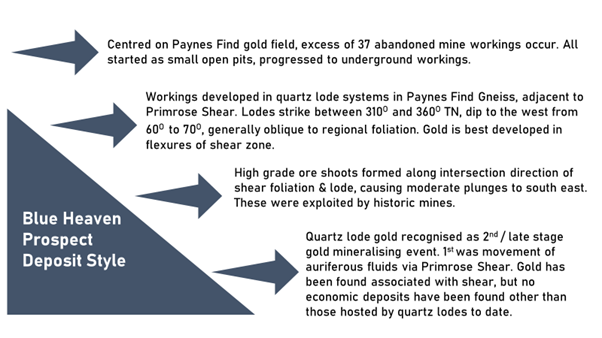 Significance of Exploration Target Estimate
There is potential for mineralisation down dip and along strike of the identified target area. However, modelling has highlighted areas requiring additional drilling and validation.
Secondly, there lies potential to increase the exploration target as there is a line of convergence on the Primrose Shear to the west from which the auriferous quartz lodes may have emanated. This line of convergence is likely to be deeper than anything tested previously.
Data Used For Target Estimation & Basis of Exploration
The Blue heaven Prospect is-
Drilled by 167 RC holes and 6 diamond holes, totaling 15,543.4m.
6,886 samples are included in the target estimation.
QA/QC methodology included 255 field duplicate samples, 368 laboratory pulp split samples and 392 laboratory check samples using standard samples.
Quality of RC drilling and sampling completed seems to have been conducted to a high quality under supervision by CSA Global. Modern QAQC techniques have been used, incorporating standards and duplicates. Usually, 2 or 3 field duplicate samples were collected per hole depending on its depth. Two different gold standards were used-G307-5 (4.87g/t Au) and G908-3 (1.03g/t Au), derived from diorite with low sulphide content.
The RC drilling was drilled on an approximate average drill spacing of 40m between holes and is most likely more than adequate to form the basis for an exploration target in accordance with the JORC Code.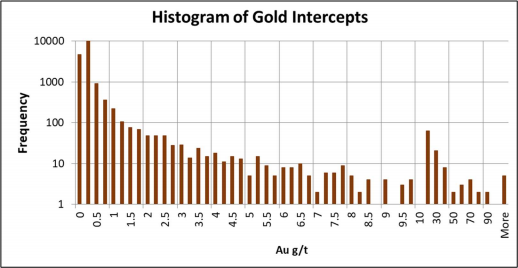 Histogram of gold intercept grades drill hole database used in exploration target estimation (Source: CVS Report)
Gold mineralisation at the Prospect, defined from drilling, was digitised via wireframing using MineMap© software on drill hole cross sections, snapping to the drill intercepts using various cut-offs. Grades were interpolated in the model using an Inverse Distance Squared (ID2) algorithm.
What's in Store?
Cervantes has an impressive route of proposed exploration activities to validate the exploration target. It has reportedly begun the process to prepare and submit a Mining Proposal for the Blue Heaven area. The process comprises of surveying identification of older licences and permits, studies and engagements underpinning the application, additional drilling, metallurgical test work, and modelling to advance the exploration target.
The below pipeline of proposed activities was provided-
(Source: CVS Report)
The Company states that a structural interpretation previously undertaken by consultants has never been tested by adequate drilling and it intends to test deeper parts of the west dipping Primrose Shear in several locations.
Moreover, as drill hole audit demonstrates that coarse gold is present in several drilled areas, leading to some assay repeatability issues, an investigation is likely.
Mr Collin Vost, Executive Chairman, stated that in conjunction with technical assistance from a large mining company with a mill, the Company is discussing infill drilling to identify early shallow tonnages suitable for that mill to suit their requirements. This could offer cash flow to accelerate exploration at Primrose further. Several drill targets identified to the north and south of the target area, which is likely to be pursued.
Casting Eye on Historic Mining
In 1911, Thomas Payne discovered gold in the area with a purported finding of a 2.5oz nugget at the surface. Last recorded production from the field was in 1982, though most underground mines had closed by the Second World War.
The historic mines comprise of Goodingnow, Mariposa, Havela/Sumpton, Princess Mary, Aster Consolidated, Oversight, Oversight North, Lakeview West, Trey Bit, Paynes Future, Orchid, Carnation Alluvials, Sweet William, Paynes Find/Taylor, Margarite, Marigold, Ark, Adeline and Bluebell. South-east of Paynes Find are the Jacamar, Pansy, Pansy North, Daffodil and Shamrock mines.
Goodingnow, Carnation and Orchid were the most active, largest producers extending up to 100m underground
Daffodil and Pansy have been the most recently mined
While total production from field varies wildly and largely depends on the data source, Paynes Find Government Battery recorded 79,915oz produced (avg. grade of 28.6g/t).
Cervantes' Corporate Update
A recent sale of Meekatharra projects for the equivalent of $ 1.3 million in highly liquid shares, including ~$600k of deferred income in cash and/or shares has not only created a substantial profit based on cost and expenditures incurred on the sold projects but also reinvigorated the Company to pursue further additional activity on its Primrose Project at Paynes Find.
With these recent developments, Cervantes is likely to obtain a defined interpretation of ASX listing rules and requisites for the requotation of its shares. It may pursue funding options to raise the necessary capital, and contingent on early gold production to advance Primrose.
(Note: All currency in AUD unless specified otherwise)