Summary

Over the past three months, CBA share price has gone up by 19.43%, while NAB share price and WBC share price have gained over 16% each during the same period, as of 25 August 2020.
CBA has announced a final fully franked dividend of 98 cents per share, scheduled to be paid on 30 September 2020, while Westpac has cancelled first-half 2020 dividend.
All Ords, which represents the largest 500 companies in Australia, is now trading above 6000 levels after falling to around 4500 earlier in March.
ASX 200 has been buzzing with ongoing reporting season. Share prices of Commonwealth Bank of Australia, National Australia Bank Limited and Westpac Banking Corporation continue to be one of the movers of benchmark indices in Australia due to large weightage of these banks in the benchmark indices. Since economy has fared better than earlier expected, the profits of banks under discussion have been better compared to prior periods.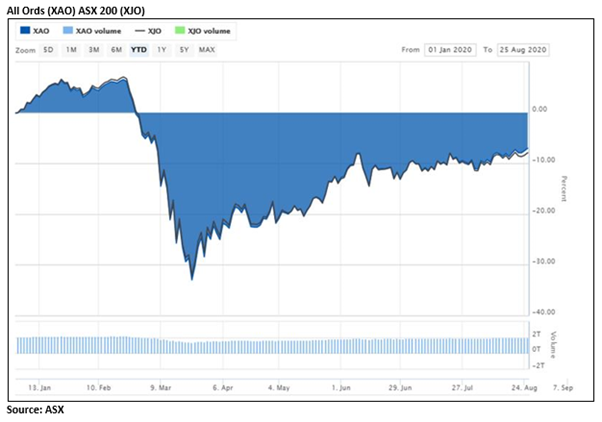 Commonwealth Bank of Australia (ASX:CBA)
Commonwealth Bank is one of the largest taxpayers in Australia, which also means that the bank is one of the largest profit earners in the country. Its profit-making ability is also reflected by dividend payments made over the past.
During the past few years, the bank has been on a path to simplify its business. Commonwealth Bank has undertaken substantial initiatives in this regard to focus on core banking services. In response to the strategy, CBA has been divesting non-core businesses like insurance and wealth management.
A simple business will allow the bank to reduce risk, complexity and cost, thereby supporting reinvestment in core banking through the capital generated from a relatively agile business model. Although CBA leads the retail banking sector in Australia, it intends to grow business banking.
Commonwealth Bank is investing in customer service, distribution channels, strong operational performance, and leading technology. It is also investing in service, data and technology capabilities to improve customer experience in its business and institutional banking segments.
In FY20, the bank recorded statutory NPAT of $9.63 billion, which included contribution from discontinued operations. Cash NPAT of approximately $7.3 billion was down by 11.9% over the previous year.
COVID-19 related loan impairment provisions and expenses impacted profits, which were driven by resilient business performance. Loan impairment provisions and expenses for the period were $2.52 billion.
Household deposits increased by $25 billion, business lending grew by $7 billion and home lending increased by $18.4 billion in FY20. Group net interest margin was down 2 bpts to 2.07% due to lower interest rates, which were partly offset by short-term funding costs.
Including discontinued operations, Commonwealth Bank's CET 1 (APRA Level 2) ratio stood at 11.6%, up by 90 bpts. The ratio was in excess of APRA's 'unquestionably strong' benchmark of 10.5%.
CBA announced a $2.98 per share fully franked dividend in FY20. A final fully franked dividend of 98 cents per share is scheduled to be paid on 30 September 2020 to the shareholders on date of record of 20 August 2020.
On 26 August 2020 (AEST 03:14 PM), CBA was trading at $69.380, down by 1.519% from the previous close.
Westpac Banking Corporation (ASX:WBC)
Last week, Westpac announced that first-half 2020 dividend will not be paid. In the third quarter ended 30 June 2020, the bank recorded unaudited statutory net profit of $1.12 billion compared to first half quarterly average of $595 million.
Westpac also reported that unaudited cash earnings for the quarter were $1.32 billion and the bank incurred impairment charge of $826 million. Net interest margin for the quarter was 2.05% and Common Equity Tier 1 ratio was 10.8% at 30 June 2020.
The bank is committed to maintain a strong balance sheet due to uncertainties in the banking environment. As a result, the first half dividend was cancelled, and it would review potential for final dividend in the full-year results.
At the end of period, the bank had $30 billion worth of mortgages in deferral, down from $51 billion earlier. It has provided 135k repayment relief packages to customers, of which 85% were contacted by Westpac.
Peter King, CEO of Westpac, stated that some factors are indicating that the economy is performing better than expected albeit significant uncertainties, including the COVID-19 outbreaks. Number of customers on deferrals have gone down significantly, but many continue to require support.
On 26 August 2020 (AEST 03:15 PM), WBC was trading at $17.540, down by 1.737% from the previous close.
National Australia Bank Limited (ASX:NAB)
NAB also released its third quarter update this month. Subject to audit, its statutory net profit stood at $1.5 billion and unaudited cash earnings were $1.55 billion for the period. Group CET1 ratio was 11.6% at the end of the quarter.
Excluding notable items, cash earnings increased by 24% compared to first-half quarterly average, and cash earnings increased 17% before credit impairment charges. NAB's revenue increased 10%, driven by higher Markets & Treasury income along with the reversal of unrealised mark-to-market losses.
Expenses were 2% higher, largely due to higher annual leave accruals and remuneration. It was highlighted that FY20 expense target is challenging, driven by increased expenses due to COVID-19. Deferred loans account for $55 billion, which includes deferred repayment arrangements on 86k home loans and 38k business loans.
Credit impairment charges were $570 million, down by 2% compared to the first half quarterly average; this was driven by deteriorating retail asset quality, re-ratings across non-retail exposures, and higher specific charges to a small number of individual exposures.
At the end of the quarter, group CET1 ratio of 11.6% was up from 10.4% at the end of March. The increase was largely driven by $4.25 billion capital raising. MLC Wealth business was separated from NAB operationally in July. While a public markets exit for MLC Wealth is still on cards, NAB is also looking for alternatives like a sale of the MLC Wealth business.
On 26 August 2020 (AEST 03:16 PM), NAB was trading at $17.885, down by 2.161% from the previous close.
Do Read: Are NAB and Westpac shares still among the best in banks post the axe around dividends?