Summary

Amid COVID-19 crisis, when several companies withdrew their guidance and dividend, market players looked at those who continued providing dividend for regular income.
Tabcorp has extended Partnership with Jumbo Interactive Limited. 1H FY2020, it offered a dividend of 11 cents.
APA group signed a deal with Capricorn Metals Ltd under which the Company is expected to transport ~3Tj of gas per day via the pipeline for power generation at Karlawinda Gold Project.
BKW's JV Trust has secured lease pre-commitment for 20 years with Amazon. BKW expects that with the completion of the Amazon and Coles facilities, the value of JV Trust assets would surpass A$3 billion.
Dividend stocks are generally stocks of established companies which provide a small portion of their earnings to its shareholders in the form of dividend every year.
The year 2020 has been a roller coaster ride for Australians, with the island nation experiencing back to back challenges related to bushfires, US-China trade war, and the ongoing COVID-19 outbreak. These factors compelled many ASX-listed players to withdraw or postpone their dividend payments as the economy struggled to cope with the threats. Companies had to take cost reduction initiatives, so their business can sustain for a longer duration.
In such a case, many market players looked towards those companies with consistent dividend history for 'certain' incomes in these times of uncertainty.
DO READ: Dividend Stocks to Beef Up Portfolio Amidst Low-Interest Rate Regime
Let us move the spotlight towards four such well-established companies with a consistent dividend history and understand how they are presently placed.
Tabcorp Holdings Limited (ASX:TAH)
Tabcorp Holdings Limited is a diversified gambling entertainment company that manages iconic brands that incite passion plus enthusiasm in millions of Australians.
Tabcorp's journey started its journey in 1881, and in 1962, TAB Qld opens for business. In 1999, the Company made its ASX debut.
Looking at the dividend history of the Company, we find that it has consistently made dividend payments.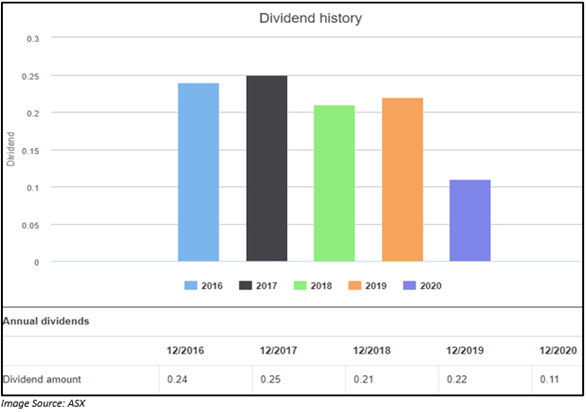 Board Changes
In the past couple of days, the Company has made some changes in the board. On 23 July 2020, TAH announced that Steven Gregg, the current Non-Executive Director and Chairman of the People and Remuneration Committee would succeed Chairman Paula Dwyer who would retire from the board from 31 December 2020. Also, Tabcorp announced that David Attenborough would retire from his position as Managing Director & CEO in the first half of the calendar year 2021.
On 17 July 2020, the Company announced the formal appointment of Ms Anne Brennan as director. Another appointment, that of Mr David Gallop, was announced on 3 July 2020.
Extended Partnership with Jumbo Interactive Limited:
Recently, on 29 June 2020, Tabcorp Holdings and Jumbo Interactive Limited (ASX:JIN) extended their partnership for the next ten years. A binding term sheet was signed between the two parties on 28 June 2020. The term sheet would depend on certain conditions precedent regarding new reseller agreements for the next decade to around July 2030.
DO READ: How Dividends Will Pan-Out for Listed Investment Companies in 2020?
APA Group (ASX:APA)
APA Group is an Australian natural gas infrastructure business and is amongst the top 50 ASX-listed companies with over 1,800 employees. The Company got listed on ASX in June 2000.
If we see the dividend history of this Company, APA has consistently provided an improved dividend in each financial year.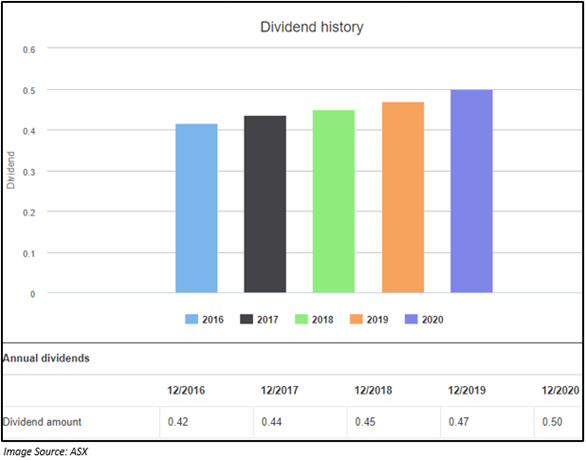 On 24 June 2020, the Company announced an estimated dividend of 27 cents for the six months ended 30 June 2020. Based on this estimate, along with the interim distribution of 23 cents per share paid in March 2020, the total distribution for FY2020 will be 50 cents. This represents a growth of 6.4% as compared to the previous corresponding period.
Agreement with Capricorn Metals Ltd
On 23 June 2020, Capricorn Metals Ltd (ASX:CMM) and APA Group signed a gas transportation deal to transport to the Karlawinda Gold Project from the Goldfields Gas Pipeline. Under the terms of agreement, APA Group would develop and operate the lateral pipeline connecting the Goldfields Gas Pipeline to Karlawinda. Approximately 3Tj of gas is anticipated to be transported per day via the pipeline for power generation at KGG.
INTERESTING READ: Are Most Dividend Yields Flawed Now
Brickworks Limited (ASX:BKW)
Brickworks Limited is amongst the largest and most diverse building material manufacturers in the world. Brickworks is a known established which became a public Company during June 1934.
Presently, under the Brickworks Building Products umbrella, there are some of Australia's best-known building materials brands.
The Company made its ASX debut on 30 June 1962.
If we see the dividend history of the Company in the last five years, BKW has consistently provided its shareholders with a dividend.
Long-Term Amazon Lease:
On 30 June 2020, the Company announced that it had secured a 20-year lease pre-commitment with Amazon at the JV Trust's Sydney-based Oakdale West Estate. Brickworks Limited and Goodman Group (ASX:GMG) hold a 50% stake each in JV Trust. JY Trust assets are likely to valued at over A$3 billion once the Oakdale West facilities are completed.
Washington H Soul Pattinson & Company Limited (ASX:SOL)
Washington H Soul Pattinson & Company Limited is the second oldest Company in Australia and started its journey in 1972 as a pharmacy in Pitt Street, Sydney. Later, after 30 years, the Company made its ASX debut and gradually evolved into diverse sector across diverse sectors which includes telecom, building products, mining, equities, pharmaceuticals, property as well as financial services. Interestingly, the Company, since got listed on ASX, has consistently provided its shareholders with a dividend.
In the last five years, the Company has provided dividends as below: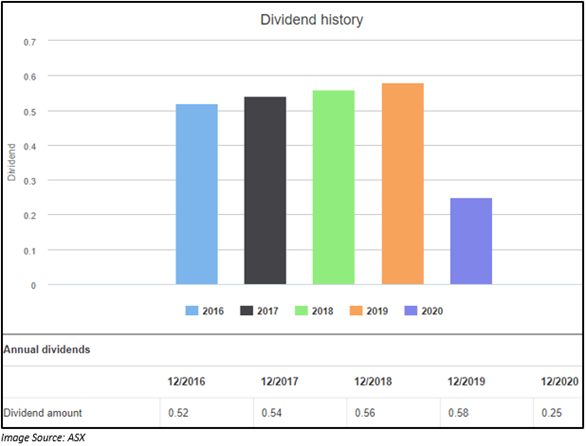 Reassessment of investment in TPG-Vodafone Merger:
On 15 July 2020, the Company announced that it had reassessed the method of accounting for its investment in TPG Telecom Limited after the completion of TPG-Vodafone merger on 29 June 2020. From the merger date, SOL concluded that it does not hold any substantial influence over its TPG investment. The alliance has resulted in the reduction of its percentage holding in TPG to 12.6% from 25.3%. Also, the Company has one director on the board of 10, which was earlier one director on a board of five.
As a result, SOL will derecognise its investment in TPG as an associate and would not apply the equity method of accounting.
Also, WHSP's investment in TPG will be carried as a long-term equity investment and would be treated as a financial asset held at fair value via other comprehensive income. The fair value will be determined based on the last sale price of TPG shares.
Appointment of Ms Josephine Sukkar AM as Non-executive Director:
On 14 July 2020, Washington H. Soul Pattinson and Company Limited announced the appointment of Ms Josephine Sukkar AM as a Non-executive Director, effective from the day of the appointment.
Stock Performance (as on 23 July 2020)