Highlights

RBR Group provides training, labour broking and business services
VI application of 8VI Holdings simplifies complex stock analysis into an easier form
IDP Education delivered strong results in the first half of FY22
The S&P/ASX200 closed lower on Friday, tumbling by 2.80 points or 0.04% to 6,791.50 . Though the index has gained 2.86% this week, it has lost 8.74% in the last year to date. Similarly, the index is green by 3.44% this month to date (MTD) but is down by 7.04% in the last 52-weeks.
In this article, we will discuss three stocks from ASX Academic and Educational Services that have outperformed the index in terms of MTD gains.
RBR Group Ltd (ASX: RBR)
RBR Group Limited provides training, labour broking, and business services.
Training – The company's subsidiary Futuro Skills offers commercial, technical and community training programs to increase employability in the Mozambican labour force.
Labour broking – The company's subsidiary Futuro People in Mozambique offers training to Mozambican people for employment in various sectors. Futuro People also sources skilled workers worldwide through its collaboration with international partners.
Business services – This is another subsidiary of RBR operating in Mozambique. It offers business development consulting and Corporate Administration Services.
RBR has gained about 33% this MTD.
8VI Holdings Ltd (ASX: 8VI)
8VI Holdings Limited, working under the brand name VI, is a financial, educational technology company based in Singapore. The company's VI app simplifies the complex stock analysis into an easier form. Similarly, its VI college supports a community of value investors on a global basis.
Financial updates of the company for FY22 are as follows:
Revenue – S$31.4 million
Adjusted EBITDA – S$7.2 million
Net Profit after Tax – S$3.6 million
Earnings per share – 4.7 Singapore cents
Operating cash flow – S$8.6 million
Free cash flow – S$5.5 million
Gross profit margin – 74%
The share price of 8VI has surged by nearly 13% this MTD.
IDP Education Ltd (ASX:IEL)
IDP Education is a multinational company providing international education services. The company conducts the famous International English Language Testing (IELTS). Besides, it offers student placement, digital marketing, and event services.
The company delivered excellent results in H1 FY22. Let us have a look.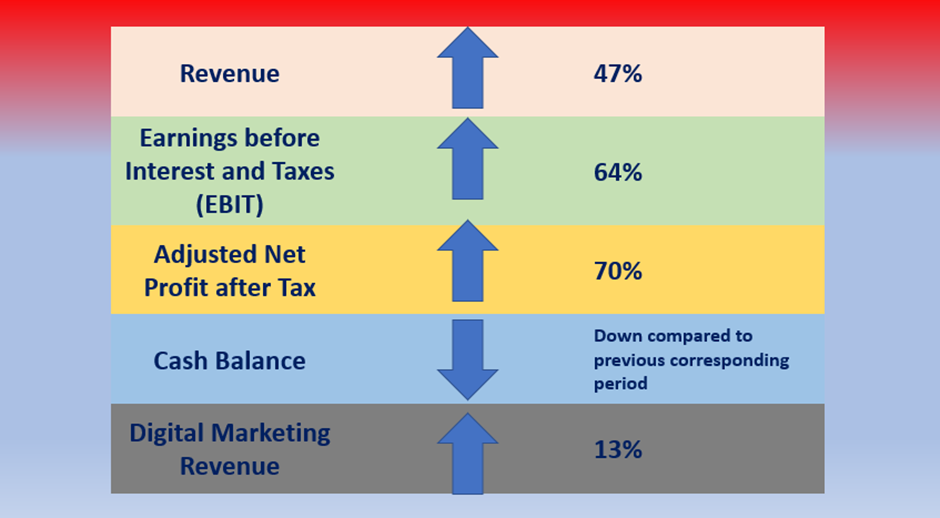 Image source: © 2022 Kalkine Media®; Data source: IDP announcement
Share value of IEL has appreciated by about 13% this MTD.