Highlights

Kelsian will sell and divest its East London public bus transportation service operations at Lea Interchange.
Kelsian's deal with Stagecoach is valued at around AU$35 million.
Kelsian Group Limited (ASX:KLS) announced today (27 May 2022) that it has entered into a deal with Stagecoach Bus Holdings Limited, a subsidiary of Stagecoach Group Plc.
As per the agreement, Kelsian will sell and divest its East London public bus transportation service operations at Lea Interchange for £20 million (about AU$35 million). The deal is expected to close in late June 2022 and is subject to certain conditions.
On the back of the news, shares of Kelsian were trading 2.15% higher at AU$7.59 each at 11.20 AM AEST on ASX.
More about the deal
Kelsian will be divesting 11 route contracts, around 500 bus and depot staff, lease of the Lea Interchange depot site and operating assets for the associated bus operations of approximately 150 buses.
The company also agreed on consideration for the Lea Interchange operations, and assets payable by Stagecoach are £20 million. Out of the total amount, £10 million will be payable on completion and £1 million per annum for ten years commencing on the first anniversary following completion, subject to certain property-related conditions.
Also Read: TCL, AQZ, QAN, QUB: Transportation stocks to watch amid Russia-Ukraine war

Source: © Mikalaimanyshau | Megapixl.com
What is the meaning of the deal for Kelsian?
The transaction closing will signal another significant step forward in Kelsian's repositioning in the crucial UK transportation industry, providing a strategic base for the future UK and European expansion opportunities.
Kelsian will keep its 12.5% ownership in the RATP Dev Transit London Ltd joint venture in London's western region and its 100% freehold property in the Westbourne Park bus depot.
Kelsian profile
Kelsian is Australia's largest land and sea transportation company and a tourism operator, with offices in London and Singapore.
Kelsian has been headquartered in Adelaide since 1989 and has developed to become a leader in public bus and maritime transportation and tourism operations through smart acquisitions and organic expansion.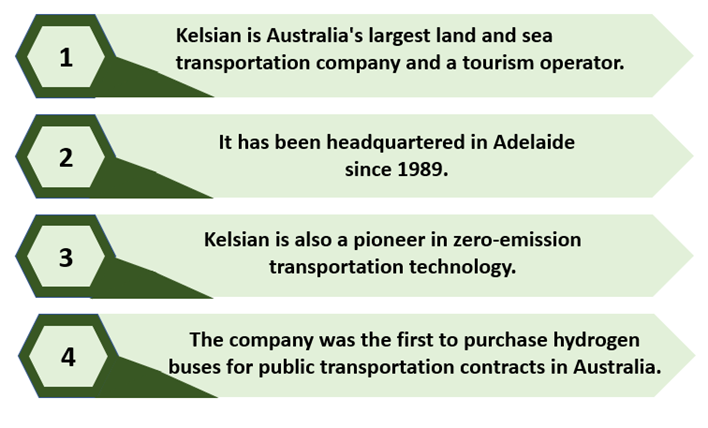 Image Source: © 2022 Kalkine Media ®
Data Source- Company announcement dated 27 May 2022
Today, the company is one of Australia's most experienced suppliers of multi-modal public transportation services and tourism experiences, with performance-driven capabilities in domestic and international ferries, buses, and light rail.
Kelsian transports around 222 million passengers annually, employing approximately 9,500 people and operating 4,200 buses, 116 boats, and 24 light rail vehicles.
Besides all these, Kelsian is a pioneer in zero-emission transportation technology, with a genuine concern for the environment and a commitment to fostering a culture of sustainability. The company was the first to purchase hydrogen buses for public transportation contracts in Australia.
Bottomline
Kelsian's interest in the RATP Dev Transit London Ltd JV is unaffected by the transaction, and Kelsian's activities in the UK outside of the London bus market are unaffected as well.
Also Read: FLT, HLO, KLS, QAN: How are these travel stocks faring this month?