Highlights


Alchemy Resources has a diversified asset portfolio that holds potential for gold, battery metals and base metals.
Recent exploration activities on its flagship gold project have delineated high-grade lithium and pathfinder anomalies.
On a YTD basis, shares of ALY have yielded a 180% return to its shareholders, as of 19 May 2022.
The world is going crazy for electric vehicles. All Tesla cars rolling out from the production line are already pre-booked. It's not just Tesla, demand in the EV space has skyrocketed in recent times amid rising fuel prices.
Lithium is the main ingredient for manufacturing rechargeable batteries. Nickel, cobalt, zinc, and alumina are also required but in small quantities in comparison to lithium.
A significant supply shortage is looming as the growing popularity of electric vehicles is aggressively driving the need for lithium.
Related read: Know about Alchemy Resousrces' (ASX:ALY) advanced gold and battery metal projects
In the upbeat scenario for this critical battery metal, diversified mineral explorer Alchemy Resources Limited (ASX:ALY) has made a major discovery. The company recently identified lithium potential at its flagship Karonie Gold Project, which sits within a major precious metals belt. Recent findings have significantly increased the prospectivity of the project.
The identification of lithium and pathfinder anomalism on the Karonie Gold Project in Western Australia is an encouraging outcome for the company. No wonder, ALY's share price recorded a fresh 52-week high after the announcement about multiple Lithium anomalies at Karonie was made.
Meanwhile, at Alchemy's West Lynn Project in New South Wales, a significant potential for high purity alumina (HPA), nickel and cobalt has already been established.
Related read: Alchemy Resources (ASX:ALY) shares soar 63% on multiple lithium anomalies at Karonie
Location of Karonie tenements with respect to other lithium projects
(Image source: Company update, 22 April 2022)
Why is this discovery at Karonie so significant?
New anomalies identified at the Karonie Gold Project lie 8km along strike and within contiguous tenure to the Manna Lithium Deposit.
Soil sampling and rock chipping near the Manna deposit have revealed lithium and pathfinder anomalism. The Company is calling it a promising start. The geologist team has identified pegmatites in outcrop along the strike of Manna, which is all the more remarkable given that pegmatites have never been recorded in this area.
The geochemical analysis confirms the prospectivity of a huge tenement package at Karonie. A systematic mapping and sample campaign is being done on the tenement to identify other intrusive dykes in the area.
Related read: Alchemy Resources (ASX:ALY) looks to work with new JV partner on Lachlan Projects
What ALY plans next at Karonie?
ALY plans to prioritise infill soil sampling on a 100m×40m grid at the Cherry and Hickory prospects on the tenement. The company will commence the extensive mapping of pegmatite outcrops at the Cherry-Hickory-Mesquite and Pecan anomalies along the 7km prospective strike extent.
A regional soil sampling is also being planned at KZ5 to the Western Brown Prospect. Also, the Company will work on completing heritage agreements for future drilling campaigns.
ALY exposure to other critical battery metals
The West Lynn Project is an advanced critical metals project in the NSW region, which includes the Summervale Alumina Resource deposit and the West Lynn deposit. The Summervale deposit is currently estimated to hold 7Mt of alumina @ 21% Al2O3, and the HPA product from the deposit has achieved 99.95% purity. Further test works are being carried out to increase the purity up to 99.99% of the 4N category.
On the West Lynn deposit, 21.3Mt of nickel-cobalt resource has been delineated so far.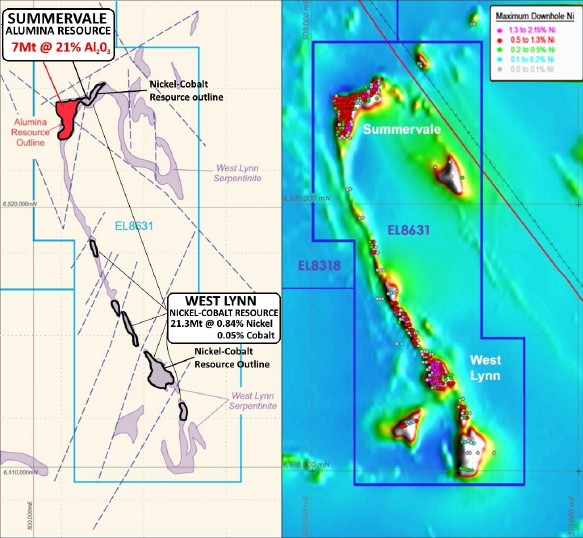 Image source: Company update, 4 May 2022
Apart from all these, Alchemy's asset portfolio also holds significant potential for copper. Anything electrical must contain copper. Demand for copper is expected to remain moderate to high in coming years.
Related read: Alchemy Resources (ASX:ALY) highlights Karonie development in March quarterly report
Alchemy has been successful in creating a portfolio of assets which is in line with the current market trend. Battery metals have become hot commodities for investors.
ALY shares were trading at AU$0.028 and the company has a market cap of AU$26.68 million as of 20 May 2022.