Summary

Saunders International Limited (ASX:SND) is an engineering and construction company, catering to various sectors across Australia and the Pacific Region.
During unprecedented times, the stability and resilience of Saunders' renewed operating model were validated by securing new project wins.
In FY21, Saunders is likely to focus on the infrastructure, defence, oil & gas, minerals, and industrial sectors.
Since its establishment in 1951, multi-disciplined engineering and construction company Saunders International Limited (ASX:SND) has played an integral role in developing Australian industries.
In FY20, its principal activities included the design, build, and maintenance of tanks, bulk liquid storage facilities, and road and rail bridges. Saunders is also engaged in the manufacturing of precast concrete products for transport infrastructure projects.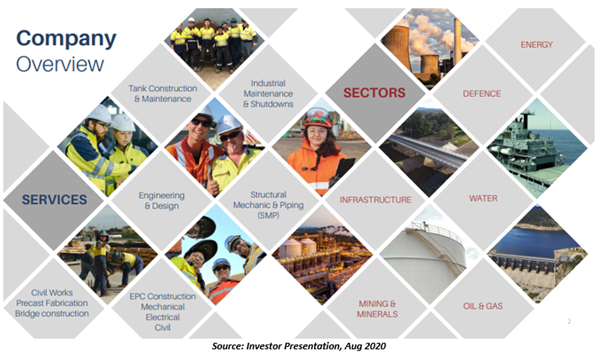 MUST READ: Saunders International (ASX:SND) Kickstarts FY21 With A Bang
Notably, its offerings are not limited to the above. The Company also provides a range of specialised services for the maintenance of commercial, industrial, and marine infrastructure and assets.
A reputable organisation catering to several sectors, Saunders has a diverse client base, which has expanded to include industries like mining and water utilities. The Company is still working with original oil majors like Mobil, BP, Shell, and Caltex since the 1960s.
In this backdrop, let us look at the various sectors that the Company may focus upon in FY21-
Sectors with Promising Opportunities
Saunders returned to profitability in FY20. Revenue of more than $66 million and NPAT of around $1.3 million were generated from the expanded range of services offered to clients.
Pro-actively managing COVID-19 challenges, Saunders worked efficiently to begin FY21 with an orderbook of $110 million, comprising significant contracts from the defence, water, road, rail, mineral processing, and oil & gas sectors.
GOOD READ: Saunders International (ASX:SND) Keeps Up The Good Work, Flaunts New Project Wins
While the new project outlook is positive, let us get acquainted with the most promising sectors and the factors boosting them-
As highlighted by the Company in its October 2020 AGM presentation,
Saunders is well positioned to benefit from the new road, rail, and water infrastructure growth forecast.
As of October 2020, the Company already had contracts at three defence bases. It should well qualify to partake in likewise defence projects as they emerge.
Saunders is well placed to participate in the specific projects selected to fulfil the Fed's objective of increasing the capacity of strategic liquid fuel storage on Australian soil.
RELATED READ: Riding high on a bumper FY20, What are Saunders International's (ASX:SND) FY21 Objectives?
Outlook & Management Comment
Saunders has a solid foundation for growth with a healthy orderbook and pipeline of opportunities. It is experiencing strong growth in core as well as emerging services.
ALSO READ: After an upbeat FY20, will Saunders International (ASX:SND) continue the happy journey in FY21?
While the economic outlook locally and globally is uncertain due to COVID-19, the Company is progressing towards delivering an equally memorable FY21, subject to developments around the pandemic.
For H1 FY21, Saunders expects EBIT to be in the range of $3.85 million to $4.35 million, revenue between $48 million and $53 million, and EBITDA to be in the range of $4.75 million to $5.25 million.
Saunders is expected to release its FY21 half-year results during the week commencing 22 February 2021. The stock traded at $ 0.68 on 16 February 2021.
RELATED READ: What Are The Pockets Of Opportunities For Saunders International (ASX:SND) in 2021?