Image Source: © Stuartbur | Megapixl.com
Summary

Lithium Australia's subsidiary VSPC Ltd's patent application for its proprietary cathode material manufacturing process has been accepted for grant.

The intellectual property is patented for 20 years.
After securing the European patent for its cost-effective production of metal-oxide nanoparticles in January this year, now the Lithium Australia NL's (ASX: LIT) R&D subsidiary company VSPC Ltd's patent application has been accepted for grant.
The patent was applied for the production of phosphate-based cathode materials for LIBs. The company's method of synthesising lithium metal phosphates is validated to be inventive and novel.
IP Australia has sent a notice of acceptance for the patent application to VSPC. It confirms application acceptance. The patent for the VSPC process will last 20 years.
Also read: LIT's VSPC nano-powder production process bags European patent
The market has reacted positively to the news as the stock price is soaring high post the announcement. On 10 March 2021, at AEDT: 11:37 AM, LIT traded at AUD 0.125, up by 8.695%.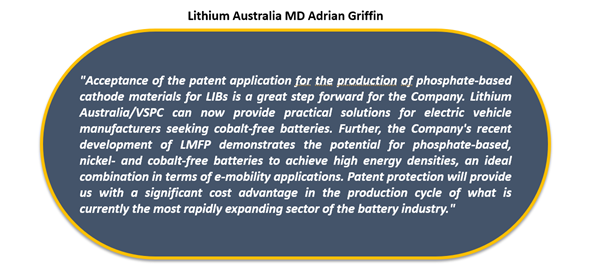 Image source: ASX announcement dated 10 March 2021
About VSPC
VSPC Ltd is LIT's 100% owned subsidiary company. In line with LIT's commitment to a circular and sustainable battery economy, VSPC develops sustainable and efficient process technologies to produce lithium-ion batteries (LIBs) materials.
Image source: ASX announcement dated 20 January 2021
In the recent two years, the company has started using a wide range of raw materials as feed and also simplified its process for manufacturing the cathode powders. Consequently, the manufacturing cost considerably reduced for producing lithium metal phosphate materials, including lithium manganese iron phosphate (LMFP) and lithium ferro phosphate (LFP).
Must read: LIT's VSPC further trims cathode material costs
VSPC's cathode material production benefits
VSPC's unique process technology provides various advantages in manufacturing LMFP and LFP; these include:
The process uses a wide range of raw materials feeds such as lithium carbonate, lithium hydroxide or lithium phosphate, thus providing more flexibility.
It provides up-front and accurate process chemistry control.
The particle characteristics can be controlled at both nano- and micro-scale.
It offers simple final-stage processing.
For energy-storage applications, the product morphology gets optimised.
Chemical costs reduced: The patented process reduces chemical costs by 15%. The technology integrates well with VSPC's upstream technology for cost-effective iron reagents production. It is an outcome of work under a project co-sponsored by the Australian Manufacturing Growth Centre. It reduces chemical costs by an additional 10%.