Highlights

Vertex Minerals (ASX:VTX) has recommenced drilling at its Red Hill Gold Project.
The Red Hill Project offers easy access to the existing processing plant along with high metallurgical recovery.
The present resource of the Red Hill Project stands at 80,000 oz Au @ 1.7 g/t to 150m depth and indicates substantial potential for exploration and resource growth.
Vertex Minerals Limited (ASX:VTX) has announced the recommencement of drilling at the Red Hill Gold Project in Hill End NSW. In July, the company had commenced drilling at this Project however it was temporarily halted due to a prolonged period of unusually high rainfall.
The Red Hill Resource forms 1km of strike length at the Hill End Gold Project and has witnessed extensive historical mining, most of which was impeded by a high-water table.
~1,500m HQ Diamond coring commenced
The drilling is now planned for approximately 1,500m HQ Diamond coring program focusing on targeting the stockwork and halo zones. Such zones are believed to have the highest potential to deliver substantial tonnage to the resource while enhancing amenability to bulk mining methods.
Proposed drilling locations (Source: VTX Announcement)
Further, the company plans to examine deeper targets identified at the prospect, including the Frasers zone.
This proposed drilling is the maiden drill program of VTX conducted at the Hill End Project. The company believes that Red Hill has substantial potential for exploration and resource growth. Furthermore, the drilling area is expected to be a neglected mining district of significant size, gold grade and unique amenability to gravity processing techniques.
Prospective nature of Red Hill project
A JORC 2012 resource estimate of 80,000 oz Au @ 1.7 g/t to 150m depth was delivered at the Red Hill Resource via work undertaken by Hill End Gold Limited in 2015.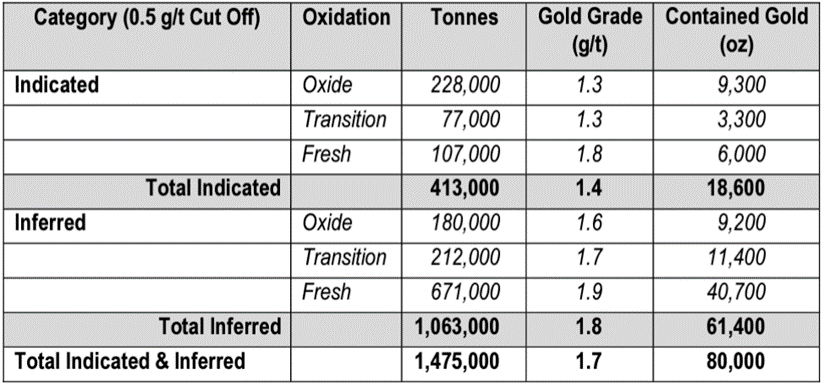 Source: VTX Announcement
VTX believes that the metallurgy at the project is amendable to gravity recovery methods as past test work reported recovery rates of more than 90%.
Besides this, the project also has the advantage of an existing 100% owned and permitted processing plant, which has easy access. VTX believes that the access to the processing plant, along with the high metallurgical recovery, indicating the opportunity to advance a gold mine with a minimal environmental footprint.
The company expects the drill rig to be on site for around four weeks.