Summary

Spacetalk's unique watches are equipped with personalised features and innovative technologies to establish its footprint in the fastest growing smartwatch market.
Spacetalk Adventurer would be placed on Australia's largest mobile network operator's (MNO) core wearable device range.
The Company has opened a new B2B2C distribution channel for LIFE with ACH Group, which is a leading aged care and home care provider.
Spacetalk LIFE continues to sell retail at JB Hi-Fi and Harvey Norman.
The Spacetalk app is designed to provide a family environment for fun, engaging and secure media consumption in addition to its device control functionalities for the guardian.
The key objectives of Spacetalk include the expansion of Spacetalk Life for seniors, advancing the Spacetalk app and growing into the global market.
Spacetalk Ltd (ASX:SPA), an ASX-listed developer of innovative technologies is engaged in providing secure communication solutions for families, enabling them to stay connected and protected. The Company offers a variety of all-in-one smartphone GPS watches for children and seniors. SPA's unique watches are equipped with personalised features, design qualities and best-practice data encryption and privacy technologies to ensure that families remain connected securely.
With the impressive quarterly numbers, recent product launches, and continued focus on global expansion, Spacetalk is well-placed to make a mark in the fastest growing smartwatch market.
ALSO READ: Spacetalk (ASX:SPA) ends Q3 FY21 with record growth in revenue
Let us walk through SPA's unique offerings and key objectives:
Spacetalk Kids
Spacetalk Kids is SPA's original award-winning all-in-one smartphone watch with GPS for kids aged 5-12. The Company dominates the category with ~88% market share. Spacetalk Kids is Australia-designed and built for safety and security.
Interestingly, this watch for kids comes with a school mode for distraction-free learning. The school mode is a unique app feature that allows control of the functions on a child's Spacetalk smartwatch phone.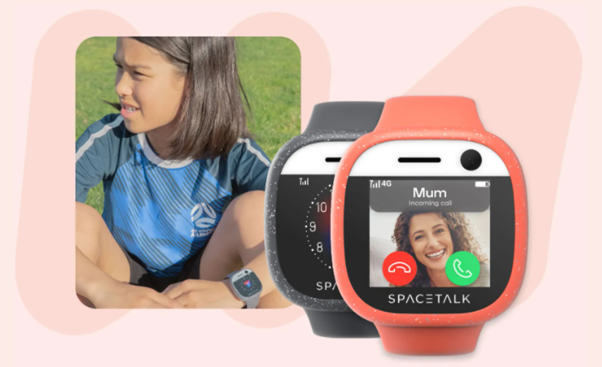 Source: SPA Website
Spacetalk Adventurer
The new 4G-upgraded kids' smartphone GPS watch, Spacetalk Adventurer, has enhanced battery, video feature, and family chat functionalities. Adventurer offers a new level of independence, peace of mind, as well as safety for both kids and parents. It is now the number one selling device in the market for kids.
The Adventurer device includes advanced technology and provides confidence to the child, enhanced controls for the parent, and a host of other exciting functionalities for families to stay connected.
Source: SPA Presentation, 16 February 2021
In March 2021, Australia's largest MNO Telstra onboarded Spacetalk, featuring Adventurer kids smartphone watch in its core wearables range. Upon completing exhaustive device testing and Telstra certification, Adventurer is now being ranged across all Telstra retail stores in Australia and Telstra online channels.
Lately, Spacetalk Adventurer won an international Red Dot Award for Product Design, and this award is one of the world's largest global design competitions.
READ MORE AT: Spacetalk Ltd. (ASX:SPA) awarded prestigious Red Dot Design Award for outstanding design quality of its Adventurer connected smartwatch for kids
Spacetalk Life
Spacetalk Life is the all-in-one smartphone watch with GPS to support the journey of ageing by enhancing independence, healthy living, social connectivity, and safety while providing peace of mind and reassurance to family and friends.
Spacetalk Life has attracted substantial interest from aged care and home care providers, National Disability Insurance Scheme (NDIS) providers and Occupational Therapists (OTs).
Source: SPA Announcement (19 April 2021)
Recently, Spacetalk opened a B2B2C distribution channel for its LIFE smartphone watch for older people. To begin with, the Company has partnered with leading aged care and home care provider ACH Group.
The partnership with the ACH Group will expand the reach of the revolutionary and affordable Spacetalk LIFE smartphone watches to older Australians. Spacetalk LIFE will be provided as a wearable safety device, which is eligible for government funding through the Home Care Program (HCP), Commonwealth Home Support Programme (CHSP) or NDIS.
TO KNOW MORE, DO READ: Spacetalk (ASX:SPA) opens B2B2C distribution channel with aged care provider on upgraded LIFE smartphone watch for seniors
LIFE retails for AU$399, ~40% less as compared to other comparable devices. The price reduction will enable LIFE to be entirely funded by the government under the CHSP, HCP or NDIS. Besides the B2B2C launch with the ACH Group, LIFE continues to sell retail at JB Hi-Fi and Harvey Norman.
Spacetalk App
The Spacetalk App is designed to offer a family atmosphere for entertainment, engaging and safe media consumption in addition to its device control features for the guardian. With the help of this app, family members can link contact. Every related contact, including parents, grandparents, other family members and friends, irrespective of whether they are using iOS or Android, can interact with connected Spacetalk devices and each other using the Spacetalk App.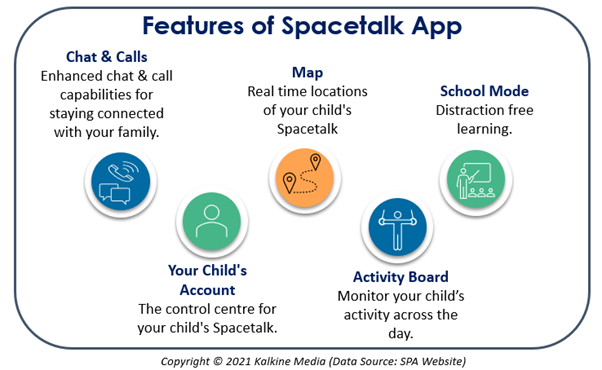 The app also offers instant messaging and calls, similar to WhatsApp, with the additional benefit that Spacetalk communications are restricted to an ecosystem of contacts approved by the parent for their child.
With this, family chat makes for a unique, secured family environment where every linked contact, approved by parents, can engage in wholesome fun ways, including the sharing of pictures, videos, and audios.
Spacetalk's Key Objectives
SPA's key objectives include expanding Spacetalk Life for seniors, advancing the Spacetalk app to drive device sales and annual recurring revenue (ARR), focusing on global expansion, and growing the top-line with an expanded product suite.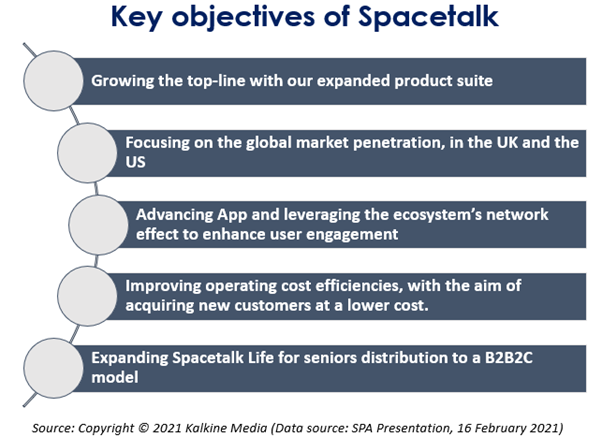 On 24 May 2021, SPA shares were trading at AU$0.130 (at AEST 12:33 PM).