Summary

Shree Minerals has been granted an exploration tenement that covers the historic Rock Lodge gold mine.
The East Lachlan Fold Belt holds a long history of producing gold (80 Mozs), copper (13 Mt), zinc, silver, lead and tin.
Geochemical and geophysical surveys have been planned to delineate targets for the subsequent drilling programs.
Diversified metals explorer Shree Minerals Ltd. (ASX:SHH) has been granted an exploration tenement (EL9155) that covers the historic Rock Lodge gold workings in the world-renowned Lachlan Fold Belt of New South Wales.
The Rock Lodge project is considered to be highly prospective for orogenic, Intrusion Related Gold Systems (IRGS) and skarn related gold mineralisation. The Rock Lodge prospect holds potential for high-grade polymetallic mineralisation related to structurally controlled epigenetic massive sulphide veins.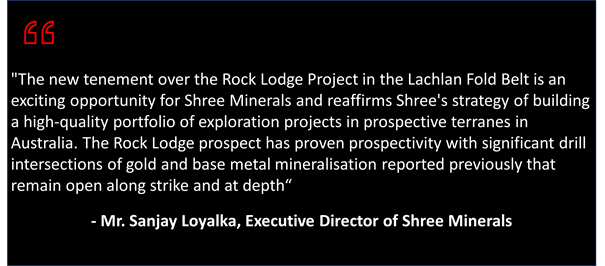 Copyright © 2021 Kalkine Media
During the historical drilling programs, the intersections suggest that the area is highly mineralised with mineral assemblages similar to prominent mineral deposits of the Ordovician Lachlan Fold Belt.
Read Here: Shree Minerals' (ASX:SHH) Exploration Riding High with Exciting Gold Anomalies at Turondale
Rock Lodge in the Premium Regional Neighbourhood
The East Lachlan Fold Belt enjoys a long history of producing gold (80 Mozs), copper (13 Mt), zinc, silver, lead and tin. The region is home to numerous world-class gold and copper mines including Newcrest Mining Ltd's giant Cadia Mine, Evolution Mining's Lake Cowal Gold Mine as well as Alkane Resources' Boda discovery. In 2019, Alkane had reported the Boda discovery and recorded an intersection of 502 metres at 0.2% copper and 0.48 g/t gold, 211 metres downhole.
Shree's tenement in the East Lachlan Fold Belt Source: SHH Company Announcement 14 May 2021
Previous exploration programs at Rock Lodge – So far, the prospect has been explored by only two companies in the past five decades. Although, the drilling programs in the past advanced to RC and diamond drilling, they could not be followed up. Further, the targets from the previous geochemical and geophysical surveys – including the Monaro Prospect and the Bobundara Gold Mine – were not tested.
The rock chip sampling programs on the quartz vein outcrops were conducted by Southern Gold NL and returned grades up to 11.1 g/t gold. Further, the diamond drilling in 1985 recorded intercepts up to 8m in length and grades up to 4.28g/t Au, 35g/t Ag, 0.79% Cu and 13.5% Zinc.
Must Read: Shree Minerals (ASX:SHH) appoints chief geologist to strengthen technical team
In 2018, the six-hole RC drilling program by Alt Resources on the old mine workings at Rock Lodge recorded high grade intercepts. Some of the best intercepts from the drilling program are –
MYRC001 - 3m @ 2.1 g/t Au, 3.7 g/t Ag and 174 g/t Bi from 17m and 2m @ 2.7 g/t Au
11.8 g/t Ag, 300 g/t Bi and 0.48% Cu from 62m.
MYRC003 - 1m @ 5.4 g/t Au, 55.6 g/t Ag, 212 g/t Bi and 0.11% Zn.
MYRC005 - 2m @ 1.6 g/t Au, 9.5 g/t Ag, 903 g/t Bi from 19m and
1m @ 1.4 g/t Au, 375 g/t Ag, 163 g/t Bi, 1.6% Pb from 23m and
1m @ 4.8 g/t Au, 0.48% Pb, 1.46% Zn from 57m.
Desktop study – Shree has revealed two untested very strong IP anomalies at the prospect. Each of these anomalies is over 350m long.
Northern IP Anomaly – Anomalous rock chip samples with grades up to 2.52 g/t Au, 10.2 g/t Ag along with anomalous arsenic, bismuth, and copper.
Southern IP Anomaly­ – The anomaly remains untested and is located 1 km south ofthe northern IP anomaly.
IRGS Models - At Rock Lodge, the polymetallic sulphide rich mineralisation holds an affinity to the Intrusion Related Gold System (IRGS) group of deposits, which are indicated by anomalous Au, Ag, Bi, Cu, Pb, Zn. The IRGS systems are typically very large hydrothermal systems with potential to host bulk tonnage, low grade (1 – 2 g/t) gold mineralisation.
Some of the mines outside Australia host greater than 3 million ounces of gold including the high grade Pogo project (9.98 Mt at 17.8 g/t Au).
Important Read: Shree Minerals raises $3 million in heavily oversubscribed placement
The way Forward
Geophysical Surveys: SHH is considering the proposal to conduct an extensive aerial magnetic survey as these surveys are usually related to aeromagnetic anomalies. The Induced polarisation (IP) surveys will also be considered to delineate drill targets.
Soil and Rock Sampling: SHH has planned to conduct a soil sampling program in areas with outcroppings. A close spaced grid sampling (200m x 50m) will be conducted using a hand-held auger along with rock chip sampling to collect samples of ironstones, gossans and quartz veins.
Stream Sediment Sampling: The explorer has planned stream sediment sampling over areas with potential to host Ordovician age rocks. The density of the samples has been increased in the vicinity of the mineralised areas at Rock Lodge, Mount Pleasant Creek, Bobundara Gold Mine and Monaro Prospects.
Drilling: The drilling program will test the targets generated by the geophysical and geochemical sampling.
Read Here: Shree Minerals Ltd. (ASX:SHH) galloping on the gold and iron ore opportunities
SHH closed at $0.015 a share on 14 May 2021 with a market capitalisation of $14.14 million.
All financial information pertains to Australian Dollars unless stated otherwise.