Summary

NTM Gold Limited concluded RC drilling in the December quarter over the Gully area at Redcliffe Project.
Extensions of three trends in the area have been confirmed, namely Redcliffe, Redcliffe East, and West Lode.
NTM has planned a diamond program to commence in late January or early February concentrating on Hub infill and extensions.
Aggressive exploration company NTM Gold Limited (ASX:NTM) operates in the in the heart of Eastern Goldfields, WA and owns the high quality Redcliffe Gold Project. The Company has been undertaking exploration activities to test the potential of the project. The project has established resources proximal to present infrastructure and mines.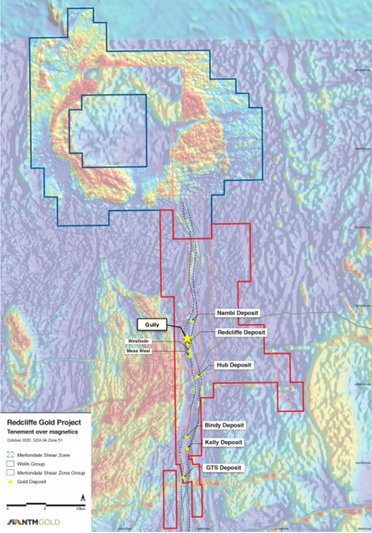 Redcliffe Project and Selected Prospects over Aerial Magnetics (Source: ASX Announcement 13 January 2020)
INTERSTING READ: Is ASX: NTM Holding All the Aces? Set to Reap Benefits from Merger
Lately, the Company has provided an update on the Gully area within the Redcliffe Gold Project where RC drilling was completed in the December quarter 2020 tested strike and depth extensions.
INTERESTING READ: ASX:NTM Gold Limited Stretches High-Grade Mineralisation at HUB DEPOSIT
NTM completed a total of 26 holes for 3,174 metres with drilling confirming extensions of three trends in the area, being Redcliffe, Redcliffe East and West Lode. Best intercepts include:
3m @ 7.0 g/t Au from 129m, incl. 1m @ 15.6 g/t Au in 20RRC041
2m @ 4.8 g/t Au from 26m in 20RRC047
3m @ 3.5 g/t Au from 51m in 20RRC047
4m @ 2.1 g/t Au from 53m in 20RRC049
2m @ 3.6 g/t Au from 20m in 20RRC054
SEPTEMBER QUARTER UPDATE: ASX:NTM Reports Robust September Quarter For Redcliffe Project, Drilling To Commence Soon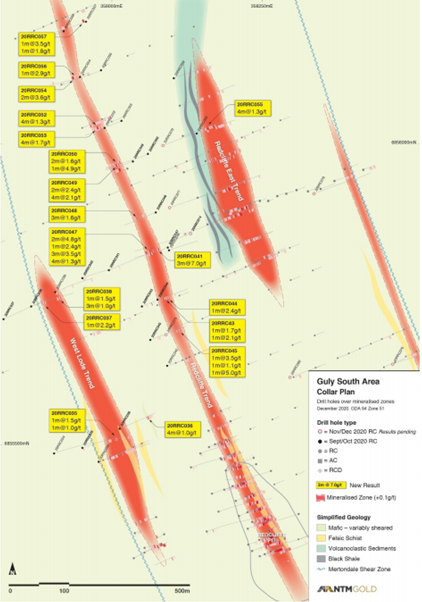 Gully Area Drill Plan with Recent Intercepts (Source: ASX Announcement 13 January 2020)
DID YOU READ: NTM Gold Limited's (ASX:NTM) Growth Through Exploration In An Outstanding Region
Out of the three trend areas confirmed by the drilling, the Redcliffe is believed to be the most promising one. The Redcliffe trend is a northerly extension of a historic Redcliffe open- pit, where additional follow up drilling is needed. The recent RC drilling has extended the Redcliffe trend to a minimum length of 1.1km and the trend area remains open towards the north.
Source: ASX Announcement 13 January 2020
RELATED: NTM Gold: New Tenement Granted At Redcliffe Gold Project & JORC Derived
Further, NTM completed another RC program towards the end of 2020 subsequent to the Gully RC drilling. The late 2020 drilling concentrated on shallow infill drilling at the Hub deposit after NTM announced Merger with Dacian Gold Limited (ASX:DCN). This drilling program aimed at improving deposit definition as a precursor to development studies.
DID YOU READ: Merger Alert! ASX:NTM And ASX:DCN To Unlock Shareholder Value Through Regional Consolidation
At Gully and Bindy, NTM also concluded selected follow-up holes, for which, results have not been received yet.
NTM share price quoted at $0.170, with a market capitalisation of $116.38 million at 11:38 AM AEDT.
DID YOU READ: A Look At The Projects Of NTM Gold (ASX:NTM) And The Latest Developments At The Redcliffe Project