Summary

Raiden has commenced fieldworks at two of its tenures – Mt Sholl and Boodalyerrie in the Pilbara region.
The fieldwork will help in planning more extensive exploration campaigns on the projects.
Raiden has commenced a field reconnaissance geological mapping at the Mt Sholl prospect.
Historical exploration at Boodalyerrie tenure had resulted in gold grades of up to 200g/t Au in the rock samples.
Raiden Resources Limited (ASX:RDN / DAX:YM4) has kicked off field programs on Mt Sholl and Boodalyerrie tenures in Western Australia's Pilbara region. Recently, the gold and base metals explorer also increased its stake in its tenures to 100%.
Raiden will use the findings from the current field program to plan for more extensive and aggressive exploration campaigns at Mt Sholl and Boodalyerrie. The Company has already concluded the analysis of historical data available for the projects.
Project portfolio of Pilbara region and significant deposits shown in red (Image source: Company update, 7 May 2021)
Latest update: Raiden (ASX:RDN / DAX:YM4) exhibits its resource potential in the Pilbara region of WA
Mt Sholl Project
Mt Sholl has two granted exploration licences spread over an area of 10 km2. The licence area hosts layered mafic-ultramafic intrusions with mineralisation potential of Ni-Cu-PGE. Historical exploration data points at two Ni-Cu-PGE prospects – Mt Sholl A1 and Mt Sholl B1. Both the prospects have significant sulphide mineralisation in lenses up to 20m wide with a moderate plunge to the northeast.
Prospect locations on Mt Sholl (Image source: Company update, 7 May 2021)
Historically, 190 holes were drilled on the Mt Sholl tenure targeting Ni-Cu mineralisation. Significant intercepts include:
Copyright © 2021 Kalkine Media Pty Ltd. (Data source: Company update, 7 May 2021)
Trial mining was also undertaken at the B1 prospect of Mt Sholl by Fox Resources (ASX:FXR). Fox Resources conducted the trial by blending the run of mine ore from Radio Hill. Data from the processing was not recorded.
Apart from Ni-CU-PGE, Mt Sholl is also prospective for gold mineralisation. The tenure runs through the Sholl Shear Zone, and significant gold intercepts were received in past drilling programs.
Ongoing Field Program - Raiden is conducting a field reconnaissance geological mapping as part of its current fieldwork. The reconnaissance mission will evaluate the Ni-Cu-PGE mineralisation and the Radleys gold trend at Mt Sholl. The geologist team will map the area of interest on the tenure and will collect grab samples for further analysis.
Recent update: Raiden (ASX:RDN / DAX:YM4) gets a major boost for its European Project, Kalabak's Licence extended for 2 years
Mr Dusko Ljubojevic, Managing Director of Raiden, expressed his views on the field program: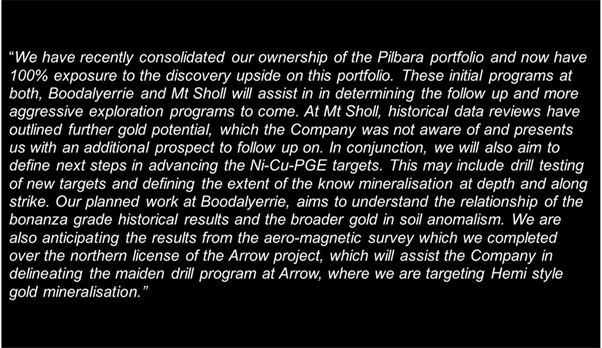 Copyright © 2021 Kalkine Media Pty Ltd.
Boodalyerrie Project
The Boodalyerrie tenure is spread over 57km2 area and has hydrothermal alterations associated with quartz veins. In the past, only surface sampling was conducted by explorers, resulting in gold grades of up to 200g/t Au in the rock samples. A rock chip sample at the historical mine face returned 3m at 88.6 g/t gold.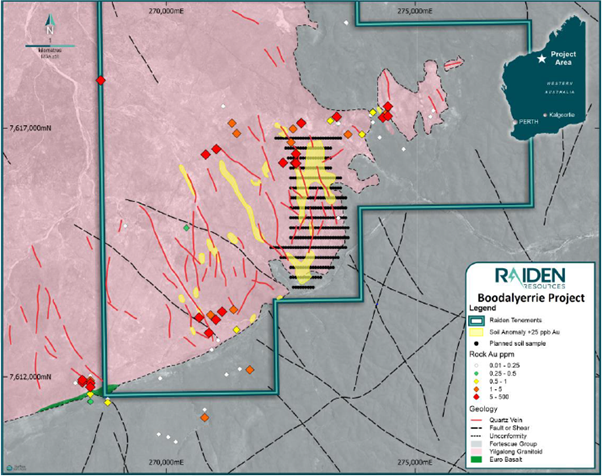 Boodalyerrie geology map with historic sample collection locations (Image source: Company update, 7 May 2021)
Field Program - After the completion of reconnaissance work at Mt Sholl, Raiden will commence the fieldwork at Boodalyerrie tenure. The key objective of the reconnaissance program would be to check on the historical soil anomalies. The field crew will visit the historically tested anomalous site and collect the grab samples to determine the mineralisation relationships.
The tenure will also witness a soil sampling program, wherein a total of 335 samples would be collected from the area of interest. The samples will be collected at 50m centres along east-west oriented lines spaced 200m apart.
Also Read: Historical drill data bolster Raiden Resources (ASX:RDN, DAX:YM4) gold footprint in Pilbara region