Highlights
Radiopharm (ASX: RAD) extends its agreement with GenesisCare for a second clinical trial in Australia

The second trial will leverage Radiopharm's prostate kallikrein (PSA) targeting antibody to commence a therapeutic Phase 1 trial in prostate cancer

Radiopharm signed its first Letter of Intent (LOI) with GenesisCare in March 2022 to start its first Phase I trial in lung cancer
Radiopharm Theranostics (ASX: RAD), an oncology player specialising in radiopharmaceutical products, recently provided an upbeat update. The company has extended its agreement with GenesisCare, a global oncology provider under which the latter will assist with the execution of a second Radiopharm clinical trial in Australia.
GenesisCare provides integrated oncology care worldwide, with over 440 locations in Australia, the USA, the UK, and Spain. Radiopharm had signed its first Letter of Intent (LOI) with GenesisCare in March 2022 to start its first Phase I trial (nanobody from its Nano-mAbs platform targeting the PDL1 expression in non-small cell lung cancer) in Australia.
Prostate cancer trial (PSA-mAb technology)
The second trial, for which the agreement has been extended, will leverage Radiopharm's prostate kallikrein (PSA) targeting antibody to commence a therapeutic Phase 1 trial in prostate cancer. The trial is likely to commence in the coming months.
What is PSA-mAb?
Professor David Ulmert invented PSA-mAb at Memorial Sloan Kettering and now at the University of California, Los Angeles (UCLA).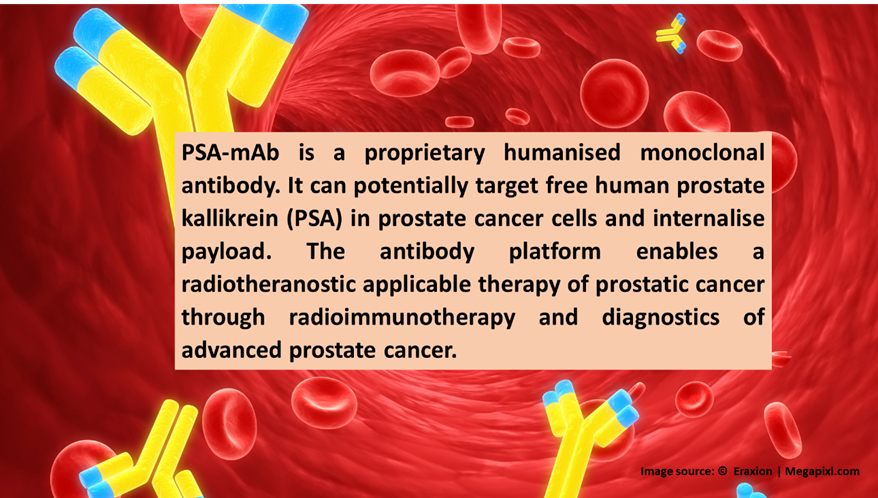 Compared with other treatments currently under development, the groundbreaking method and novel mode of action make Radiopharm's technology highly potential.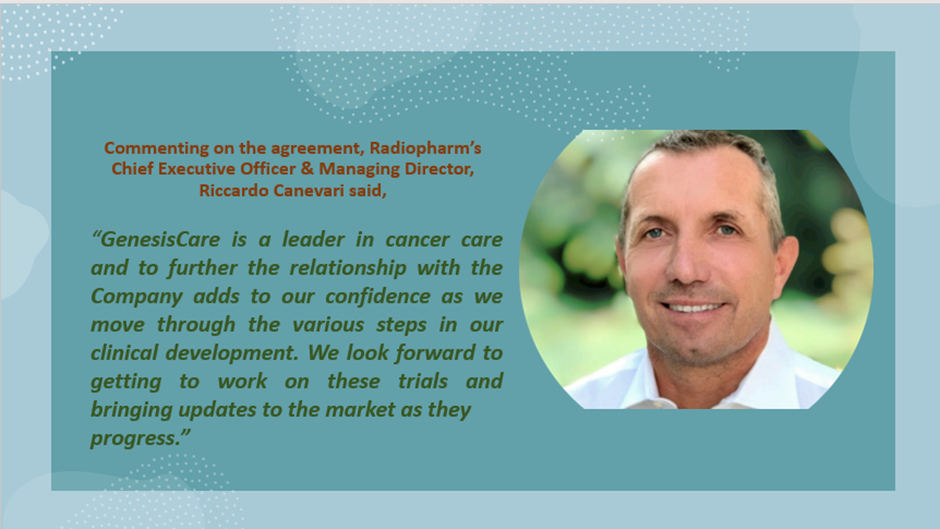 Image source: © 2022 Kalkine Media®
Securing supply of Lutetium-177 N.C.A
Radiopharm is accelerating the development of the next generation of radiopharmaceutical therapies for cancer treatment. Last month, the company made an agreement with Isotopia Molecular Imaging under which Isotopia will supply high-quality Lutetium-177 N.C.A to Radiopharm.
Lutetium-177 N.C.A is a major asset for carrying out clinical research, development, and manufacture of Radiopharm's diagnostic and therapeutic products.
RAD shares traded at AU$0.180 on 4 July 2022.