Highlights

Musgrave Minerals has received additional high-grade gold results from follow-up reverse circulation (RC) drilling at the Amarillo Prospect
MGV is continuing resource definition drilling at Amarillo and anticipates a maiden MRE in early next year
MGV has also identified new near-surface regolith gold occurrences through early-stage AC drilling to the north of Amarillo
MGV has planned to test these new targets through an RC drill planned for July 2022.
Musgrave Minerals Limited (ASX:MGV) has again received impressive results from the drilling work at the Amarillo Prospect on its flagship Cue Gold project in Western Australia. The Company has also made a discovery through early-stage aircore (AC) drilling to the north of the prospect.
Musgrave is continuing various works across multiple deposits and prospect areas and is keen to undertake further activities to upgrade the Mineral Resource Estimate (MRE) in future.
Source: MGV Announcement 29/06/2022
RELATED READ: Musgrave Minerals (ASX:MGV) strengthens exploration team with latest appointment
High-grade gold assay results at Amarillo Prospect
The latest results indicate additional high-grade gold assay results from RC drilling at the prospect.
The latest intersections are beyond the present MRE boundaries and indicate the possibility to further increase the resource base at MGV's flagship project. Presently, the MRE for the project stands at 927,000 oz of Au.
The latest drill intersections include the following: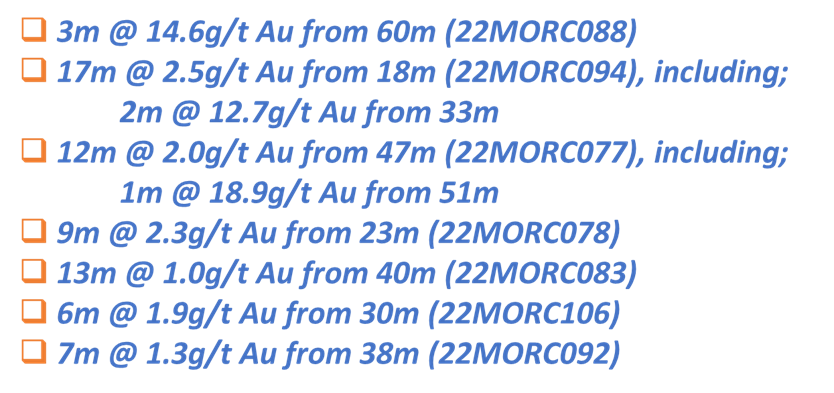 Source: MGV Announcement 29/06/2022
MGV has focused on the top 120m within a deep regolith profile through drilling to date and has identified two parallel gold lodes at the prospect. These lodes strike north-south and dip sub-vertically, wherein individual strike length for the western lode and the eastern lode is around 100m and 300m, respectively.
Amarillo prospect showing drill hole (Source: MGV Announcement 29/06/2022)
AC drilling delivers new targets
MGV has also announced that new near-surface regolith gold occurrences have been discovered through the initial stage of AC drilling at Amarillo.
The new targets lie within the southern extension of the dolerite unit, which is a host to the high-grade gold mineralisation discovered at West Island. MGV has identified five new targets to date that may represent dispersed gold halos over a basement source.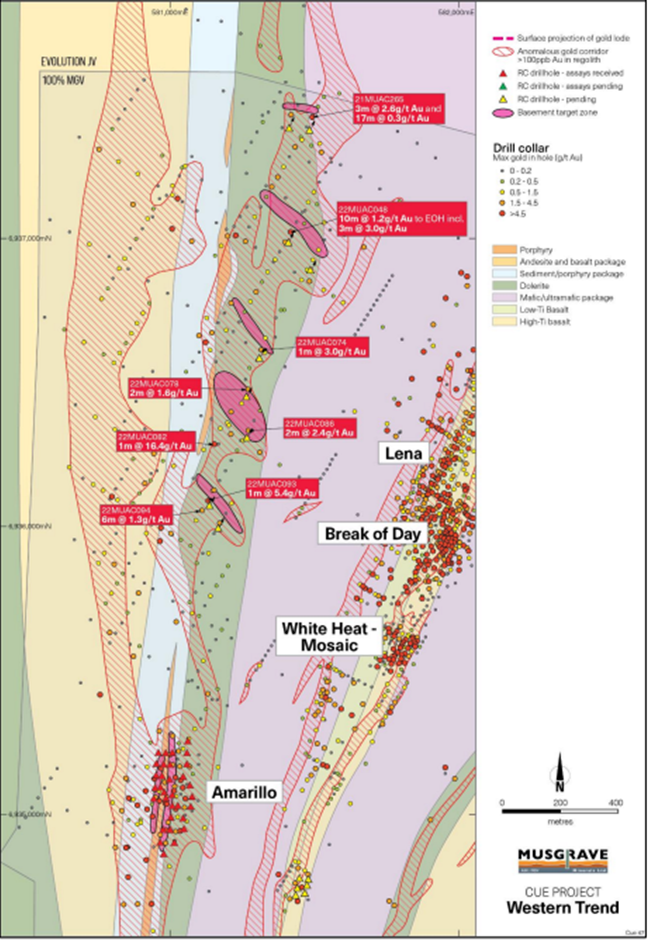 Source: MGV Announcement 29/06/2022
The latest AC drilling intersections comprise the following:
10m @ 1.2g/t Au from 102m to EOH (22MUAC048)
1m @ 7.1g/t Au from 113m (22MUAC265)
6m @ 1.3g/t Au from 42m (22MUAC094)
MGV looks to conclude the initial phase of the follow-up RC drilling to test these new targets in July.
MGV's ongoing engagements
MGV is continuing RC drilling at the Amarillo prospect, and additional assay results are currently pending. The Company further anticipates a maiden MRE for the Amarillo prospect in early 2023.
MGV has concluded Phase 1 infill diamond drilling at Break of Day and Lena and assays are currently pending. Additional ongoing activities include the following:

Source: © 2022 Kalkine Media® | Data Source: MGV Announcement 29/06/2022
Moreover, work to advance the pre-feasibility level studies at the new Big Sky and White Heat-Mosaic resources are expected to start in Q3 2022.