Highlights

Reverse circulation drilling has hit bonanza grade gold at the Big Sky Prospect, highlighting potential for high grade at the prospect over the broader 2.6km of strike.
The Company is drilling full steam ahead to deliver a maiden resource for Big Sky in the second quarter of 2022.
Resource delineation drilling is advancing at Big Sky along with infill drilling at Target 14 and RC drill testing of new Starlight type targets along the Break of Day trend.
Musgrave Minerals Limited (ASX:MGV) has announced bonanza grade gold hits from reverse circulation drilling at the Big Sky Prospect at its wholly owned flagship Cue Gold Project in Murchison district, Western Australia.
Notably, the Big Sky lies along the new gold corridor south-west of Lena and Break of Day, two significant high-grade gold deposits on Cue Project.
GOOD WATCH: Musgrave Minerals on consistent success in gold exploration and more!- Expert Talks Mr Robert Waugh
Commenting on the recent results, Musgrave Managing Director Rob Waugh said that the results are very encouraging and highlights the potential for high-grade at Big Sky prospect over the broader 2.6km of strike. He indicated that such coarse gold in reverse circulation is unusual on the Yilgarn
He also added, "We are drilling full steam ahead to deliver a maiden resource for Big Sky in Q2 2022. It's an exciting area and we look forward to updating the market with further results as assays are received."
ALSO READ: Musgrave Minerals' (ASX: MGV) significant exploration progress expediting near-term gold production
Big Sky Prospect
Time and again, the RC drilling within the new 7km long gold corridor on the Company's 100% ground continues to intersect significant gold mineralisation below thin transported hardpan cover ranging between 1-6m at Big Sky.
The focus of the ongoing infill resource definition RC drilling is to test grade, continuity and down dip extent of the Big Sky mineralisation in weathered and fresh basement rock.
In addition to the Bonanza grade intersection at the Big Sky prospect, the drilling also intersected several other high-grade intercepts.
These include:
2m @ 6.0g/t Au from 32m (21MORC277)
28m @ 35.9g/t Au from 49m (21MORC277), including.

1m @ 898g/t Au from 49m with coarse visible gold

1m @ 31.1g/t Au from 97m (21MORC275)
1m @ 18.0g/t Au from 36m (21MORC276)
1m @ 9.9g/t Au from 60m (21MORC278)
3m @ 6.2g/t Au from 39m (21MORC279)
ALSO READ: Musgrave Minerals (ASX:MGV) makes good progress in FY21
Further infill drilling is currently being planned around the bonanza gold result in the drillhole 21MORC277. One-metre re-samples of previously reported 6m composites from 39 RC drill holes at the Big Sky have confirmed the results from the 6m composite sampling.
High-grade gold found in footwall of Big Sky
High-grade gold mineralisation was also identified in a newly identified dolerite host unit merely metres into the footwall of the mineralised zone at Big Sky. Moreover, there is a possibility for the unit to be the southern extension of the same dolerite unit hosting the gold mineralisation on the Evolution JV tenure to the north.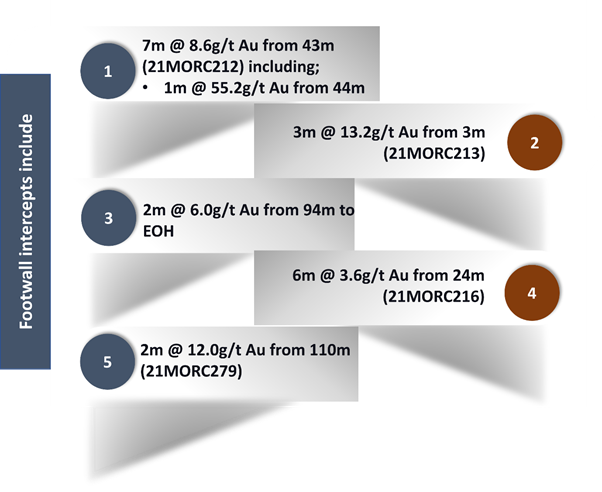 Source: Copyright © 2021 Kalkine Media, Data Source: MGV ASX update, dated 27 October 2021
Musgrave is planning a 9,000m aircore drilling program to test the new mineralised target zone over an extended strike extent of over 5km.
How is exploration advancing on Lake Austin?
Follow-up diamond drilling is underway on Lake Austin to test the basement beneath the new regolith gold mineralisation which were recently identified in aircore drilling at West Island. Meanwhile, the Company is awaiting further assay results for diamond drill holes at West Island.
ALSO READ: Musgrave Mineral (ASX:MGV) buoyed on further high-grade results at West Island
The current aircore drilling program on Lake Austin is slated to conclude in late November, with assay results waited for additional 100 AC holes in the current program.
Source: Copyright © 2021 Kalkine Media, Data Source: MGV ASX update, dated 27 October 2021
MGV shares closed the day's trade at AU$0.390, up 4%, with a market cap of AU$201 million.