Summary

During the March Quarter, Musgrave Minerals' prime focus was on advancing its regional aircore drilling program at its 100%-owned Cue tenure.
The drilling returned high-grade gold intersections at White Heat, Big Sky and Target 14 prospects.
Diamond drilling on Lake Australia has also advanced well.
Musgrave Minerals Limited (ASX: MGV) continues to undergo a slew of developments at it its wholly owned tenure at Cue gold project, with the first quarter of 2021 brimming with exploration success. As highlighted by the company's quarterly report for the period ended 31 March 2021, Musgrave's key focus, during the period, was on an extensive regional aircore drilling program for testing new targets.
ALSO READ: How Musgrave Minerals went from strength to strength in H1 FY21
The regional drilling completed 255 holes for 17,644 metres and identified anomalous gold in the regolith to define a new gold corridor parallel to, and west of Lena. The initial follow-up RC drilling program including 49 drill holes for 5,149 metres intersected high-grade gold at the White Heat, Target 14 and Big Sky prospects. All the three targets are typically characterised by near surface gold results.
Notably, the total gold resource at the Cue Project currently stands at 6.59Mt @ 3.2g/t Au for 659koz Au.
During the quarter, Musgrave kicked off a 7-hole diamond drilling program at Lake Austin of the Evolution JV. Also, the explorer initiated prefeasibility level studies over Break of Day and Lena deposits.
ALSO READ: Musgrave Minerals (ASX:MGV) maps out new gold corridor at Cue
Robust Intersections at White Heat
White Heat (previously known as Target 2) lies 300m south of Break of Day and has strike extent of around 70-100 metres open down plunge. During the quarter, the Company received high-grade assay results at the deposit.
READ MORE: Musgrave Minerals scores another set of great results at White Heat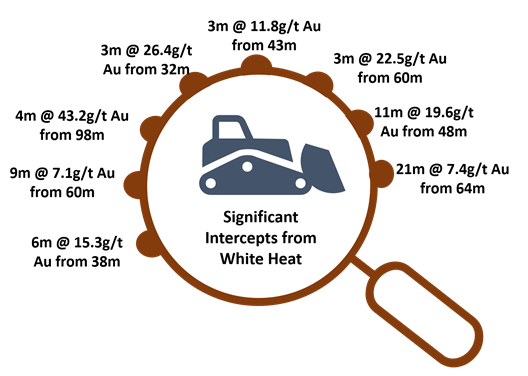 Source: Copyright © 2021 Kalkine Media Pty Ltd, Data Source: MGV ASX update, dated 28 April 2021
A Continuous long Gold Anomaly- Big Sky
A continuous gold mineralisation, identified at Target 5 and Target 20 into a single continuous anomaly of 1.2 kilometres in length, has been dubbed as Big Sky. The mineralisation at Big Sky remains open to the north, south and down dip. Musgrave is advancing RC drilling at the Big Sky prospect.
READ MORE: Musgrave Minerals Limited (ASX: MGV) buoyed up on extension of high-grade gold anomaly
High Grade Assays at Target 14
Musgrave's AC drilling extended gold anomalism at Target 14 to more than 3 kilometres strike length. Target 14 forms part of a new 7-kilometres long gold corridor situated 900 metres west of Lena and remains open to the south and down dip.
There remains 2.5 kilometres of strike between Big Sky and Target 14 with drilling results awaited. Musgrave indicated that target areas host little to no historical basement drilling along the new gold corridor due to being obscured by 1-4 metres of transported hardpan clays.
ALSO READ: Musgrave Minerals (ASX:MGV) Continues Winning Streak At Target 14 With High-Grade Gold Results
The results at Target 14 further highlight the potential for discovering new mineralised positions while growing the current resource base.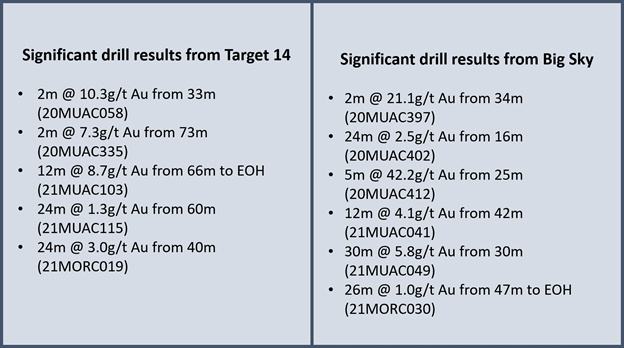 Source: Copyright © 2021 Kalkine Media Pty Ltd, Data Source: MGV ASX update, dated 28 April 2021
Lake Austin Region- Evolution JV
During the Quarter, a 2,600-metre diamond drilling program consisting of seven drill holes commenced on Lake Austin with the aim to follow-up the extensive gold anomalies at the Lake Austin North and West Island prospects. The program is underway currently.
ALSO READ: Fresh gold targets at Evolution JV put spring in Musgrave's steps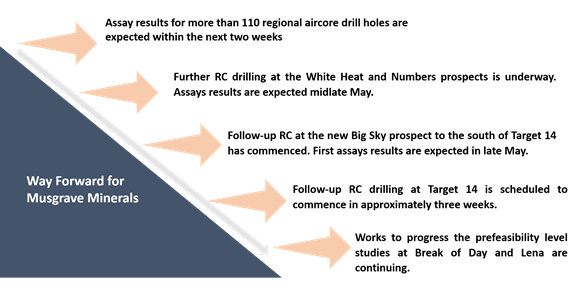 Source: Copyright © 2021 Kalkine Media Pty Ltd, Data Source: MGV ASX update, dated 28 April 2021
A Snapshot of Corporate Activities
In January 2021, Musgrave successfully wrapped up Share Purchase Plan, raising approximately A$3.5 million (before costs).
During the quarter, Musgrave appointed Mr Brett Lambert as a Non-executive Director. Mr Lambert holds extensive skills and expertise across project development and mining, which will be of great significance to the Company as it advances through development studies to mining.
At the quarter-end, the Company held cash of A$23.8 million.
MGV shares traded at A$0.375 at 3:39 PM AEST on 28 April 2021.