Summary

The Californian State Senate has approved Senate Bill 519 to legalise the use and possession of a wide range of psychedelic substances.
Following this favourable regulatory shift, Creso Pharma plans to expedite its Californian market entry with its target acquisition firm Halucenex.
Halucenex is in advanced discussions with its strategic partner, HeteroGeneity, to fast-track the development plan.
Creso will leverage its existing partnerships and technical expertise in the psychedelics space to unlock additional value for shareholders.
Creso Pharma Limited (ASX:CPH, FRA:1X8) has announced that the Company management and Halucenex Life Sciences Inc are actively investigating several go-to-market plans following the recent favourable regulatory shifts in California. The potential use of psychedelics in California has received a significant boost as they move closer to legalisation.
Together with its acquisition target Halucenex, Creso Pharma has decided to expedite Californian market entry following the approval of Senate Bill 519 (SB 519) through the California State Senate. The clearance of the bill is also subject to further regulatory authorisation from California's lower house and the Governor of California.
As Creso Pharma and Halucenex welcome the Californian Senate Bill, the share price of CPH received a significant boost. CPH shares closed at AU$0.180, up 28.571% on 3 June.
ALSO READ: Creso Pharma expands its European footprint with Polvet Healthcare commercial agreement
California Senate Bill in a nutshell
The potential use of psychedelics in California received a significant boost as they move closer to legalisation:
Senate Bill 519 legalises the use and possession of a wide range of psychedelics substances, including psilocybin, by individuals 21 years of age or older.
The bill also removes preceding criminal offences for the use and possession of psychedelic substances.
The bill was introduced to advance a more health-focused approach to psychedelics usage and tackle the existing US mental health crisis.
The clearance also marks the ongoing regulatory shift towards acceptance of psychedelic substances as an alternative treatment method.
DO READ: Another milestone: Creso Pharma's Canadian subsidiary Mernova bags OCS Craft Designation
Major market opportunity for Creso and Halucenex
The recent development underscores a significant market opportunity for Creso Pharma and Halucenex, and both the firms aim to capitalise on it in the near term. Creso Pharma will work with Mr John Griese (Director of US Business Development) and Mr Bruce Linton (strategic advisor and leading psychedelics entrepreneur) to advance collaborations and market entry strategies.
Besides, Halucenex is in advanced discussions with its US-based partner, HeteroGeneity LLC, to accelerate a development plan which can help make the Company's botanical psilocybin products available for the US market following certain regulatory authorisations.
ALSO READ: Creso in high spirits as Halucenex readies to enter the US market with new deal
Creso to become a first mover in psychedelic space
Creso Pharma will continue to bolster its US market exposure in an attempt to grab the first-mover advantage in the psychedelic space. Furthermore, the Company is looking for new hires to expedite its expansion efforts. Halucenex has already secured multiple partnerships and agreements that will allow the Company to make inroads into the US psychedelics market.
Additionally, the Company is seeking DTC eligibility for its impending OTCQB (OTC) dual listing. The eligibility will allow for real-time electronic trades of its securities and easier access for North American investors. Creso Pharma is confident that the DTC eligibility will provide additional exposure for the Company during a pivotal growth phase.
MUST READ: Double bonanza: Creso eyes OTC listing; Halucenex gets new psilocybin supplies
Management Commentary
On the passing of SB 591, Adam Blumenthal, Creso's Non-executive Chairman, stated that it is a significant development for Creso and Halucenex. The decriminalisation of psychedelics in California offers a key opportunity that will underpin the Company's expansion in the US market.
Mr Blumenthal added-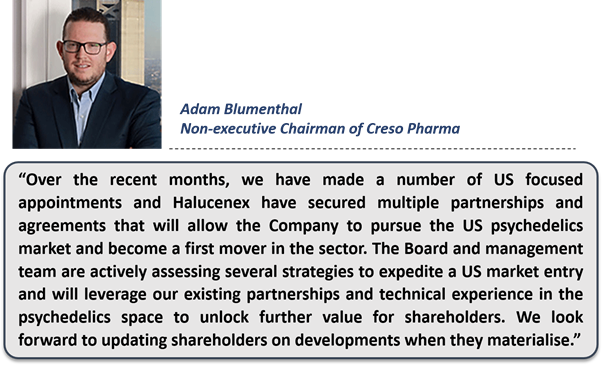 Halucenex founder and CEO Bill Fleming said:
DO READ: Creso Pharma (ASX:CPH) bolsters its presence in Africa with Cannabis Queen agreement